NEWS & STATS
Training Camp Opens; NHL Game Tidbits
By: Alexander Kinkopf
September 25, 2017 12:50 PM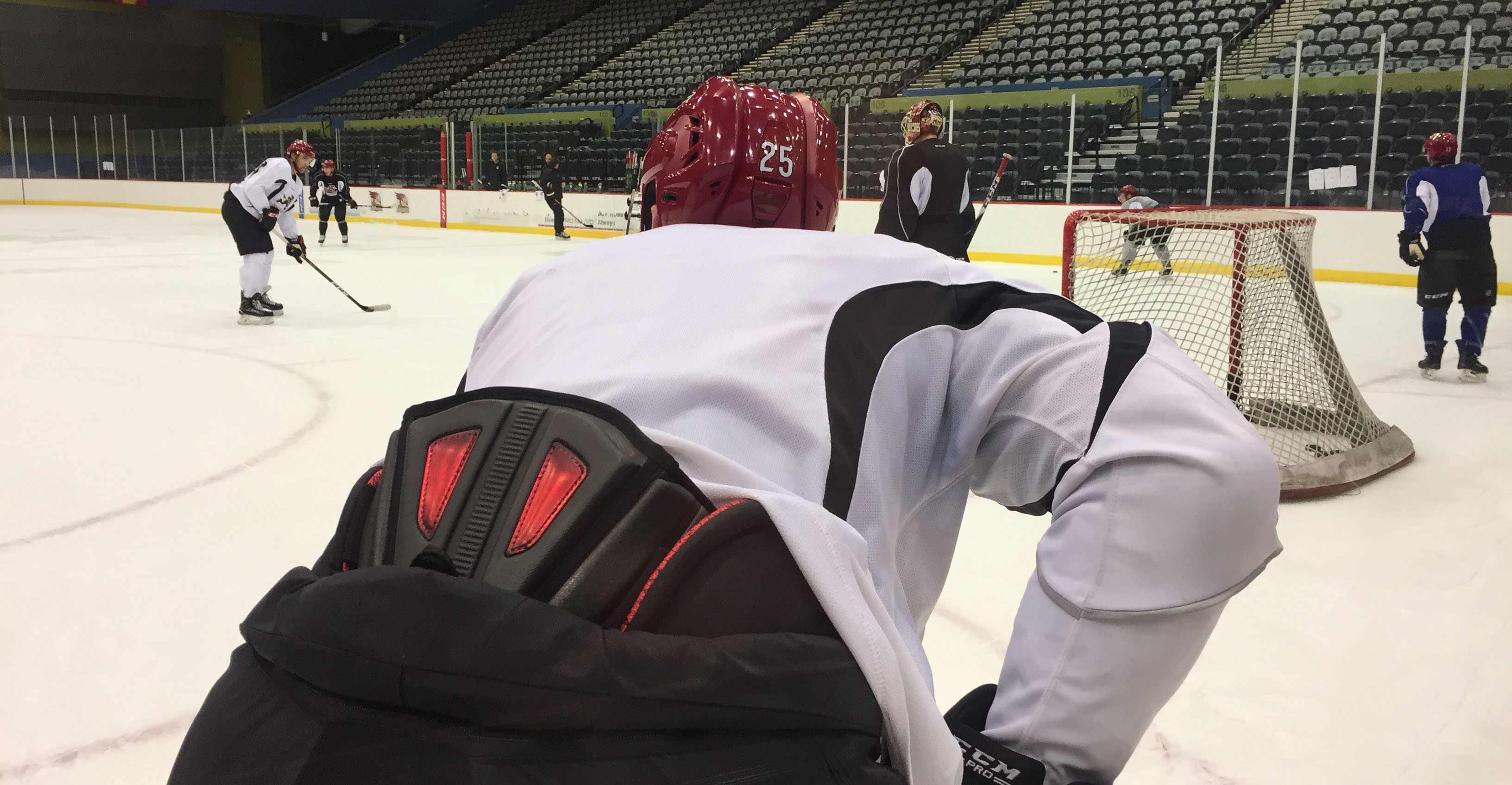 Good afternoon from Tucson Arena, where the Roadrunners have wrapped up their first on-ice training camp session, and where preparations continue for tonight's NHL preseason contest between the Arizona Coyotes and the Anaheim Ducks, which is slated for a 7:05 PM start time.
Courtesy of Dave Vest, tonight's roster for the Coyotes is listed as seen below. Seven players dressing for the Coyotes tonight played at Tucson Arena as members of the Roadrunners last season.
For an early clue-in as to how the
Anaheim Ducks
may skate this evening,
click here
.
For the Roadrunners Monday morning, 18 skaters were on the ice with the team's new coaching staff of Mike Van Ryan, John Slaney, and Steve Potvin. More from Van Ryn, who held his first exclusive practice as the team's head coach, below.
A total of 20 players were on the ice Monday morning. Separated by position, and listed in alphabetical order by last name, they were as follows:
Forwards:
Scott Allen, Michael Bunting, Trevor Cheek, Gabriel Desjardins, Conor Garland, Ryan Graham, Dennis Kravchenko, Zac Larraza, Jens Looke, Lane Pederson, Mike Sislo, Artur Tyanulin
Defensemen:
Kyle Capobianco, Ryan Culkin, Joel Hanley, Dysin Mayo, Jalen Smereck, Cody Sol
Goaltenders:
Adin Hill, Michael Houser
A full training camp roster will be released later this week.
The team is scheduled for morning practices through Thursday before flying to Southern California for a pair of preseason games to be played Friday night in Ontario and Saturday night in San Diego.
Head Coach Mike Van Ryn shared a few thoughts following Monday's skate:
Mike Van Ryn, on the first day of training camp:
It was fun, and it's fun when it's your team. Our staff has been excited all week about getting down here and starting to teach. We've got a ways to go obviously with some of our things, but the boys worked hard and that's the main thing, you've got to talk the talk when you hear everything they talk about up there – it's all about pace and work ethic, and I think our boys today did a real good job of that, so that's exciting as a coach. The systems stuff is going to come, I thought they did a real good job considering it was the first day. We've already started to talk about that winning mentality – it's an everyday thing – so hopefully they come with the same mentality again tomorrow and we'll try to make some more progress.
Van Ryn, on the focus during today's practice:
We had a quite a bit of everything in that practice today. We took a lot of things that we learned at the NHL camp and brought them down here. Us three coaches, we're pretty upbeat guys, so there's a lot of yelling, in a good way, but we try to keep things positive and try to create a good learning environment, and hopefully the guys even learned something in the first day, and as coaches we'll learn some things from them too. To play our systems, we're going to need to be in shape, in good skating shape, so there will probably be some skating drills at the ends of practices for the next little bit.
Van Ryn, on being vocal, energetic on the ice:
You just try and encourage guys, we're trying to play a real upbeat system. Any time you're learning something you want to be a little passive, hold back a bit, and make sure you're doing things right. But for us right now, it's trying to get them going, trying to get them further ahead, get them a little quicker and faster. We can always pull back on them when it's the right time, and we can make that adjustment, but right now it's about getting them going quick, pressure, pucks, trying to force teams into turnovers, and that's what we want to do, that's what we want to thrive off of on the offensive side of things. Defensively it's winning races, getting to pucks and killing things quickly. So there's a lot of encouraging, it sounds like yelling, but it's encouraging yelling to get guys moving and to get them on their toes.
Van Ryn, on tonight's preseason game:
I think it's something exciting for our fans. They were great all last year, so it's nice to be able to kick off the season with something nice like this where we can see some of our team's top players and some of the other team's top players. It's exciting for a lot of reasons, a great way to kick off the season. For me, I'm more looking at the X's and O's of things. I think our top team has come along with their systems, with their speed, and it's just exciting to be able to watch that curve as a coach, and hopefully we can emulate some of that down here.