NEWS & STATS
Scrimmage Centers Day 3 of Training Camp
By: Alexander Kinkopf
September 27, 2017 2:42 PM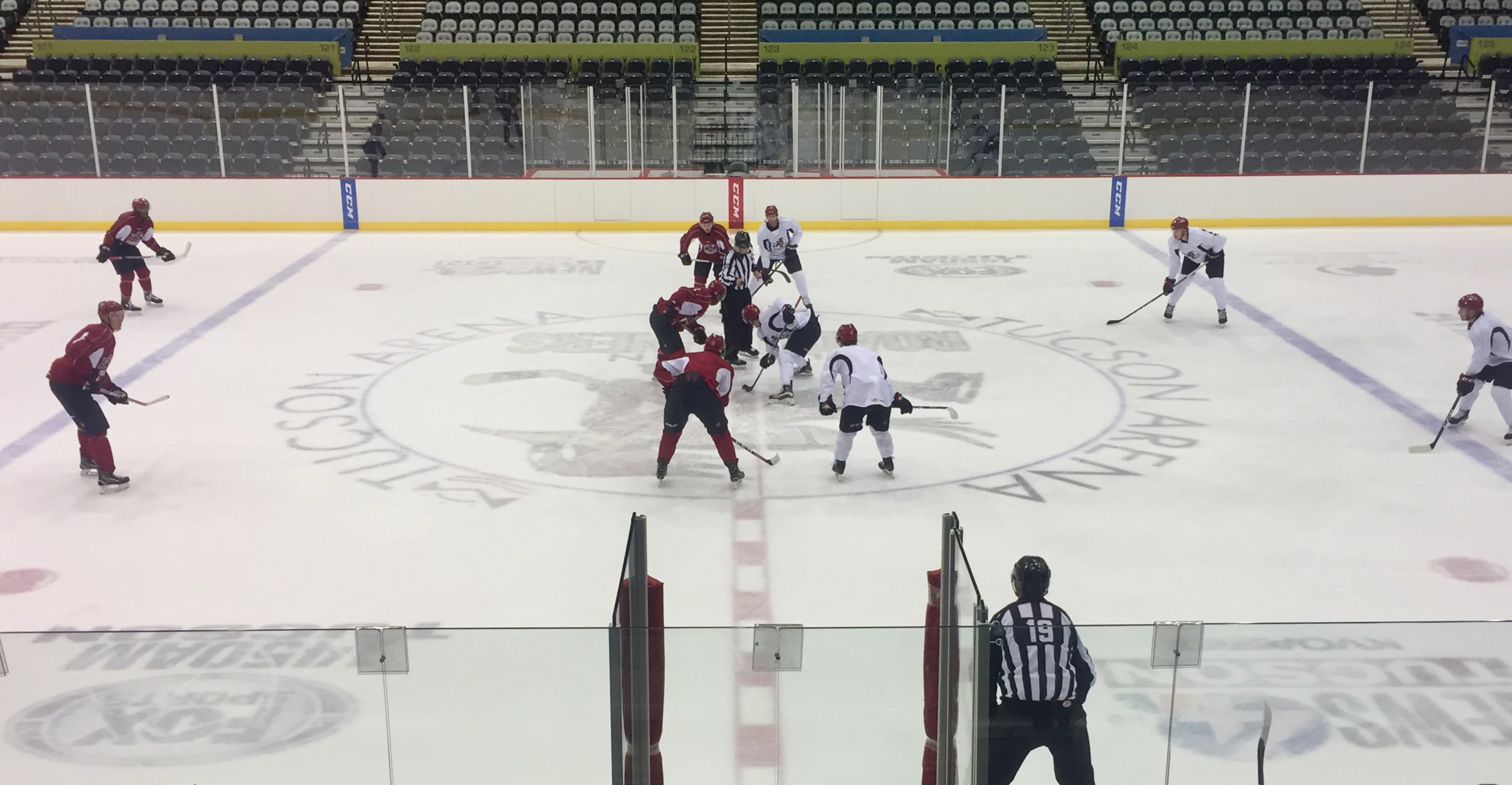 The Roadrunners' third day of training camp at Tucson Arena Wednesday saw the roster split into two separate groups, with each respectively holding its own practice before and after an intrasquad scrimmage.
Among those Tuesday assignments was forward Nick Merkley, a first-round selection (#30 overall) by the Coyotes in the 2015 NHL Draft, who was on the ice for his first session with the Roadrunners.
Merkley attended Coyotes development camp in June, as well as both rookie camp and main camp in September. "I know most of the guys here, almost everyone," he said following the skate. "Obviously I'm meeting a couple of new faces as well, but for the most part I know everyone."
Additionally, defensemen Andrew Campbell, Kyle Wood, Kevin Ekman-Larsson, and forward Ryan MacInnis were making their season debuts in Roadrunners practice sweaters Wednesday morning.
The roster, divvied into the aforementioned two groups, was split thusly:
TEAM A – WHITE
Defensemen:
Kyle Capobianco, Kevin Ekman-Larsson, Joel Hanley, Kyle Wood
Forwards:
Trevor Cheek, Gabriel Desjardins, Conor Garland, Dennis Kravchenko, Zac Larraza, Michael Latta, Lane Pederson, Mike Sislo
Goaltender:
TEAM B - RED
Defensemen:
Andrew Campbell, Ryan Culkin, Dysin Mayo, Jalen Smereck, Cody Sol
Forwards:
Scott Allen, Michael Bunting, Tyler Gaudet, Ryan Graham, Jens Looke, Ryan MacInnis, Nick Merkley, Artur Tyanulin
Goaltender:
The scrimmage, which included two referees who awarded penalty shots for any infractions called, saw a total of three goals scored. Two of the three goals scored came via infraction-awarded penalty shots. Those who found the back of the net were Trevor Cheek, Mike Sislo, and Zac Larraza.
The team is scheduled for a 9:00 AM practice on Thursday before departing for Southern California for a pair of preseason contests. They will play the Ontario Reign Friday night at Citizens Business Bank Arena, and the San Diego Gulls Saturday night at the Valley View Casino Center. Both games are scheduled for 7:00 PM starts.
Nick Merkley shared a few thoughts following his first practice with the Roadrunners:
Nick Merkley, on attending Coyotes development, rookie, and main camp:
Obviously development camp was good during the summer there, and then I came into rookie camp and did pretty well and had a pretty good experience. Main camp went pretty well, I got to play in my hometown in Calgary so that was pretty fun, and then I got to play [in Tucson] too, where there was a pretty good crowd, so I think it overall went pretty good.
Merkley, on feeling confident about his length of time spent at main camp:
I think that's something to take into account. Now it's just about coming down here and having that confidence. I think the biggest thing is to just keep moving forward and keep getting better every day.
Merkley, on his playing style:
I'd say I'm a pretty gritty playmaker. I like to make the guys around me better. I take the puck to the net, I like to play gritty in the corners and in front of the net, so that probably sums up most of my game.
Merkley, on his approach in Tucson:
I think it's just about getting off to a good start. The goal is to obviously end up in the NHL this year, so I'll be pushing every day for that. I think if you get settled in and start to do well down here, then they take notice up there. So that's the plan down here, to just try and win games and to do what I can for this team.
Merkley, on working under coach Mike Van Ryn:
I'm really excited for the season, and I think [Van Ryn's] structure is something I can fit into very well. I'm just going to try to do whatever he asks of me and do it to the best of my ability.