NEWS & STATS
Prepped For Preseason, Roadrunners Head To Southern California
By: Alexander Kinkopf
September 28, 2017 3:56 PM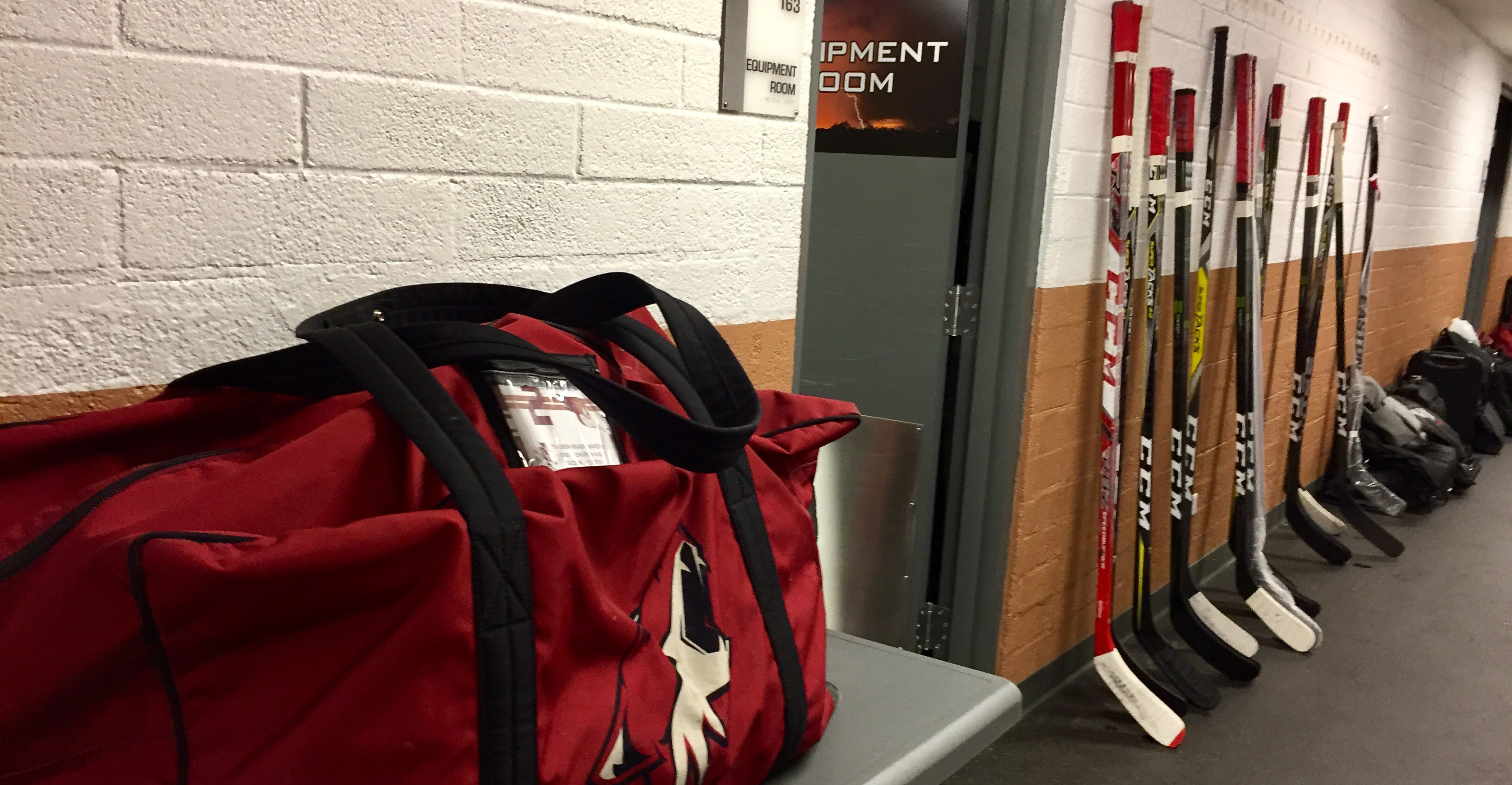 The Roadrunners are currently en route to Southern California where they'll be stationed this weekend for a pair of preseason games against the Ontario Reign and the San Diego Gulls. Both contests, Friday (Ontario) and Saturday (San Diego) are scheduled for 7:00 PM starts.
The fourth day of training camp, consisting of an earlier start time at the rink to accommodate time for travel, saw the team split into two groups as they touched on everything from systems to conditioning.
"Everybody's working hard, that's all I worry about right now," Head Coach Mike Van Ryn said of the team's training camp thus far. "It's not fair to judge guys in practice until they get into a game. Guys that we've got to see in two games will see two games [this weekend], and most of the weight in the evaluation process will be done during those games and not so much in practice."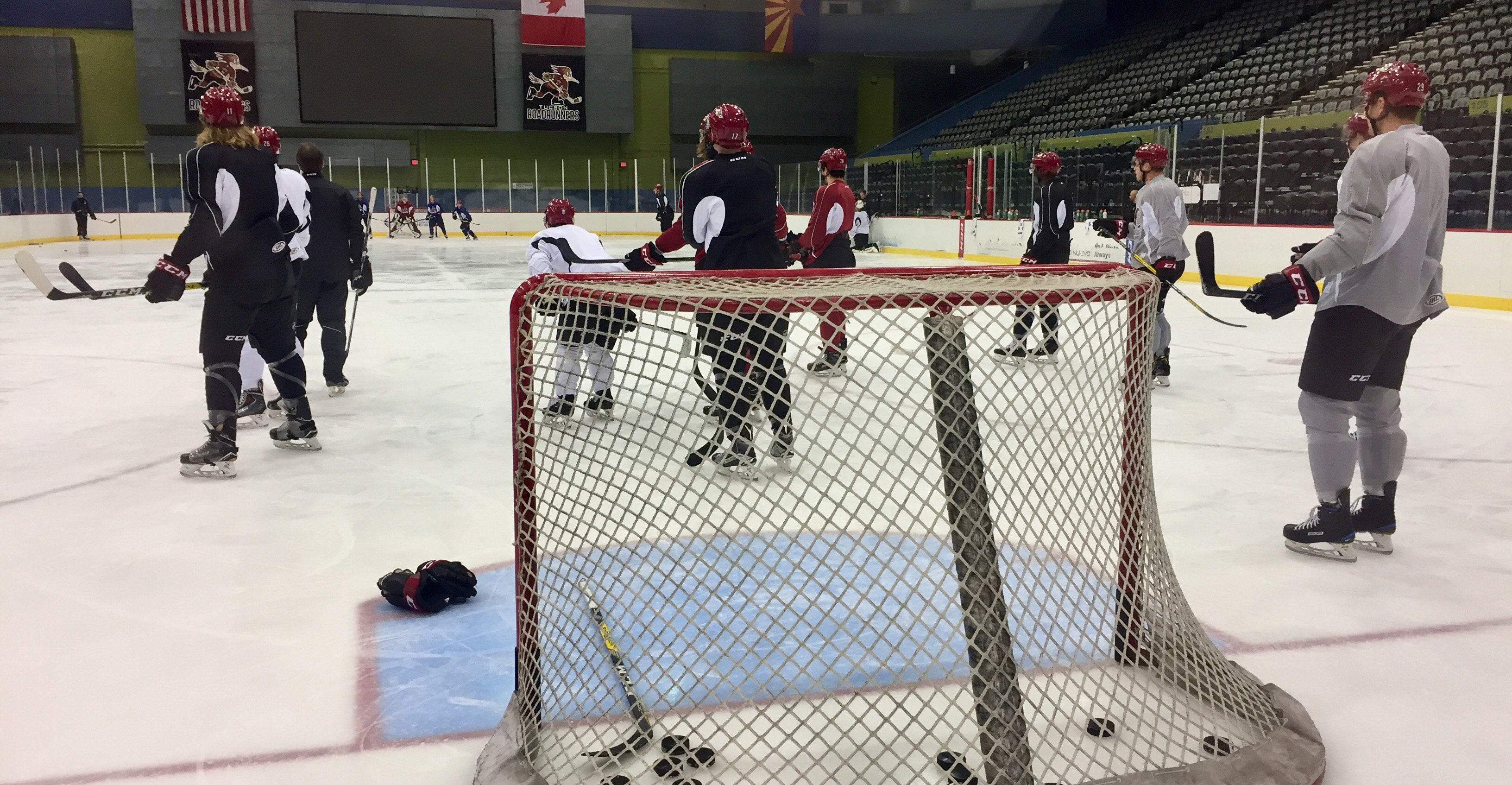 All 25 skaters (16 defensemen and 9 forwards) on the training camp roster are expected to dress at least once during the two game trip. Adin Hill and Michael Houser will serve as the club's two goaltenders. Hill is slated to start Friday night's game at Citizens Business Bank Arena.
Updated player numbers are provided below in the list of the names traveling with the club this weekend. Notable changes to numbers include Conor Garland switching from 22 to 8, and Ryan MacInnis 20 to 72.
Forwards:
Scott Allen (29), Michael Bunting (27), Trevor Cheek (39), Gabriel Desjardins (15), Conor Garland (8), Tyler Gaudet (10), Ryan Graham (25), Dennis Kravchenko (21), Zac Larraza (16), Michael Latta (46), Jens Looke (24), Ryan MacInnis (72), Nick Merkley (38), Lane Pederson (18), Mike Sislo (9), Artur Tyanulin (13)
Defensemen:
Andrew Campbell (2), Kyle Capobianco (23), Ryan Culkin (17), Kevin Ekman-Larsson (7), Joel Hanley (44), Dysin Mayo (37), Jalen Smereck (5), Cody Sol (11), Kyle Wood (3)
Goaltenders:
Adin Hill (33), Michael Houser (32)
The
Ontario Reign
defeated the
San Diego Gulls
4-3 in a shootout Thursday morning at
Citizens Business Bank Arena
in the teams' first preseason game of the year. A summary of the game, provided by the Gulls' communications department, is available
HERE
.
There will be no radio broadcast available for Friday night's game (Ontario broadcast availability TBD). Roadrunners Director of Broadcasting
Tom Callahan
will provide a call of Saturday night's action on
Fox Sports Tucson 1450 AM
with a pregame show starting at 6:45 PM.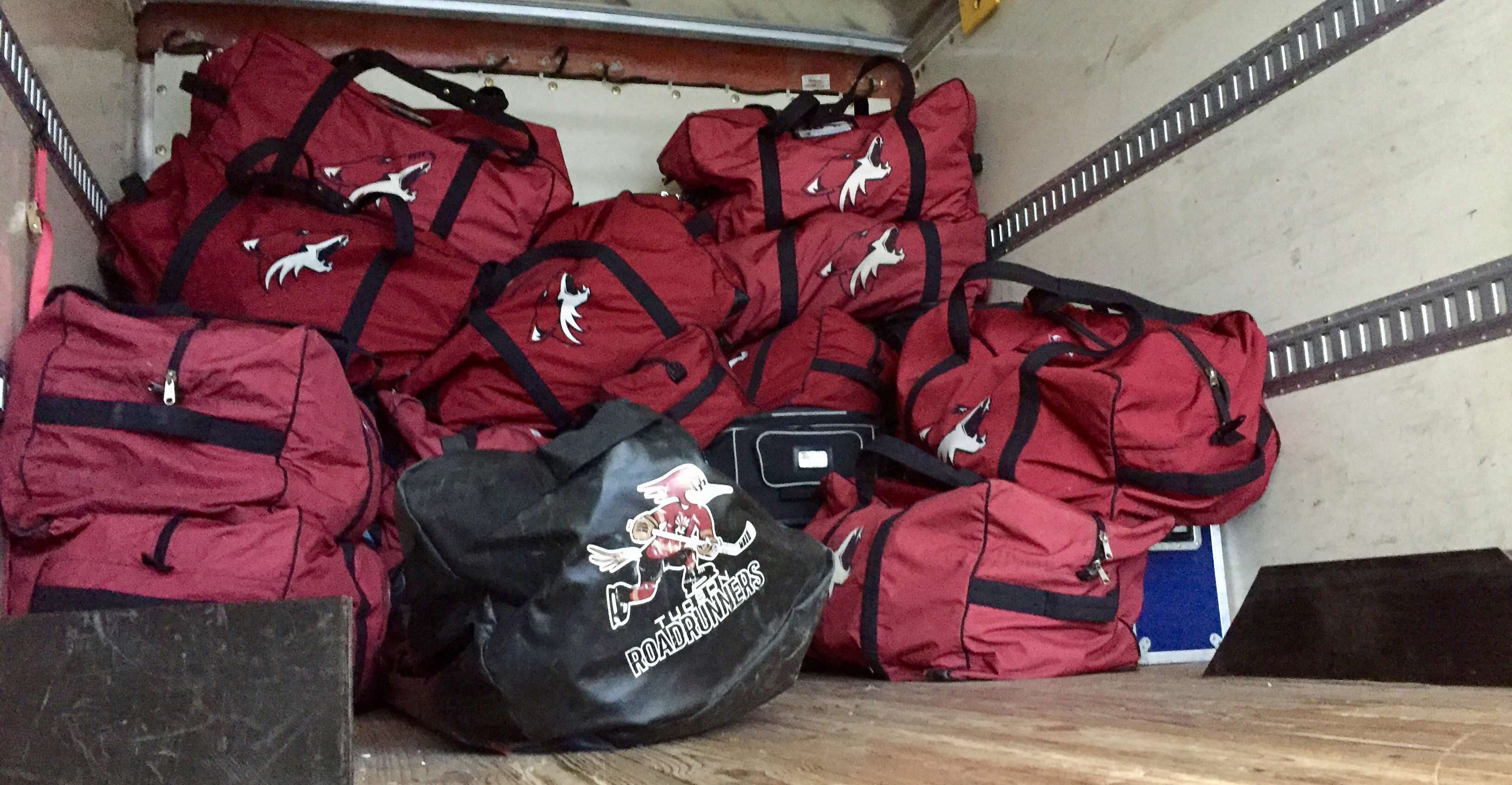 Head Coach Mike Van Ryn shared a few thoughts prior to departing with the team early Thursday afternoon:
Mike Van Ryn, on what he's looking to get out of the two preseason games:
I usually try to find some chemistry with some guys, and if it's not working early I usually tend to switch it up to try to find something that does. The system that we're playing this year is a difficult one for our guys, it's very different from what they've played in the past. Hopefully we see some strides [in these two games], we spent a fair amount of time going over things, so hopefully you can start to see some execution, and eventually hopefully that execution starts to come quicker, things happen a little faster, and we play on our toes.
Van Ryn, on his thoughts of the team's training camp thus far:
Usually my practices have a lot more pace than what they have, because like I said, we're trying to walk before we run here, so as far as things go, we're trying to get the systems in order – and like I told the guys – once we get that and we look pretty sharp, then we can start working a little bit more on the skills, the playmaking abilities, and all of the skill work, really. It's a process and you just stick with it. Nothing's every going to be perfect so you just keep plugging away. As long as we're making strides, that's all that we ask for as a staff.
Van Ryn, on his plans with the team's lineup this weekend:
Some guys will probably get in twice. Everybody will play. Houser may not get to, but we'll see what happens, we still have a lot of goalies up with the big club, so we'll see what happens with that. Right now, [Houser] is backing up and Hill will play the first game and we'll go from there. This time of season is tough, you never know what you're going to get or when guys are coming, and some of those decisions will probably be made probably after our first game, and maybe as late as even the morning skate. Right now we're kind of going along, preparing for everything, and when the time comes we'll make the decisions.