NEWS & STATS
In Tucson, Lööke To Grow On Smaller Ice
By: Alexander Kinkopf
October 03, 2017 3:53 PM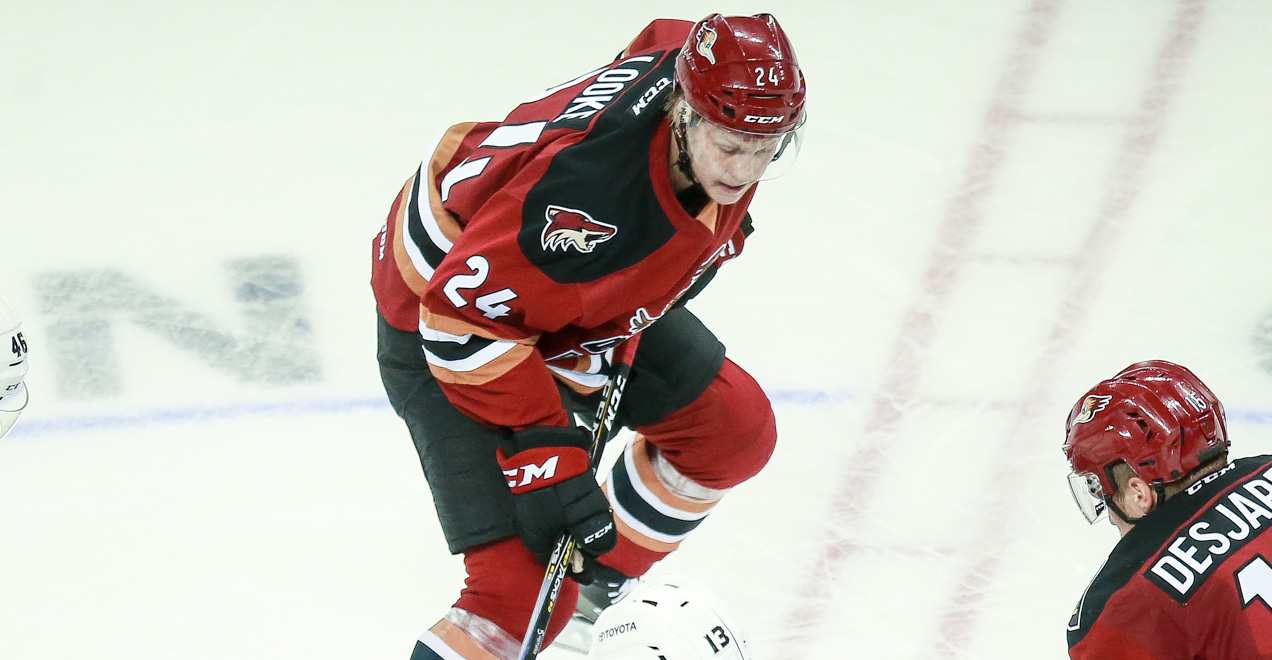 Jens Lööke is embarking on his first year of professional hockey in North America, and his journey got off to a rather striking start during the Roadrunners' pair of preseason games this past weekend.
The Gavle, Sweden native combined for four points (1G, 3A) during the team's two exhibition games, directly contributing to four of the team's five goals scored.
"I think we played two pretty good games, the whole team played well," Lööke said of the weekend. "My three assists and one goal, that's just a bonus for me, I just try to work hard everyday here and get used to the smaller ice, and I feel like I'm getting better everyday."
A third round selection (#83 overall) by the Coyotes in the 2015 NHL Draft, Lööke saw time on the team's third line Friday night in Ontario and fourth line Saturday night in San Diego, dipping into special teams as well while getting cycled into the club's power play and penalty kill schemes.
---
"All-in-all, a smart, offensive winger that is poised with the puck and makes creative on-ice decisions that lead to dangerous scoring situations." – Elite Prospects
---
"I think I'm a two-way forward who works hard in both ends," he said of his playing style. "I've got some offensive skills and I'm proud of my defense, and I can also play box play and stuff like that, so I'm a pretty well-rounded player."
One of the bigger hurdles for Lööke this season will be his transition to playing on a smaller ice surface, adapting to playing on North America's regulation 'NHL' sized ice as opposed to the larger, more spacious 'Olympic' dimensions used in Sweden and throughout Europe.
"It's hard, it's always hard," he said of getting comfortable to the smaller rink dimensions. "When you come over here [to North America] it's like a different game and style over here, and I'm just trying to get used to it. I think it's getting better and better for me everyday, so I'm looking forward to keeping it up out here."
Lööke, at 20 years old, joins a Roadrunners roster that, as of Tuesday afternoon, boasts the second lowest average age of any team in the American Hockey League at 23.08 years of age.
He'll be surrounded by a lot of energy, a lot of youth, and will be playing in a system that focuses on a heavy dose of speed and attack.
"I'm just trying to get better and better everyday out here and learn all of the new stuff," he said of the new coaching staff's system integration. "We've got really good coaches over here so I'm trying to listen as much as I can to them and see how all of the players do over here and how hard they're working, so I'm just trying to focus on that stuff and do my best everyday."
Playing on a smaller ice surface could very well become an afterthought once he builds chemistry with the Roadrunners' young offensive corps and works into an ever-developing system employed by a generous amount of youth.
"I think we're going to have a real good team," he said with a smile. "I think it's going to be a real good season for us."