NEWS & STATS
Roadrunners And Gulls Establish I-8 Border Trophy
By: Tucson Roadrunners
October 06, 2017 10:36 AM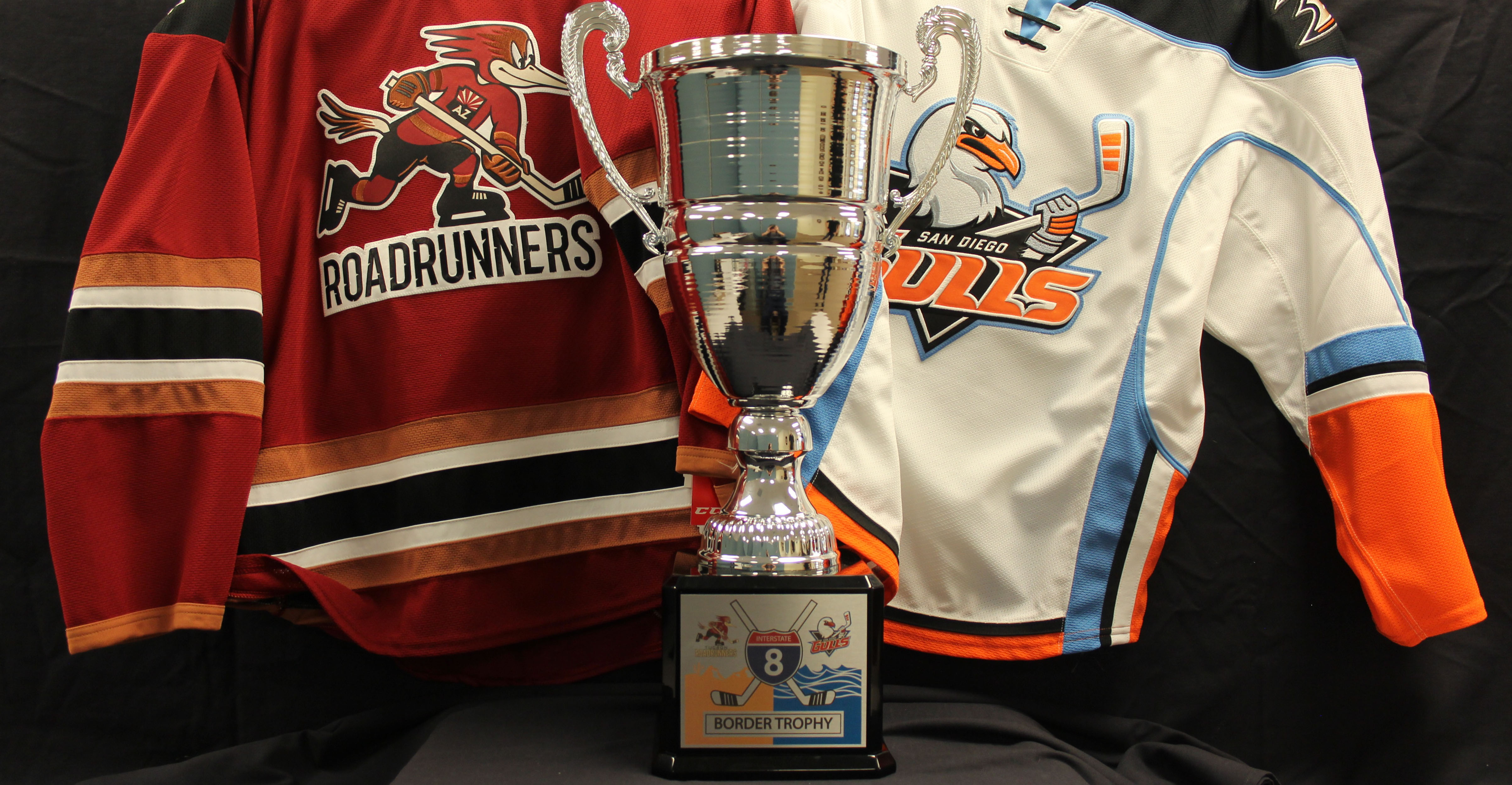 TUCSON, AZ – The Tucson Roadrunners, proud American Hockey League affiliate of the Arizona Coyotes, in conjunction with the San Diego Gulls, announced the establishment of the "I-8 Border Trophy" on Friday.
The newly created cup will be awarded to the winner of the rivalry's head-to-head series in 2017-18, which features the two sides battling a total of 12 times, beginning on Opening Night, October 7 at Tucson Arena.
After 12 clashes over the course of the previous season, the two organizations decided it was time to put more than just pride on the line for the upcoming campaign.
"It was great to build a rivalry with our closest opponent last season, the Gulls", said Bob Hoffman, Roadrunners President. "We love the idea of building on and enhancing the rivalry more in our second season and for many years to come."
"It is exciting to enhance our rivalry on and off the ice with the Tucson Roadrunners," said Matt Savant, Gulls President of Business Operations. "With the creation of the I-8 Border Trophy, our hockey club and passionate fans will look to take the rivalry to the next level with the added bonus of bragging rights this trophy brings

The I-8 Border Trophy is awarded by a points system, awarding two points to the victorious club in each matchup. In case of overtime or a shootout, the losing team will additionally be awarded a point.
Single game tickets
for all six duels at Tucson Arena are on sale now, starting at just $15 per seat.
Roadrunners full and partial season ticket memberships
are now on sale via the team office by calling
1-866-774-6253
and speaking with a member representative. Perks include exclusive member team events, an exclusive member gift, guaranteed lowest pricing, the Never Waste A Seat ticket exchange program and more, starting as low as just $10 per seat. Additional information can be found on the newly redesigned –
TucsonRoadrunners.com
.