NEWS & STATS
A Busy Friday Leads Into Roadrunners' Home Opener Against San Diego
By: Alexander Kinkopf
October 06, 2017 5:39 PM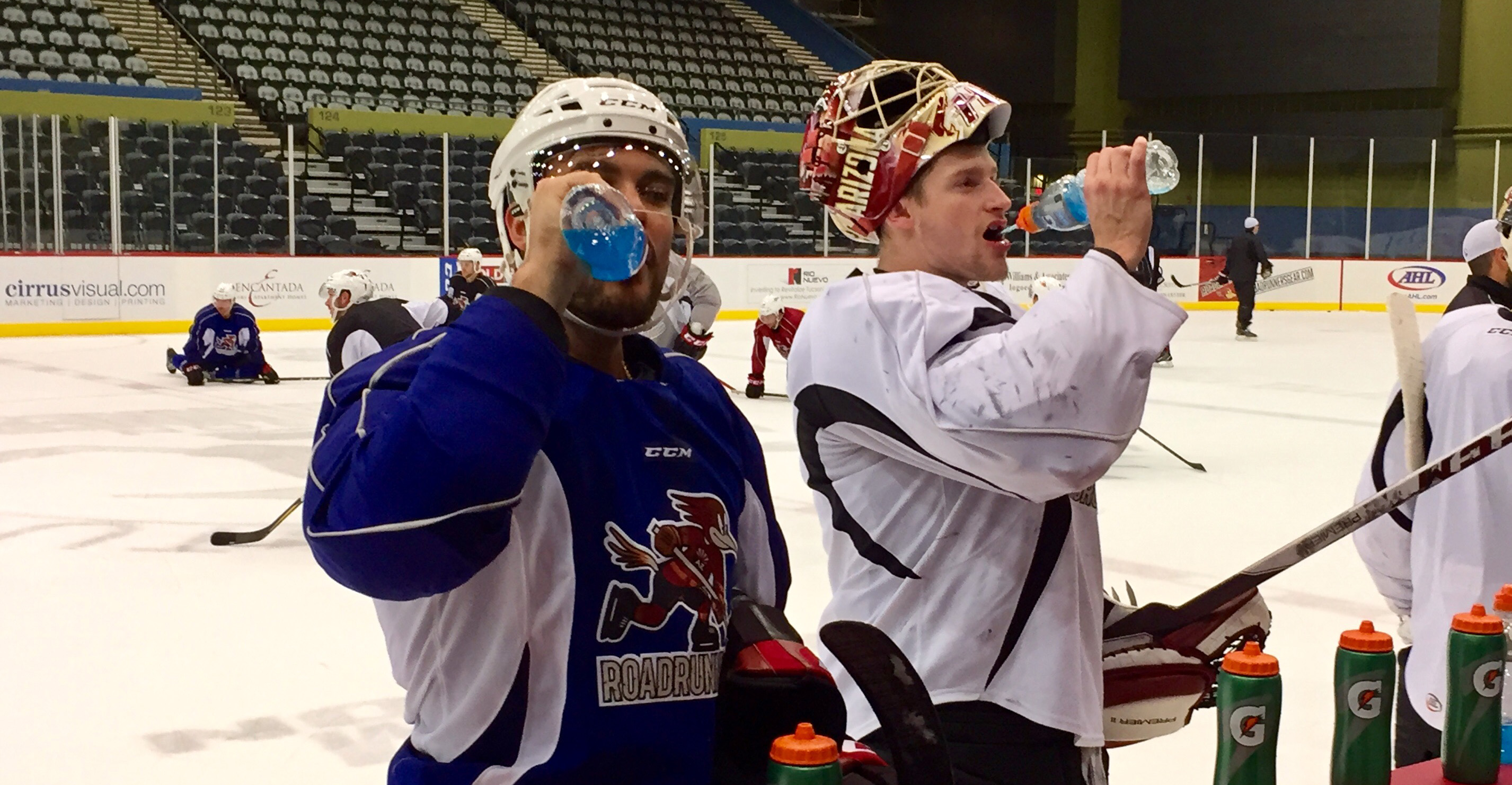 The Roadrunners took the ice at Tucson Arena Friday morning for their final practice ahead of Saturday night's regular season opener, when they'll host the San Diego Gulls in a contest that is scheduled for a 7:05 PM start.
Prior to Friday's skate, the team's 2017-18 opening night roster, which consists of 15 forwards, eight defensemen, and three goaltenders, was announced.
A spirited skate it was as Mike Van Ryn's coaching staff put the final touches on systems, situations, line combinations, and conditioning as the team prepares for the first of 12 regular season meetings with their Pacific Division foe.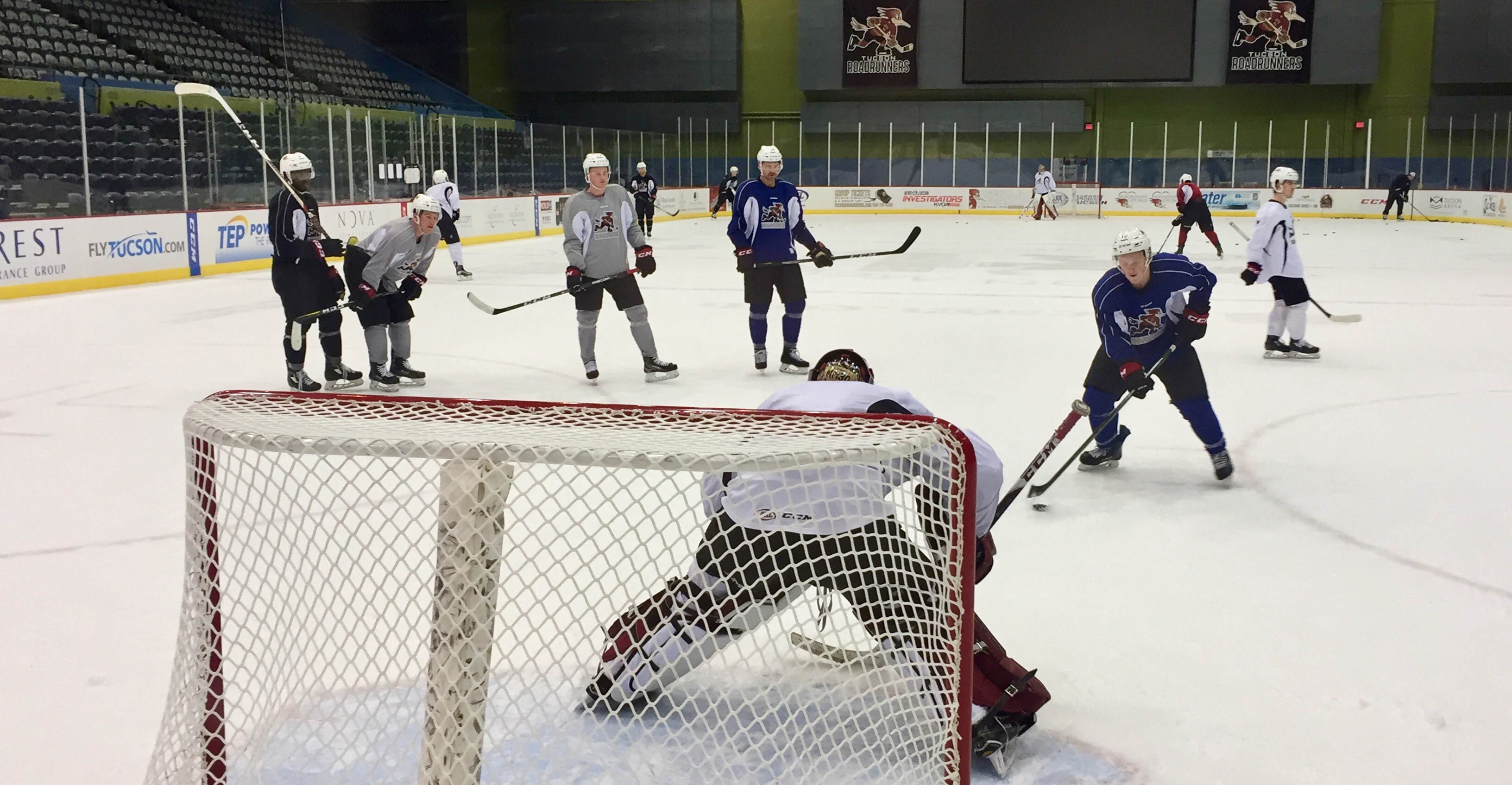 "I think the guys are excited, and I'm excited about it," Head Coach Mike Van Ryn said after practice. "[Tucson Arena] was a neat building to come into last year. Our guys have worked hard, I think they're excited to see how the new system works for them, for us, and it's a fun way to play. Opening night is always fun, and I'm sure the building will get the guys going too."
Saturday's game will also be the first of many determining factors for which team takes home the freshly-minted 'I-8 Border Trophy', which was unveiled Friday afternoon. The trophy, which will be available for viewing on the Tucson Arena concourse during Saturday's game, will be awarded to the team with the most standings points earned during the clubs' 12 regular season match-ups.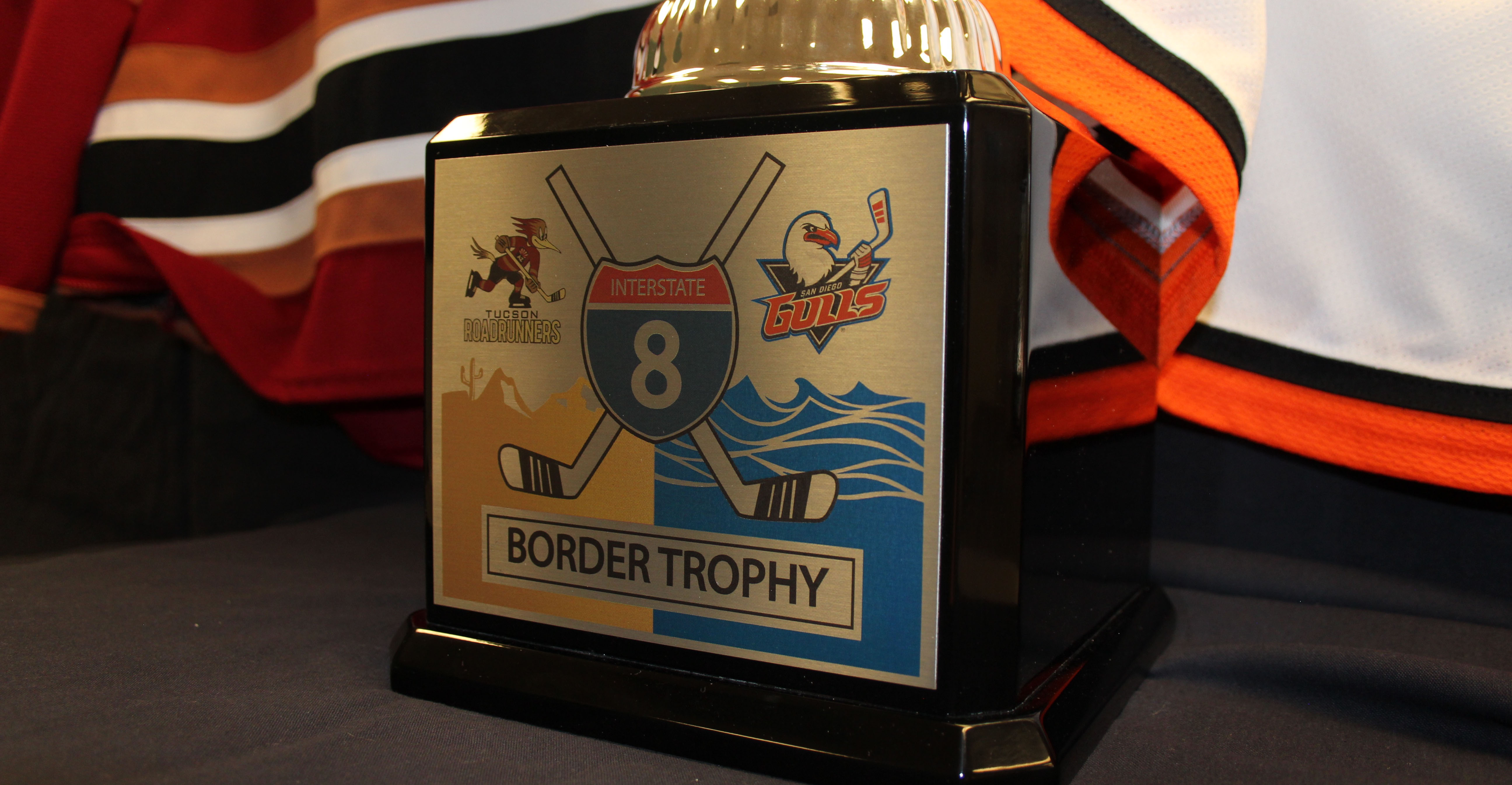 Following practice, the team held a meeting to announce the leadership group for the 2017-18 season. Defenseman Andrew Campbell was named team captain, while forwards Mike Sislo, Michael Latta, and defensemen Dakota Mermis, Joel Hanley were named rotating alternate captains.
Notes:
The team will hold a 10:00 AM morning skate on Saturday at Tucson Arena.
The Roadrunners will don white uniforms Saturday night and throughout the first-half of the season, per the American Hockey League's regulations.
Pregame festivities, featuring a 'Red Carpet Ceremony' for player entrances, begins at 4:15 PM.
2017 American Hockey League Hall-of-Fame inductee and San Tan Valley resident Billy Dea will drop the ceremonial first puck Saturday night.
Adin Hill, Dakota Mermis, and Head Coach Mike Van Ryn shared some thoughts following Friday's practice: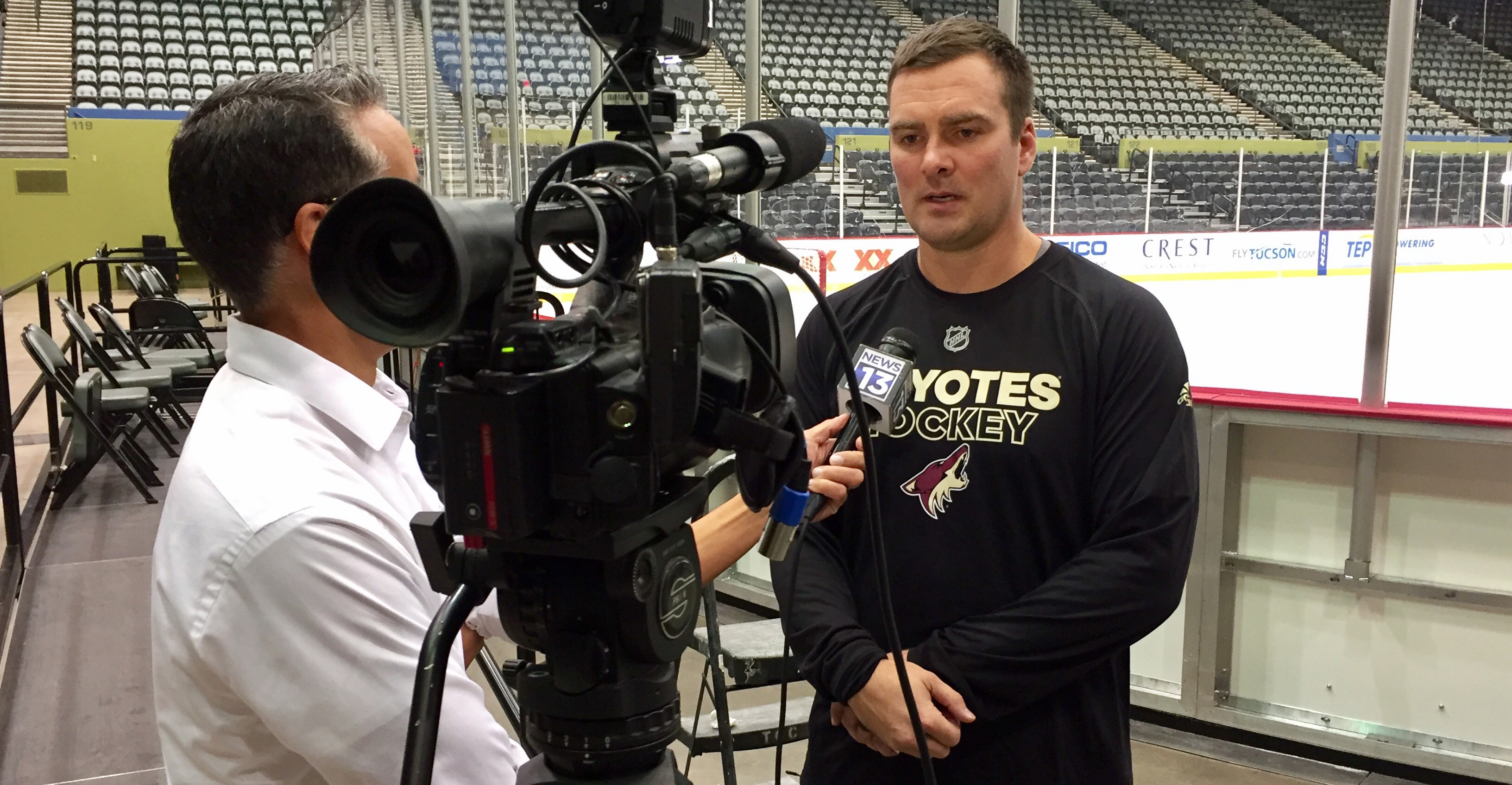 ---
Adin Hill, on the emotions leading into Opening Night:
I mean it's going to be exciting, hopefully it's the same type of atmosphere we had last year, I expect it will be, it was an unreal first game last year. I'm excited and pumped up for tomorrow.
Hill, on feel, camaraderie of the roster:
I think we've got a real close-knit group here, we're all pretty tight, so I'm pretty excited. Practices have been going pretty well here and we're just all anxious to get things going tomorrow.
Hill, on the meaning of a win against the Gulls Saturday night:
It would be huge. Playing San Diego, they're the closest team to us so they're probably our biggest rival, and last year we did have our share of struggles against them, so we're hoping to start it off on the right foot with a win this year.
---
Dakota Mermis, on being named an alternate captain in rotation:
I think it's a good time in my career to take that next step into a leadership role here. Certainly here, and in the Arizona organization as a whole, they're really looking to make strides in the organization with a lot of changes, so to kind of be a guy who can help push that process forward is real exciting.
Mermis, on his leadership style:
I think every leader, the first thing they need to do is lead by example. I don't think you can't tell guys what they should be doing if you're not doing it yourself. So for me, my leadership comes mostly from example. Some guys may need a push here or there, and I'll certainly be here to do that, but for the most part I'm all about leading by example.
Mermis, on the feelings going into Opening Night:
It's fun. Tucson is such a great place, and I think just in the past year it's grown a ton, so to see a lot of the fans from last year, and hopefully a lot of new fans as well, and to celebrate that hockey's back, it's going to be a lot of fun.
Mermis, on the effect on an Opening Night win can have:
It would be huge. We play them a lot of times, and first impressions with teams is everything as well, so if we can have a good strong game and play the right way, then hopefully we can get the win, and that will be great for us moving forward.
Mermis, on the new roster:
We're definitely a bit younger. With the new style that we're playing this year, it kind of plays into our hands with the energy of the young guys, and certainly the skill of these young guys too. The way we're going to play with the pace and possessing the puck is going to be an exciting brand, and I think it will carry over throughout the entire season and really push some wins.
---
Mike Van Ryn, on the team's two preseason games:
I thought our guys did a good job, especially considering we played short up-front for two games because of injuries. I thought our forwards did a real good job keeping up the pace and being relentless on pucks. Our guys have done a very good job; they're paying attention, and they're trying to execute, and really as a coach that's all you can ask for.
Van Ryn, on the importance of an Opening Night victory:
I don't really look at the wins and losses, especially early on this season with all of the changes taking place involving players, and also the systems. We've had to push them pretty hard here just to try to get it, we've had some real long practices, so more or less for me it's just about seeing the baby steps, the steps in the right direction, guys grasping the new concepts, and also paying attention to how they handle certain situations. We'll be on the guys about the things we can control; mistakes are going to happen and we'll tighten up along the way, but we're just excited to see how everything comes together here.
Van Ryn, on crowd size, noise being a factor for players and coaches:
I notice it. I noticed it as a player. I think most players, probably half of them will tell you that they don't notice it because they want to make it seem like they're right into the game, but I figure that's pretty much a myth, and most players do feed off of it. The opposition's game plan is to try to take the fans out of it, so it's definitely a factor. It'll be interesting to see how loud we get tomorrow and how many people come.