NEWS & STATS
A Score For Scottsdale's Zac Larraza In Tucson Debut
By: Alexander Kinkopf
October 09, 2017 11:23 AM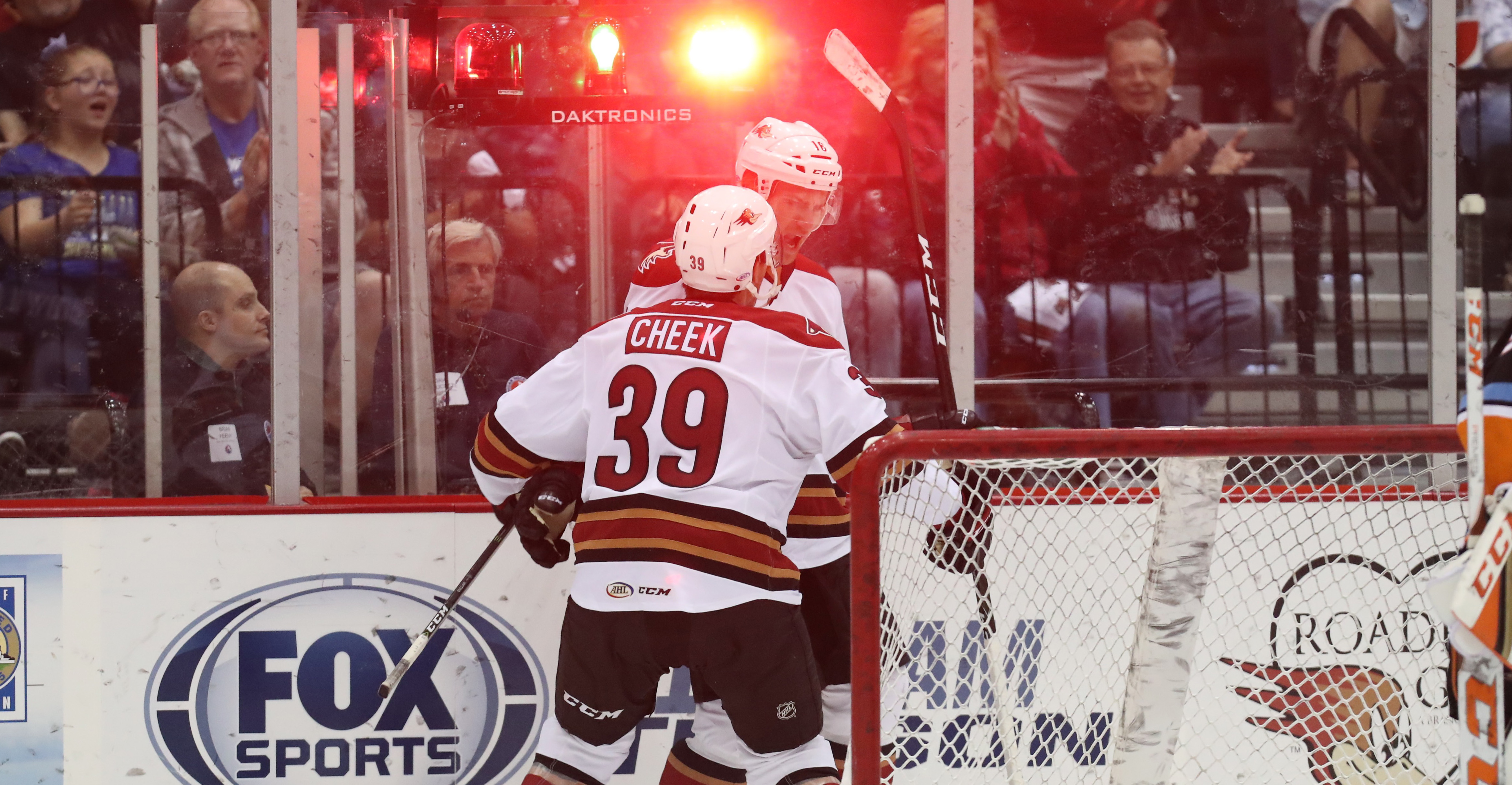 Saturday night was a homecoming in more ways than one.
For the Roadrunners, who were playing their first regular season game at Tucson Arena since April 1, it was a return to go back to work in front of a fan base that had been so resolute in their support of the club during its inaugural season, the team performing in front of a raucous Opening Night crowd of 5,711.
Transition on over to Zac Larraza, who, born and raised in Scottsdale, Arizona and drafted by the Coyotes in 2011, made his Roadrunners debut, representing his home state for the first time in his professional hockey career.
"I had quite a few friends and family here," Larraza said with a smile following Saturday's game. "My girlfriend drove up, my Mom and Dad, Grandma, Aunt and Uncle as well. It was cool to see everybody, especially to score a goal in front of everybody. This is just an hour, hour and a half from home, so it was a special night for me, for sure."
Skating on a fourth line Saturday night alongside Trevor Cheek and Scott Allen, Larraza found the back of the net 12:08 into the evening when he chipped home an Allen feed from the top of Kevin Boyle's crease to cap off a shift of unrelenting offensive zone possession and pressure from the trio.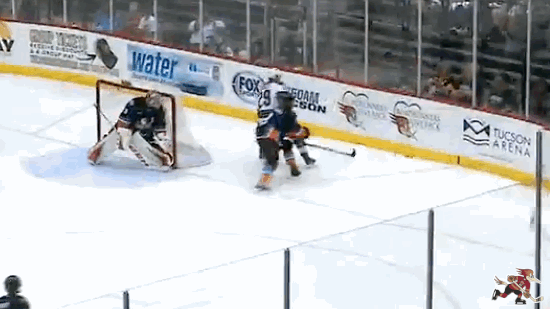 This brought on a case of what some like to call 'silent noise.'
"Usually, in those first few seconds after you score a goal, you sort of black out there and just kind of do whatever's in your head," he said. "So, I didn't really hear anything, everything kind of went quiet, and you're just excited for yourself as well as the people that chipped in on the play."
Growing up playing hockey in and around the Valley, Larraza is an example of the sport's growth in Arizona, where USA Hockey player registration has more than tripled since the Coyotes' inaugural 1996-97 NHL season.
Larraza left Arizona at the age of 16 when he was selected to play in the USA Hockey National Team Development Program. He played four years of collegiate hockey with the University of Denver, and is now in his third pro season, having played in 54 games in the East Coast Hockey League and 42 games in the American Hockey League.
Having spent parts of his previous two seasons with the San Diego Gulls, including 17 games during the 2016-17 campaign, scoring against his former team made it that much sweeter.
"It was exciting. Scoring against the old team, and scoring in and for a town not too far away from where I grew up was definitely a special feeling, especially to be able to do it in front of my friends and family, but I wish it just could've been the opposite as far as the outcome, and been a win for us."
Larraza hopes to be a mainstay with the Roadrunners this season, where he'll get to play in a familiar environment in front of a fan base he was graciously received by Saturday night.
"I was here a when I was with San Diego last year, so I played [at Tucson Arena] a couple of times and the energy was always going," he said. "You feel that as a player, when the crowd's going. When you can hear people cheering for you and the team, it really brings an excitement to your game, as well as the rest of the team."
A fitting story it's been already for #16, and hopefully it's just the start of a special one for Arizona's 'hometown kid' in Tucson.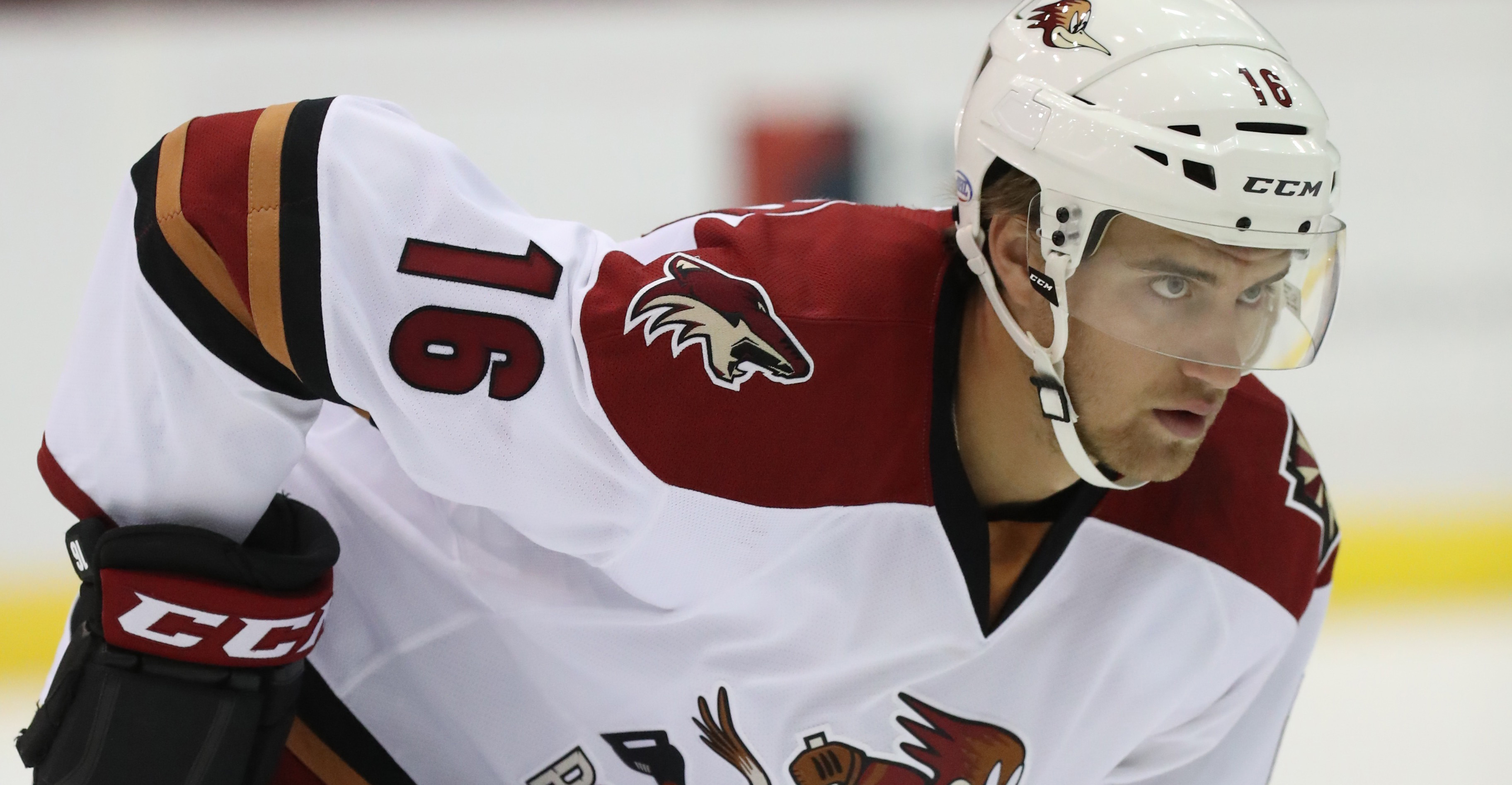 *Photos taken by: Kate Dibildox and Chris Hook