NEWS & STATS
Adin Hill's new mask features, honors Davis-Monthan Air Force Base
By: Alexander Kinkopf
November 02, 2017 2:13 PM
Adin Hill's newest look embraces a staple in the community.
The 21-year-old netminder debuted his most recent mask during Thursday morning's practice at Tucson Arena, breaking it in before it sees its first live action this weekend.
The theme? Tucson's own Davis-Monthan Air Force Base.
Detailed and decorated by
Dave Fried
of
Friedesigns
out of Calgary with a desert backdrop and Southern Arizona sunset-kissed skies, Hill's mask features special elements that tie directly to the theme he wanted to push.
"It's just a nice tribute to the Air Force Base," Hill said. "I know the Air Force is really big here in Arizona, and especially the military, so knowing that the [Davis-Monthan] Air Force Base is popular here in town, I decided to put their sign on the back of my helmet with their saying."
Along with fighter jets that emblazon the side of the helmet, the Davis-Monthan Air Force Base sign and slogan are prominently featured on the back.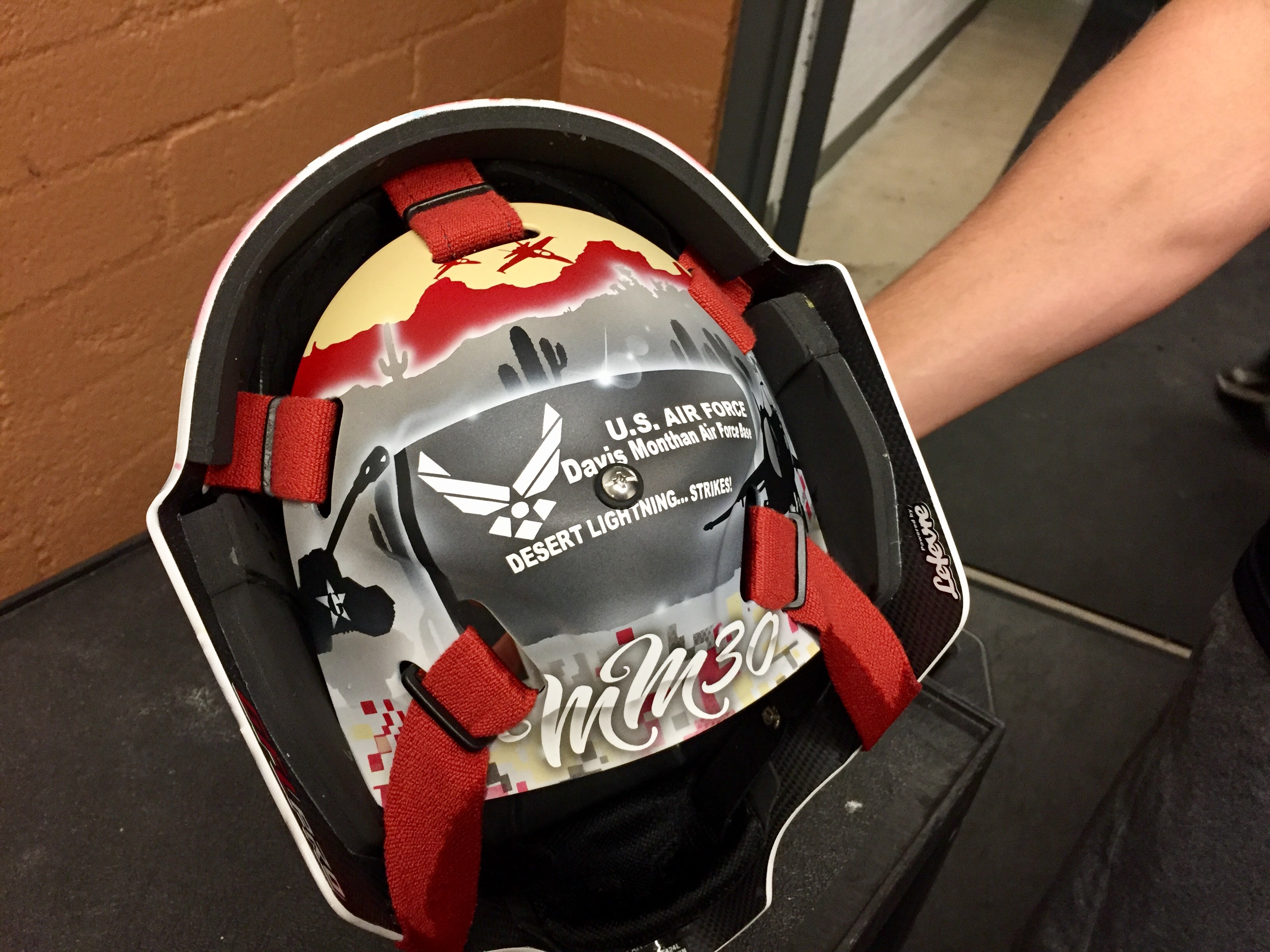 "You notice it," Hill said of the importance to the Air Force in the Tucson community. "You walk around and you see Air Force people everywhere, and I know it's a big deal here in Tucson, so it kind of came down to being a little local tribute."
Hill's little brother, Garrison, who's nine years old, requested some design elements of his own.
"Actually, on the back there's a little tank, and that was my little bother's idea," he said with a grin. "My little brother said he wanted a tank on it, so I put a tank on the back with his first initial on there."
This mask will remain in rotation with the one he debuted during rookie camp in September. The Davis-Monthan themed mask, because of its color scheme, will be worn when the Roadrunners don their white uniforms.
"This mask has a lighter base and a white cage, so I'll be wearing it with the white jerseys, and my other one I'll be wearing with the dark jerseys," he confirmed. "The other difference with this one is that it has a matte finish over it to get rid of the glossy look."
Hill, like in all of the previous masks he's designed and worn, pays homage to Mike Maniago, his goaltending mentor during his younger days with the initials "M.M" and the number 30 on the bottom of the back plate.
He was clear on his commitment upon his return to Tucson earlier in the week.
That was verbal.
This? This, fans will see when he gets the imminent call to return to the Roadrunners' net.