NEWS & STATS
Game #20 - Tucson at Stockton
By: Alexander Kinkopf
December 09, 2017 4:27 PM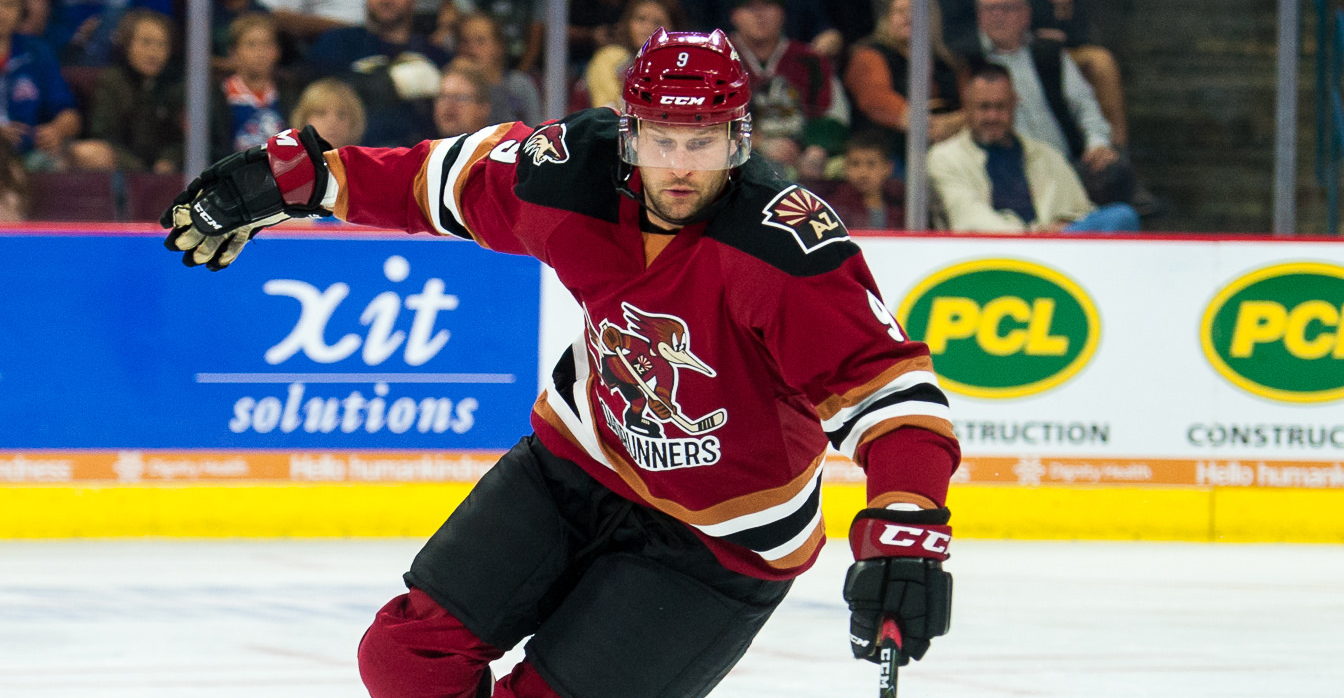 TUCSON ROADRUNNERS 2, STOCKTON HEAT 5
Final | 0:00 Remaining
Tucson (12-4-2-1) at Stockton (13-6-0-2)
Saturday, December 9, 2017, 7:00 p.m. MST
Stockton Arena | Stockton, California
LISTEN LIVE:
Stats/Scoring
SOG - TUC 30; STK 34
PP – TUC 0/4; STK 2/4
FIRST PERIOD:
1) STK - Hunter Shinkaruk (Marek Hrivik, Morgan Klimchuk) 0:12
2) STK PPG - Spencer Foo (Andrew Mangiapane, Cody Goloubef) 2:07
3) STK SHG - Morgan Klimchuk (Marek Hrivik) 9:15
SECOND PERIOD:
4) STK PPG - Cody Goloubef (Oliver Kylington, Brett Findlay) 14:34
THIRD PERIOD:
5) TUC - Dysin Mayo (Nick Merkley) 7:01
6) TUC - Trevor Cheek (Michael Bunting, Tyler Gaudet) 14:09
7) STK ENG - Andrew Mangiapane (Brett Findlay, Emile Poirier) 19:01
---
Roadrunners Lineup
FORWARDS
LAWSON CROUSE (67) - MARIO KEMPE (20) - NICK MERKLEY (38)
EMERSON ETEM (26) - RYAN MACINNIS (72) - MIKE SISLO (9)
MICHAEL BUNTING (27) - TYLER GAUDET (10) - JENS LOOKE (24)
TREVOR CHEEK (39) - MICHAEL LATTA (46) - LANE PEDERSON (18)
DEFENSEMEN
ANDREW CAMPBELL (2) - DYSIN MAYO (37)
JOEL HANLEY (44) - ADAM CLENDENING (4)
DAKOTA MERMIS (43) - KYLE WOOD (3)
GOALTENDERS
ADIN HILL (33)
HUNTER MISKA (35)
---
Notes
Pregame:
Adin Hill leads the team out of the tunnel and onto the ice for warm-ups. He is set to make his eighth start of the season, his ninth appearance. He carries a 4-3-1 record into the evening.
Emerson Etem draws back into the lineup after missing the last eight games (undisclosed). He hasn't played in a game since November 11.
The forward lines have been adjusted a bit since Friday night; all defensive pairings stay the same.
First Period:
Stockton scores on two of its first three shots of the game.
The Roadrunners surrender their first shorthanded goal of the season at the 9:15 mark of the first period after a misplayed puck leaves Adin Hill vulnerable and out of position.
Lively power play opportunities for the Roadrunners, but no goals to show for it.
Second Period:
Stockton scores its second power play goal of the evening with just over five minutes left to play in the period.
Adin Hill, facing 14 shots in the period, makes a slew of impressive saves despite the score.
Third Period:
Dysin Mayo fires home the Roadrunners' first goal of the evening with 12:59 left to play, scoring his second of the season and second in three games.
With just under six minutes to play, Trevor Cheek buries his first goal of the season, getting the Roadrunners within two. For Cheek, it was his 100th career professional point.
Stockton ices the game with an empty net goal with 59 seconds left on the clock.
---
Highlights
Dysin Mayo walks into a Nick Merkley pass to get the Roadrunners on the board with just under 13 minutes left to play in regulation.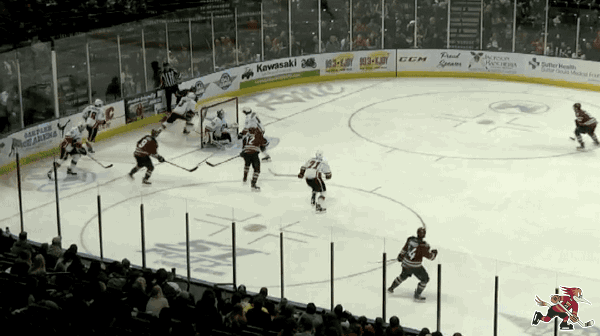 Trevor Cheek scores the Roadrunners' second goal of the night with 5:51 left to play.
---
Photos