NEWS & STATS
Good Morning, Tucson: San Jose's In
By: Alexander Kinkopf
December 12, 2017 10:36 AM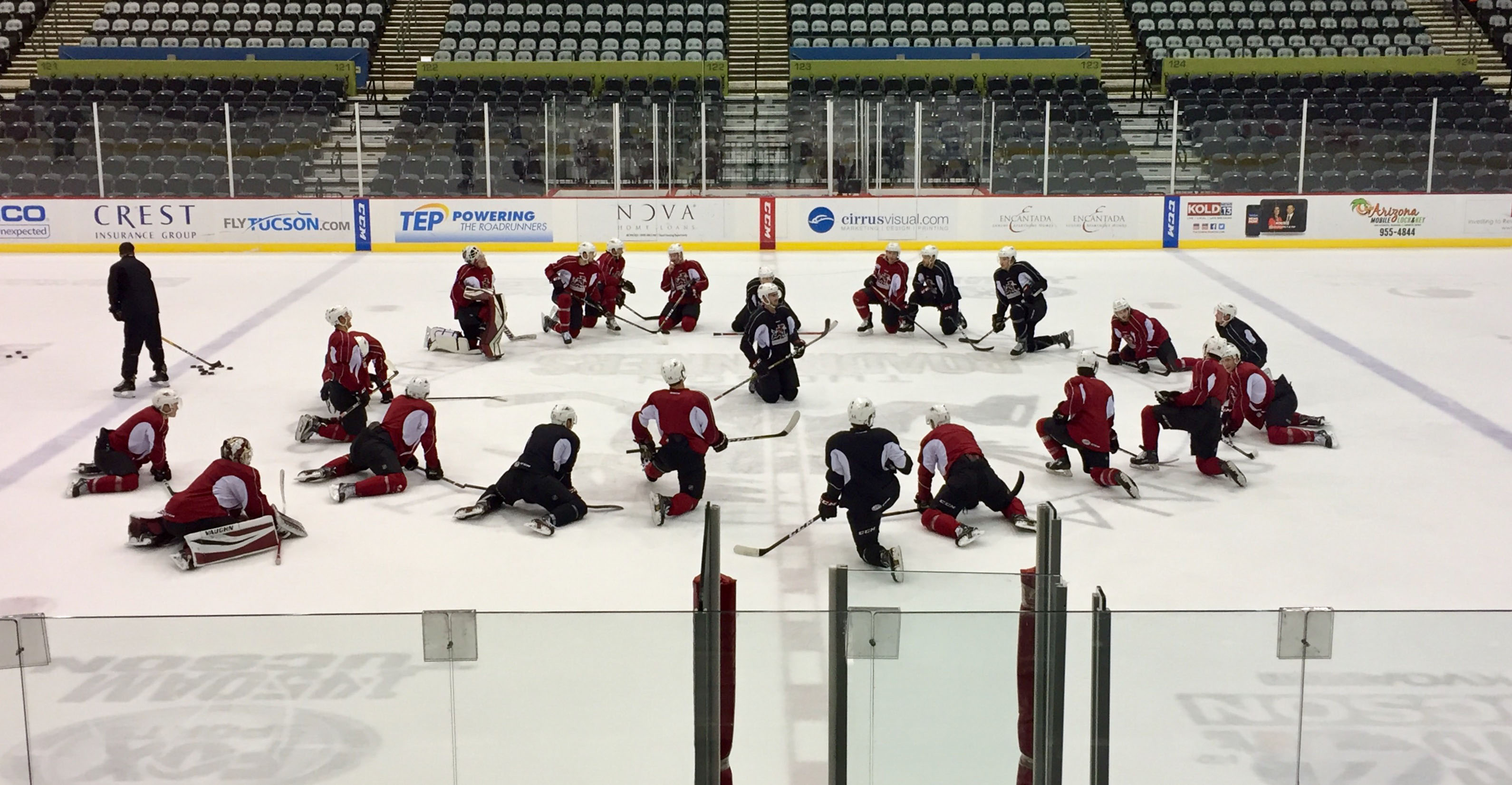 Good morning from Tucson Arena, the site of tonight's contest with the San Jose Barracuda, who are making their first visit to Southern Arizona this season.
Following the team's weekend travel and Monday's light schedule, the roster assembled for a full, up-tempo morning skate.
Familiar these two clubs will be with one another, having met Friday night at SAP Center, a game in which the Roadrunners won by a 3-1 score.
San Jose comes into the night 28th in the AHL in offense, averaging 2.50 goals scored per game. They've registered a combined one goal in their past two games, that coming against the Roadrunners Friday night during Hunter Miska's phenomenal 33-save performance.
Kyle Capobianco, assigned to Tucson by the Coyotes on Monday, was back on the ice with the team.
Shortly after the morning skate wrapped up, the league announced that Nick Merkley has been suspended two games as consequence for a high-sticking incident Saturday night in Stockton. Merkley will not be in the lineup tonight or tomorrow.
The Roadrunners enter a game not situated in first place in the Pacific Division tonight for the first time since October 28. Following Saturday night's 5-2 loss to the Heat, the team slid into second.
Dakota Mermis shared a few thoughts following the morning skate:
Dakota Mermis, on what he took away from Friday's game in San Jose:
They're a good divisional team. All divisional games are tough; they're big points. We weren't too happy with how we played that game, but we came away with the two points. For us, I think it's a rebound game.
Mermis, on Miska's performance against the Barracuda:
He was huge for us. He made a lot of big saves and kept us in it early, and he gave us a chance to win it like we did late, which is exactly what you ask of your goalie. If he does the same things tonight, and we fix a few things, I think we'll be just fine.
Mermis, on the importance of a solid start; the team falling behind early in Stockton:
It's tough to come back like that when you're playing from behind, especially that early. Even though we had a lot of game left, it's an energy thing that just kind of drains the team. We definitely need a better start tonight; we'd like to play with the lead and play that way all night.
More to come from Tucson Arena.