NEWS & STATS
Scott Pellerin, Craig Cunningham Named Honorary Captains For 2018 AHL All Star Classic
By: Tucson Roadrunners
December 14, 2017 9:46 AM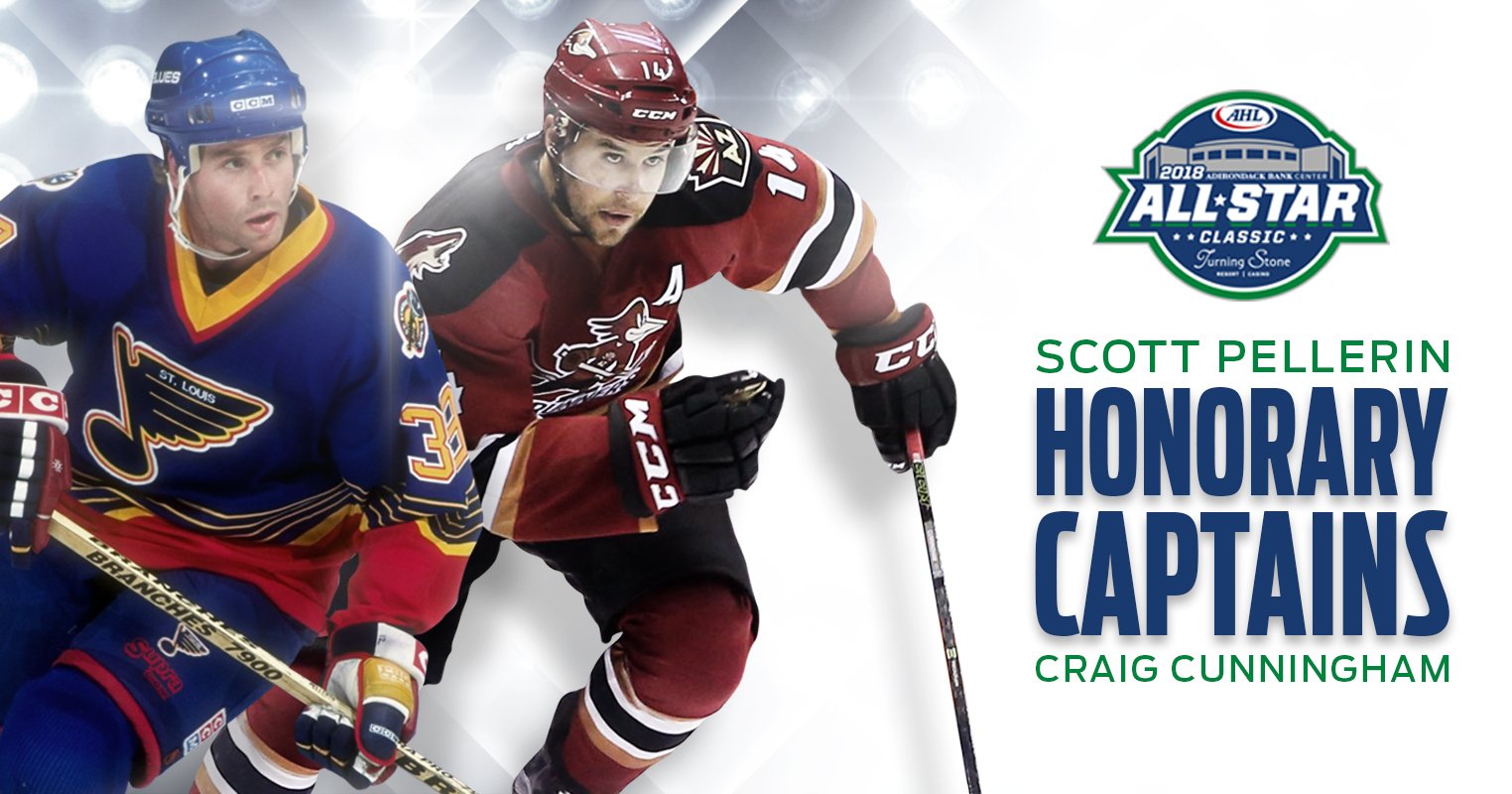 SPRINGFIELD, Mass.: American Hockey League President and Chief Executive Officer David Andrews announced today that Scott Pellerin and Craig Cunningham have been selected to serve as the honorary captains for the 2018 AHL All-Star Classic presented by Turning Stone Resort Casino, to be held January 28-29 in Utica, N.Y.
Each year, the All-Star Classic honorary captains join the participating teams in the locker room and on the benches during the event, and are recognized for their careers at the annual AHL Hall of Fame Induction and Awards Ceremony.
Scott Pellerin began his professional hockey career in Utica, debuting with the AHL's Utica Devils in the 1992 Calder Cup Playoffs and tallying 33 points in 27 games as a rookie during the 1992-93 season. Pellerin would go on to skate in 328 games in the American Hockey League – winning a Calder Cup championship in Albany in 1995 – and played 536 more contests in the National Hockey League with New Jersey, St. Louis, Minnesota, Carolina, Boston, Dallas and Phoenix. Pellerin was an assistant coach for the AHL's Manchester Monarchs from 2006-12 and head coach of the Bridgeport Sound Tigers from 2012-14. He is currently serving as director of player development for the Toronto Maple Leafs.
Craig Cunningham is in his first season as a scout with the Arizona Coyotes following six seasons of pro hockey that included 319 games in the AHL. The captain of the Tucson Roadrunners during their inaugural season in 2016-17, Cunningham has been an inspiration to the entire hockey community through his recovery and rehabilitation following a career-ending and life-threatening medical emergency last November. Cunningham, who also skated in 63 NHL games with Arizona and Boston, received the 2016-17 Fred T. Hunt Memorial Award as the AHL player who best exemplifies sportsmanship, determination and dedication to hockey.
In operation since 1936, the American Hockey League serves as the top development league for the players, coaches, managers, executives, broadcasters and staff of all 31 National Hockey League teams. More than 88 percent of today's NHL players are American Hockey League graduates, and more than 100 honored members of the Hockey Hall of Fame spent time in the AHL in their careers. In 2016-17, over 6 million fans attended AHL regular-season and playoff games across North America for the 16th year in a row.