NEWS & STATS
Good Morning, Tucson: Seeing Red
By: Alexander Kinkopf
December 22, 2017 10:27 AM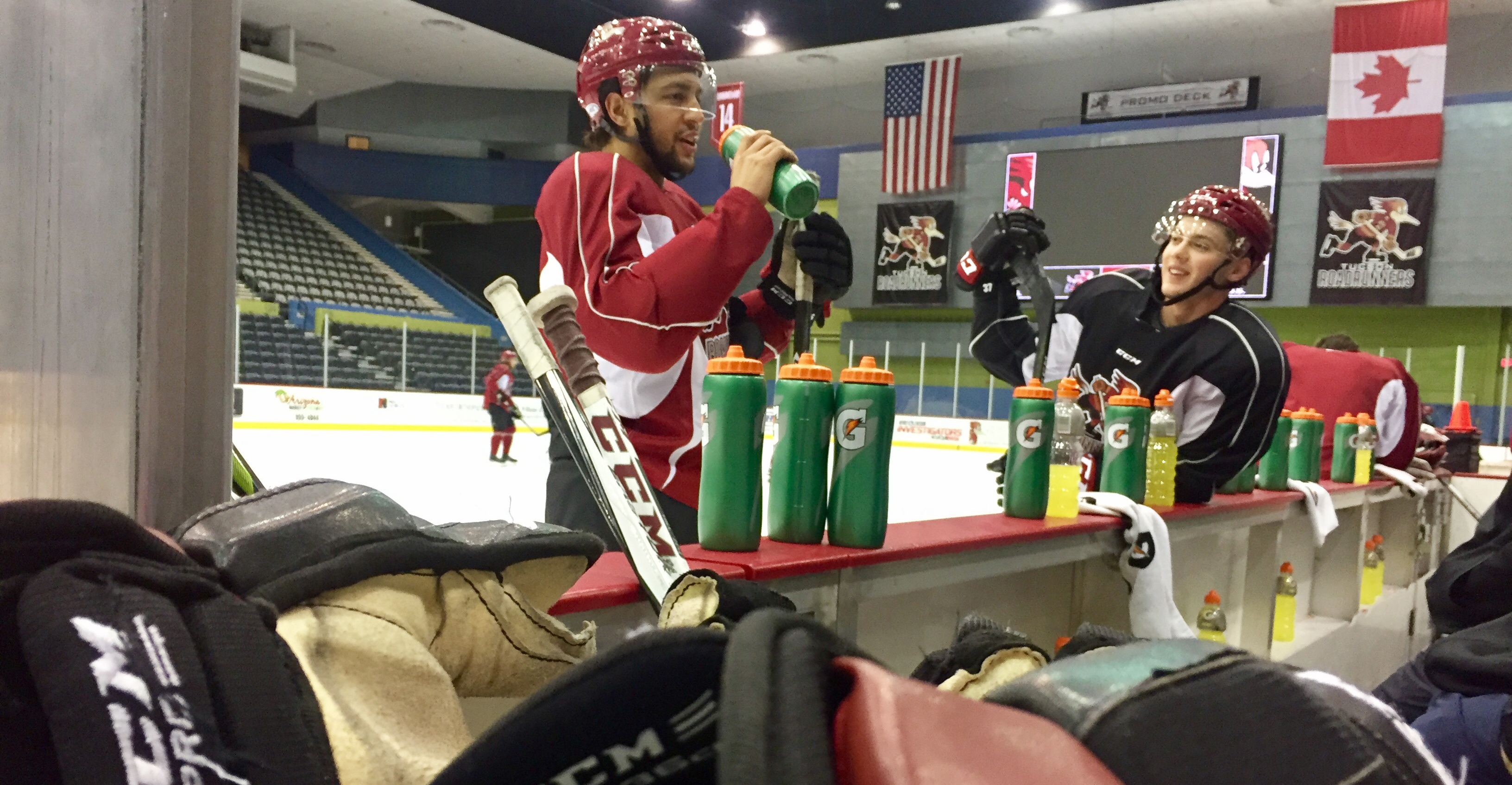 Good morning from
Tucson Arena
, where outside the building's confines, the overnight temperatures dropped below freezing for the first time in
eleven months
.
Hockey weather? Sure thing. A warm welcome to the Stockton Heat.
The Roadrunners' five day hiatus from game play will be broken tonight as they host Stockton at 7:05 PM; it will be the team's 15th of 28-consecutive games scheduled against Pacific Division opponents.
Stockton is making its final visit to Southern Arizona this season. The Roadrunners are 1-2-0-0 against the Heat this year, including a 1-1-0-0 mark on home ice.
The Heat are winless in their past three games (0-2-1-0), and are amidst a seven-game road trip.
Mike Sislo will be playing in his 400th-career American Hockey League game tonight. He has registered 237 points (114G, 123A) in 399 AHL games thus far, having played with the Albany Devils (304 games), San Antonio Rampage (54 games), Toronto Marlies (18 games), and now the Roadrunners (23 games).
History? The books could be re-written. Both Michael Bunting and Dylan Strome enter the evening riding seven-game point streaks – tying a franchise record.
Bunting's run began on December 3rd; he has accumulated nine points (3G, 6A) during that time. Strome's streak has been on respite since his recall late last month, when he recorded points in each game played from November 10-25, totaling 16 (7G, 9A).
Strome, assigned to Tucson on Tuesday, will be playing in his first game for the Roadrunners since November 25 - which came against the same Stockton Heat club the team sees tonight. Strome accumulated four points (2G, 2A) in two games against the Heat prior to his recall to the Arizona Coyotes.
The team will wear its brick red uniforms at home for the first time this season, and will do so for the rest of the year barring specialty jerseys. They are 5-2-1-1 when wearing their dark kits.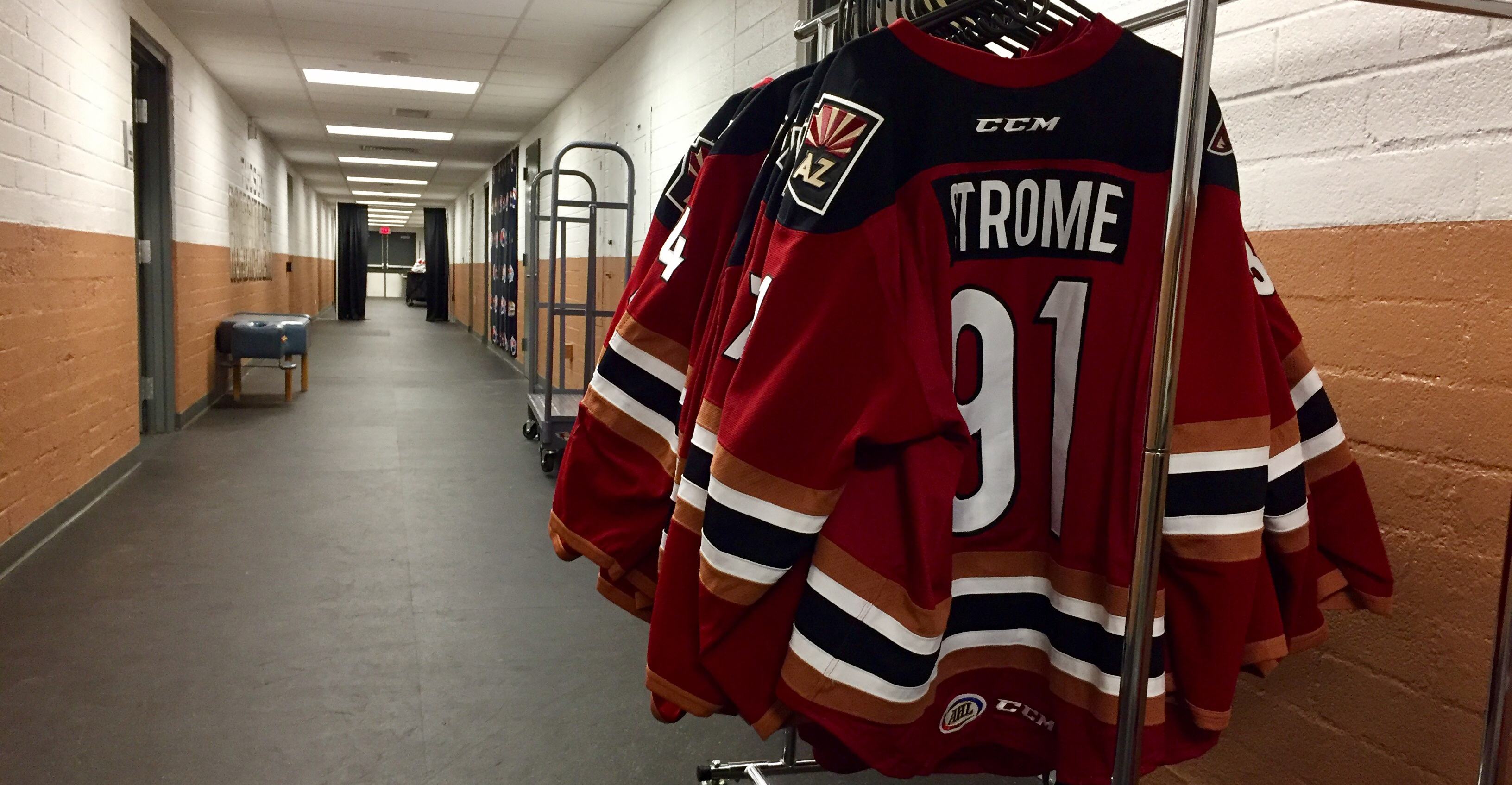 Team captain Andrew Campbell shared a few thoughts following the morning skate:
Andrew Campbell, on the Stockton Heat:
They're obviously a very good team. They're driven by their back-end, they're big and heavy up front, so we've got to be prepared to play a hard, physical game tonight. Wearing their defense down in their end will be a big key for us.
Campbell, on Saturday's "complete" 6-1 win against Ontario:
Yeah, I thought we played well. We kind of got better as the game went on, which is what you want to see. We started a bit slow, and then in the third period there we were humming along pretty good, so it was a big momentum builder for us. Hopefully we can carry that momentum into the games here this weekend.
Campbell, on the team's week of practice, preparation:
It was a long week with a lot of practice, so guys should be ready to go here tonight.
Campbell, on the importance of the two games before the holiday break:
I think this is a big test for our team. A lot of times, especially with young groups, it's easy to look forward to what's ahead with the break coming up and guys having time with their families and having a little bit of time away from the rink. It's going to be a big test for myself and our leadership group here to make sure everyone's dialed in tonight because we still have two inter-division games against a top team before we head out, so we've got to make sure we're smart here and put in our work before we get our little break.
More to come from Tucson Arena: