NEWS & STATS
Game #37 - Tucson at San Antonio
By: Alexander Kinkopf
January 20, 2018 3:45 PM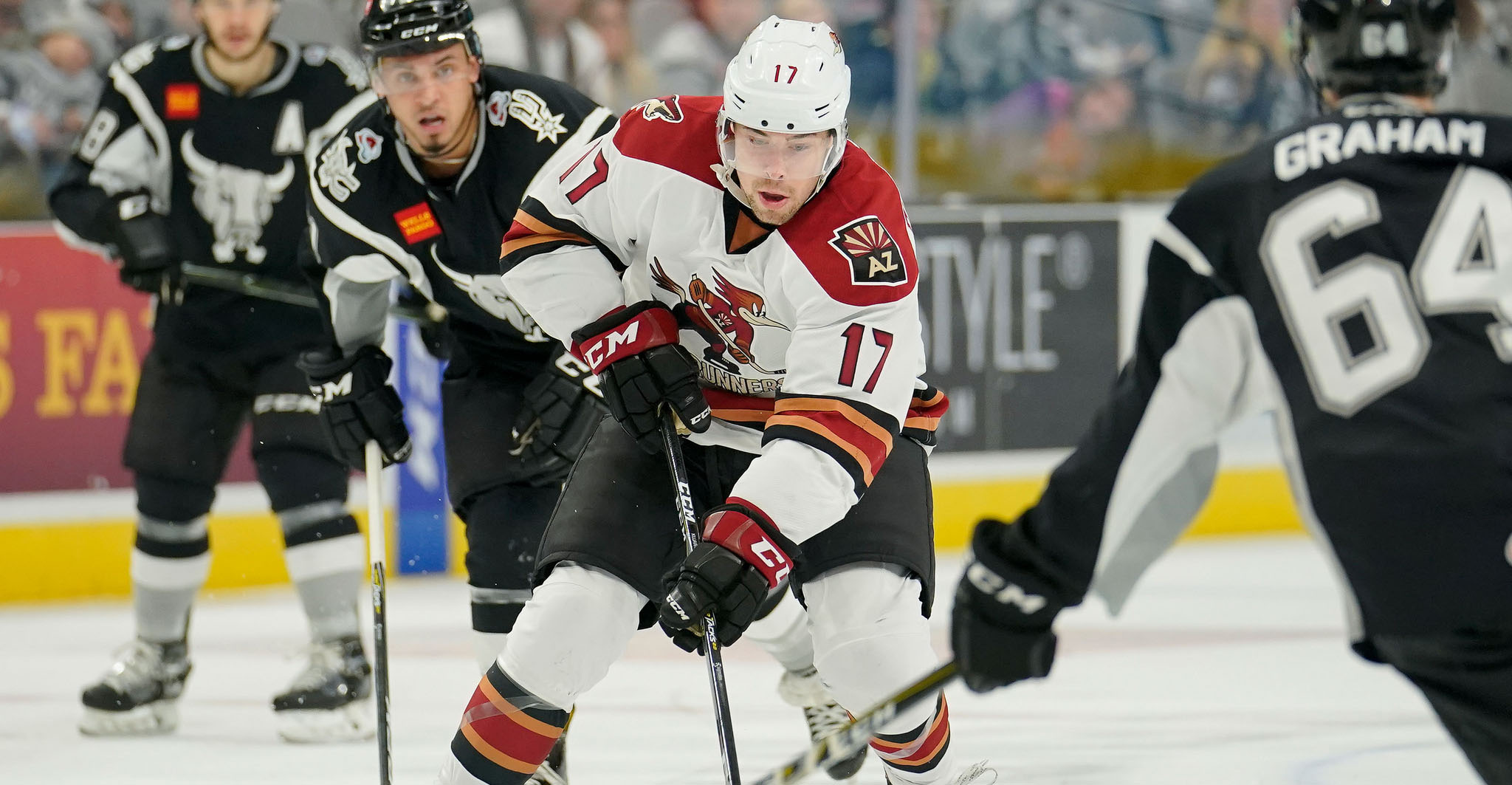 TUCSON ROADRUNNERS 2, SAN ANTONIO RAMPAGE 1
Final - OT | 0:00 Remaining
Tucson (21-12-2-1) at San Antonio (22-16-3-0)
Saturday, January 20, 2018, 6:00 p.m. MST
AT&T Center | San Antonio, Texas
LISTEN LIVE:
Stats/Scoring
SOG - TUC 32; SA 18
PP – TUC 0/6; SA 0/4
FIRST PERIOD:
1) SA - Samuel Blais (Jesse Graham, Andrew Agozzino) 12:19
2) TUC - Laurent Dauphin (Mike Sislo, Michael Bunting) 16:26
SECOND PERIOD:
None
THIRD PERIOD:
None
OVERTIME:
3) TUC - Lawson Crouse (Kyle Capobianco, Tyler Gaudet) 0:39
---
Roadrunners Lineup
FORWARDS
LAWSON CROUSE (67) - DYLAN STROME (91) - MARIO KEMPE (20)
MICHAEL BUNTING (27) - LAURENT DAUPHIN (15) - MIKE SISLO (9)
RYAN KUJAWINSKI (17) - TYLER GAUDET (10) - CONOR GARLAND (8)
JENS LOOKE (24) - LANE PEDERSON (18) - DANIEL MAGGIO (47)
DEFENSEMEN
DAKOTA MERMIS (43) - ANDREW CAMPBELL (2)
KYLE CAPOBIANCO (23) - DYSIN MAYO (37)
JOEL HANLEY (44) - KYLE WOOD (3)
GOALTENDERS
ADIN HILL (33)
HUNTER MISKA (35)
---
Notes
Pregame:
Adin Hill leads the Roadrunners onto the ice for warm-ups.
Other than the goaltending swap, no changes have been made to the lines the team used in Friday night's overtime victory. Kyle Wood and Joel Hanley swap left/right.
Mario Kempe (20) and Kyle Wood (3) will be wearing their regular numbers again.
First Period:
A very solid opening period for the Roadrunners again, outshooting the Rampage by a 13-3 count.
San Antonio opens the scoring off of an odd redirection to take a 1-0 lead with 7:41 left.
With 3:34 left to play in the first, a Mike Sislo shot squeaks through San Antonio's Spencer Martin; Laurent Dauphin jams the loose puck into the open net. Sislo extends his team-leading points streak to seven games; Michael Bunting extends his points streak to five games.
Second Period:
The Roadrunners fail to convert on three power play opportunities.
Dylan Strome hits the post, inches away from giving the Roadrunners a lead midway through the second.
Tucson outshoots San Antonio by a 12-7 count.
Third Period:
---
Highlights
Laurent Dauphin shovels a loose puck home to tie the game 1-1 with 3:34 left to play in the first period.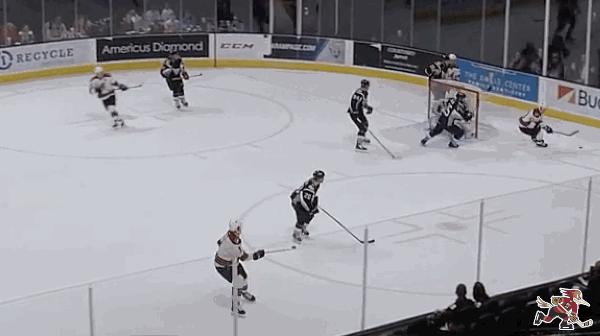 ---
Photos