NEWS & STATS
Resilient Roadrunners rally to top Chicago 2-1 in overtime
By: Alexander Kinkopf
January 26, 2018 10:21 PM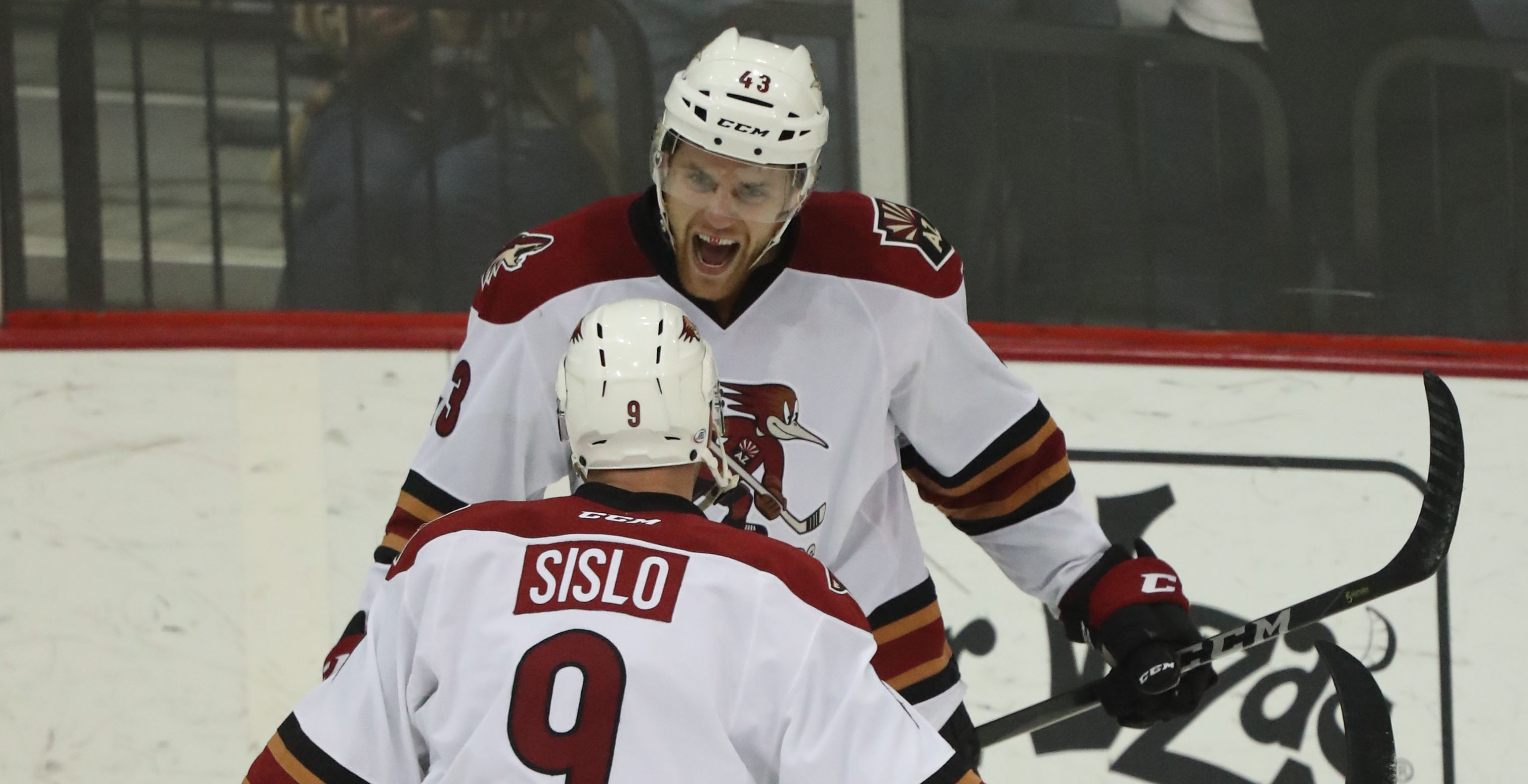 Overtime's been paying off.
The Roadrunners topped the Chicago Wolves by a 2-1 score Friday night at Tucson Arena, Dakota Mermis clinching the win with 6.8 seconds left to play in the extra frame.
It was the club's third consecutive 2-1 overtime victory.
"I think it's just resiliency; we've got a really resilient group," Dakota Mermis said of the team's three-straight overtime wins. "We've worked on the three-on-three this week in practice, and we've been working on it a lot because it's such a big part of the game. It's a combination of everything – resiliency and having a plan."
Neither team found the scoreboard during the first two periods as they pushed back-and-forth in a tight-knit affair that saw both goalies stand strong behind solid defensive efforts.
Chicago broke through to open the scoring with 13:47 left to play in regulation when Brandon Pirri beat Hunter Miska to give the Wolves a 1-0 lead.
With just over three minutes left in the third, and playing with an aggressive approach in Chicago's zone, Dylan Strome and Mario Kempe initiated a sequence that ultimately found Lawson Crouse open and alone on the back door.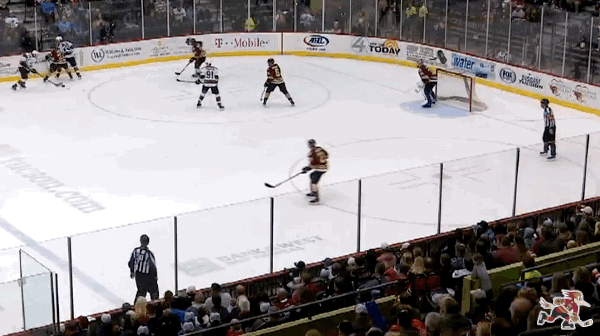 Crouse, upon receiving a pass from Kempe, beat Chicago's Kasimir Kaskisuo to tie the game 1-1 with 3:16 left to play. For Crouse, it was his second goal in as many games.
Locked in a tie at the end of the third, the Roadrunners headed to their ninth overtime of the season.
The Roadrunners escaped danger in the extra frame, killing off a Lawson Crouse hooking infraction.
In the waning second of overtime, Dakota Mermis found himself with the puck atop the left circle, and in seeing space ahead, walked in and fired a backhand shot high past the glove Chicago's Kaskisuo from the slot with 6.8 seconds left on the clock to secure the Roadrunners' 2-1 win.
"I knew there wasn't a lot of time left, and I didn't really know how much to be honest, but I just saw an opening and tried to take it," Mermis said of his game-winner. "Mike Sislo made a good pull-up play and it kind of opened up a little bit of room for me just in the nick of time I guess."
The Roadrunners improved to 6-2 in overtimes this season.
Hunter Miska stopped 21 of the 22 shots he faced to earn his 13th win of the season. He's won each of his last six decisions and is a perfect 5-0 in overtime games this year.
With his assist on Crouse's overtime-winner, Mike Sislo extended his point streak to eight games, tying Dylan Strome's franchise-high mark.
The teams will meet for a rematch Saturday night at Tucson Arena, where the puck is scheduled to drop just after 7:05 PM.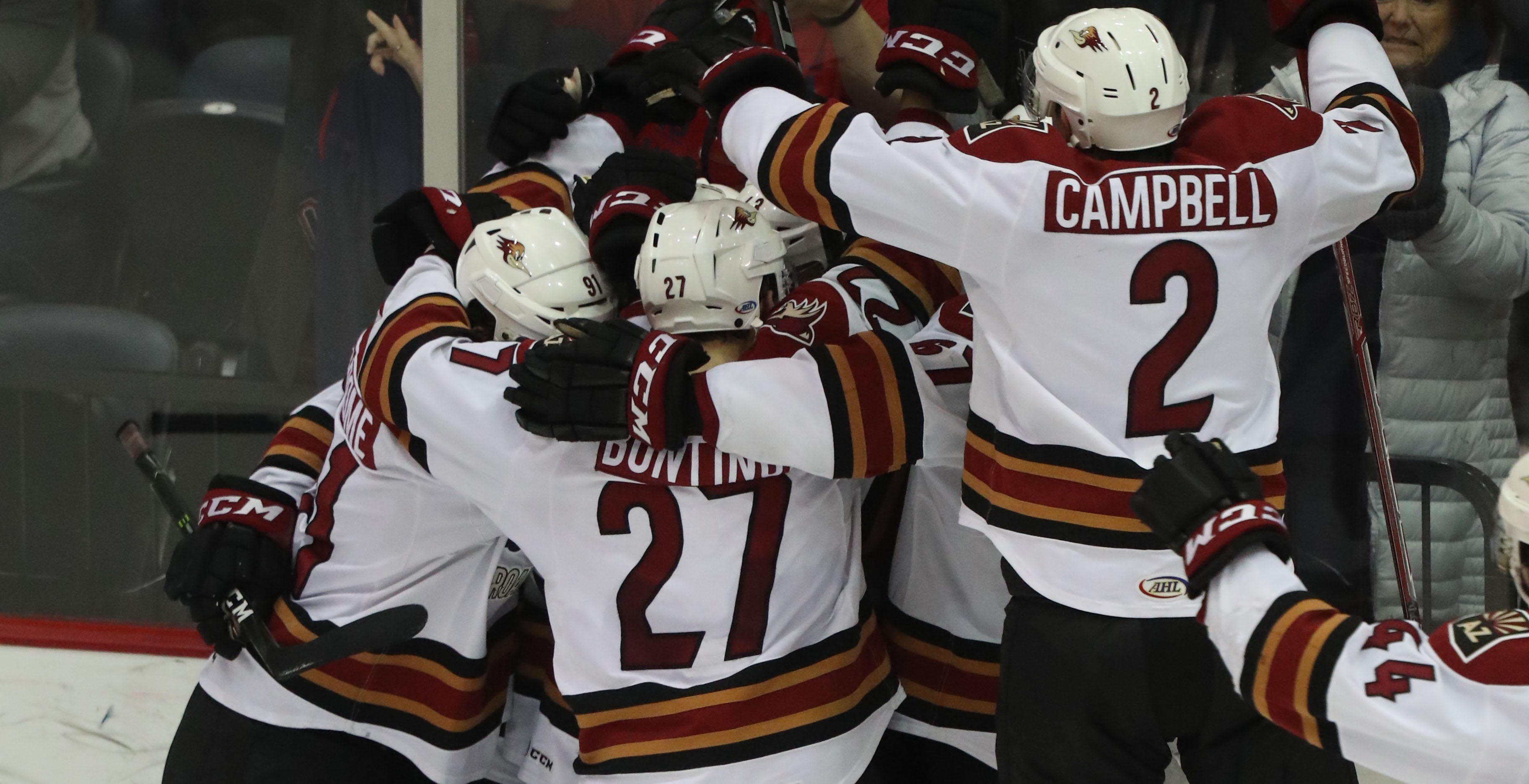 Photos courtesy: Chris Hook and Kate Dibildox