NEWS & STATS
A set of first impressions, and the reality of playoff intentions
By: Alexander Kinkopf
March 08, 2018 12:49 PM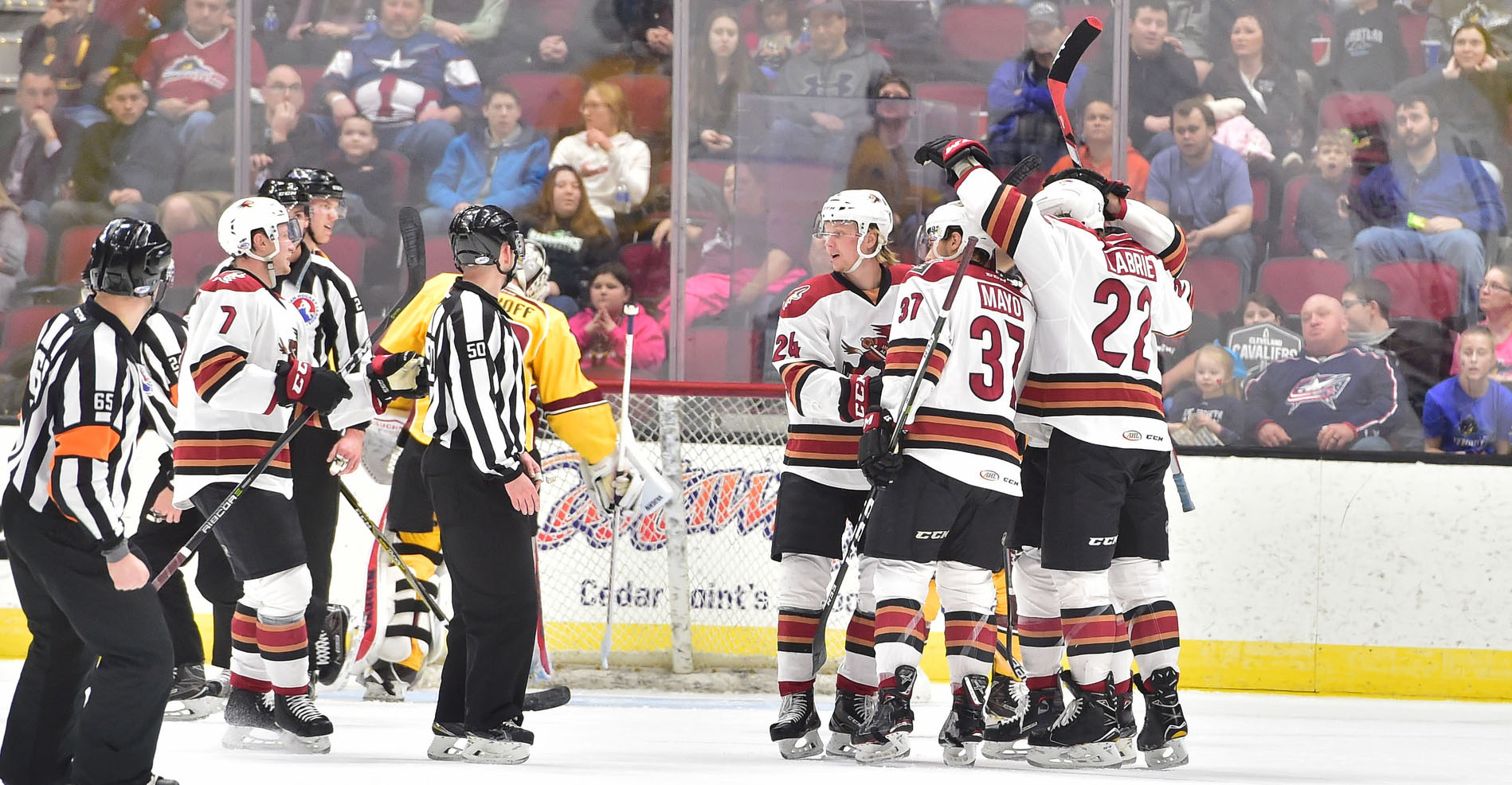 Last week, the Roadrunners made a splash at the trade deadline, and it was apparent a wholesome and dedicated approach toward the playoffs was a priority.
Among those acquired were a team's leading scorer in Carter Camper, a puck-moving defenseman in Trevor Murphy, and a versatile, depth-feeding forward in Pierre-Cedric Labrie, who won a Calder Cup in 2012.
It may seem ironic to say for a team that's occupied first place in its division for the majority of the season, but all intentions in the moves made were for improvement - and the effects were immediate.
The three aforementioned addiitions made their team debuts during the recent road trip, and were swift in finding the score sheet. Camper, through the results of a historic performance, chimed in with five assists, Murphy notched a goal and an assist, and Labrie scored his first in a Roadrunners uniform Sunday afternoon.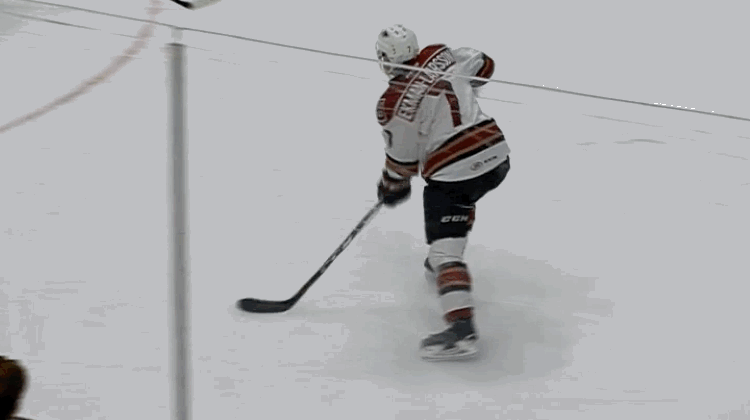 "I think everyone's done really well coming in and getting ready to go right away," Nick Merkley said. "Obviously Camper had that amazing first game there, P.C.'s been real solid, and [Murphy's] been doing well on the back end. They all fit in well and I think they make our team a lot stronger, and we just want to make a push now."
"Oh man, we're talented," he said in regard to his impressions of the club following his first practice at Tucson Arena on Wednesday. "We've got a lot of young talent, a lot of skill. I'm really impressed with the defense, they're very smart back there, they can move the puck well, every single one of them. The power play is effective, there's a lot of speed. I couldn't be happier, a very impressive first impression, and I think we've got a team that can make a run."
The Roadrunners' quick, aggressive style stood out to Trevor Murphy, who was brought to Tucson to bring an extra dash of offensive puck-moving flair to the team's blue-line.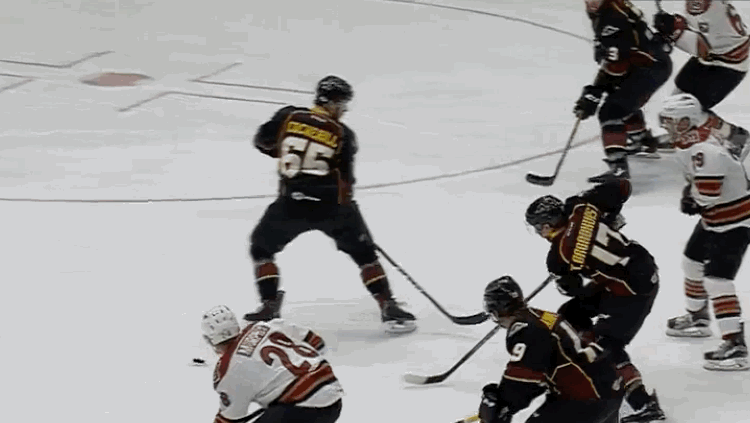 "This is a fast group," Murphy exclaimed. "The style of play is very quick. We've got a really skilled team, and I think we can make a push."
The players' transition to Tucson comes with the thrill of joining a first-place team with the hopes and outlook of a promising performance come the postseason.
"The change has been quite exciting for myself," Murphy added. "I spent two and a half years in Milwaukee, and it was great there, I can't thank that organization enough; but here we are, and hopefully we can make a push. I made the playoffs my first two years in Milwaukee, and I'd like to continue that trend here, so let's do it."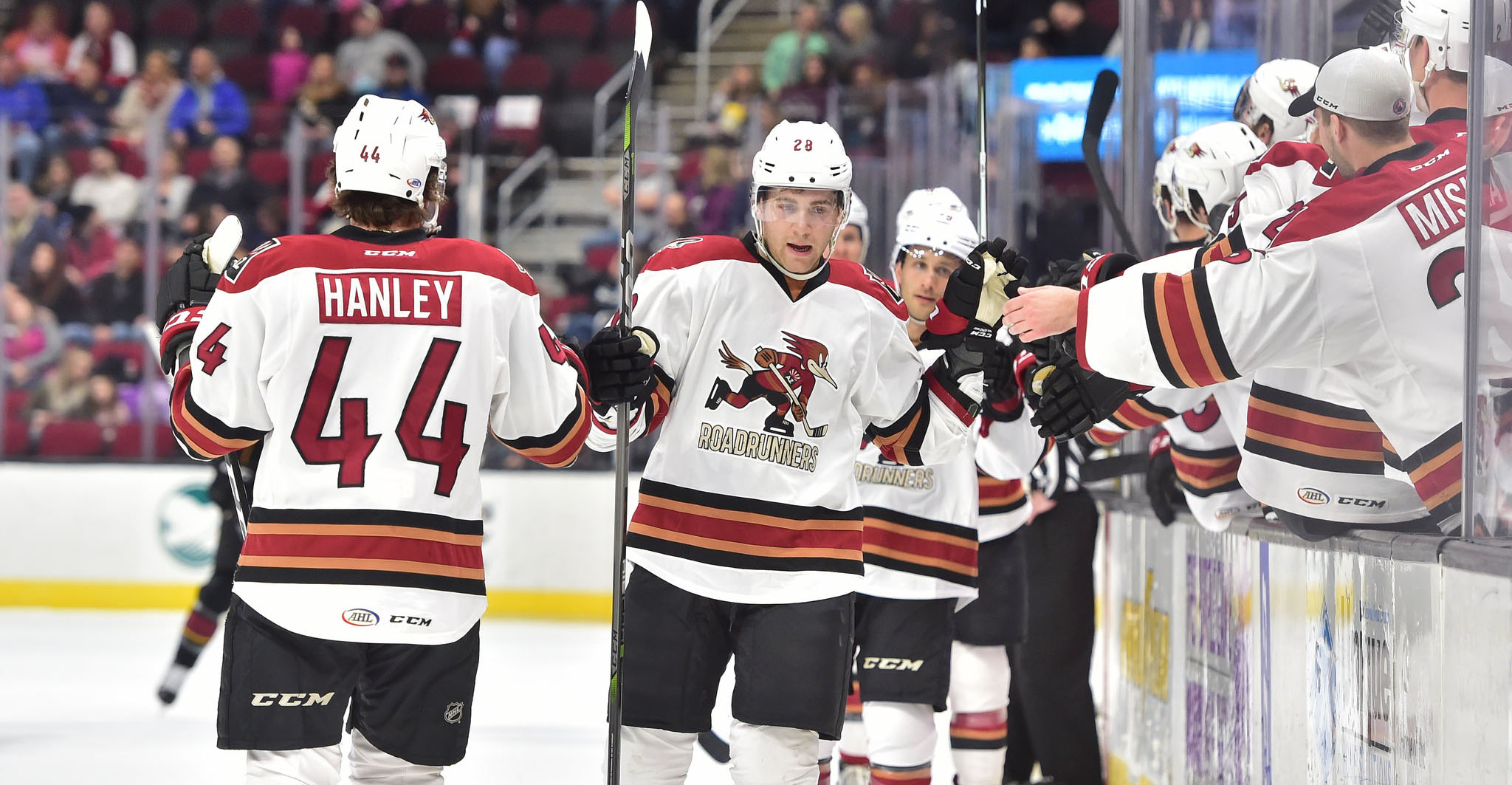 Camper, having been a part of four postseason appearances during his eight-year AHL career, including a trip to the Calder Cup Final with the Hershey Bears in 2016, is no stranger to what it takes to get to, and what it takes to play in the playoffs.
"[Playoffs] are a different animal," he noted. "It's just about trying to relay that message to some of the young guys that maybe haven't been around in the playoffs at this level. We've just got to set ourselves up for a good run, feel good about ourselves so we're feeling confident going forward."
Most of the Roadrunners' youth, such as rookie Dylan Strome, is without playoff experience at the professional level. He, like many others, is aware of the value added at the trade deadline.
"I think they all bring something different to the table," Strome said of the new names on the roster. "[Murphy] can shoot, he's real good offensively, [Labrie] is a hard working guy that knows how to get the job done, and Camper – well we all saw what he did in that first game, and it was pretty spectacular. The additions were and are going to continue to be great for us."
All intentions here are for a serious push.
All impressions here are good.
All of that will, again, be tested this weekend in a two-game set with the Texas Stars, a potential first-round playoff opponent.