NEWS & STATS
Clinching Quotes: Van Ryn, Campbell, Miska, Garland
By: Alexander Kinkopf
March 31, 2018 9:19 PM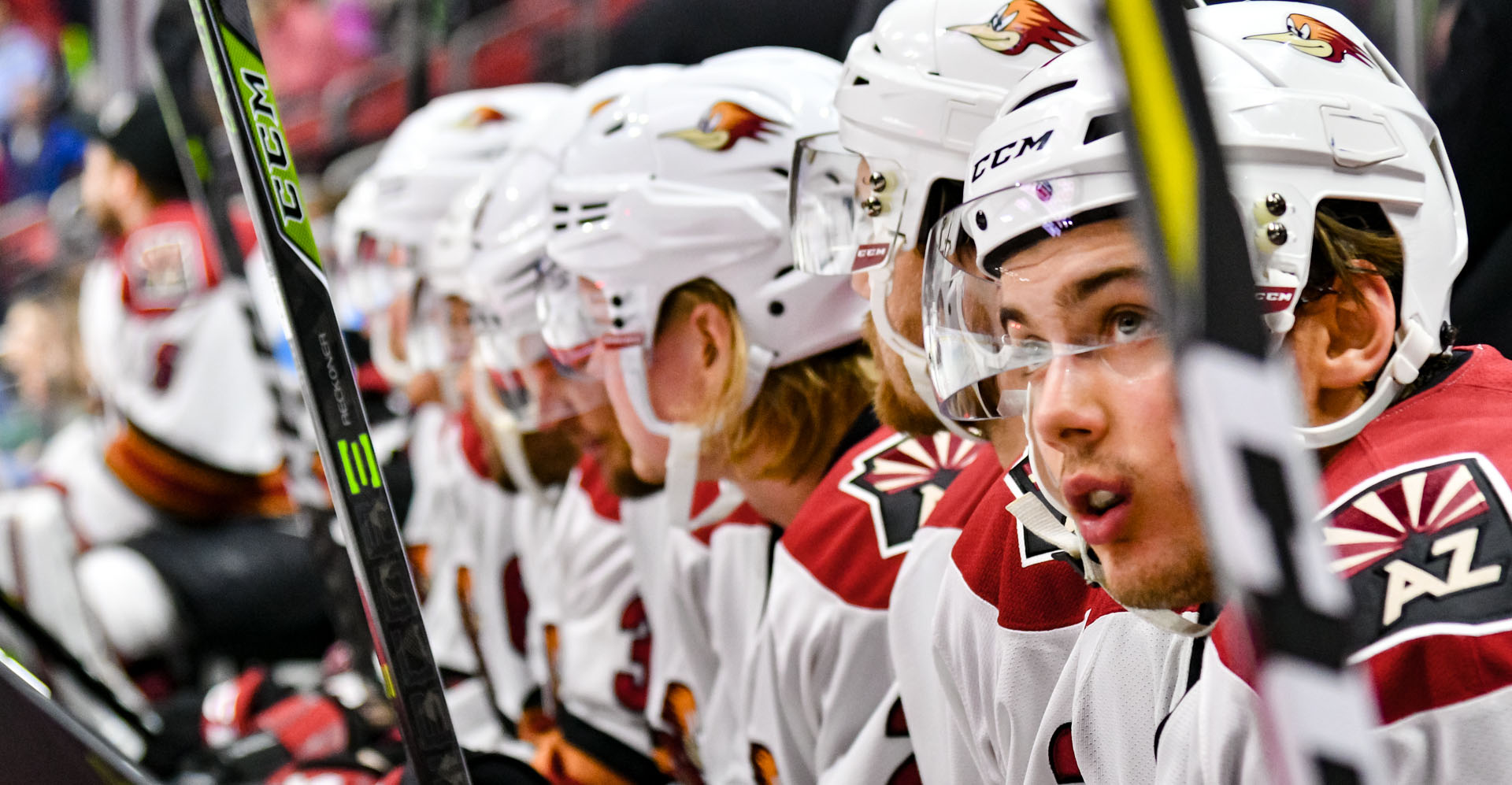 Mike Van Ryn
Van Ryn, on his initial thoughts and reactions to clinching:
It obviously feels good. We hadn't really been talking about it much. For us, we usually try to make it business at-hand and every day is the same. The process for us has always stayed the same. We're happy to be in the playoffs, and that was our goal at the start of the year. We didn't approach the last stretch of games any differently than we had before; it was just about trusting our process. We come to work every day and we try to keep working hard, and we trust that good things will happen if we maintain that approach. For us it's one box that's been checked, but there's still more ahead of us, and we need to keep working to try to achieve those goals.
Van Ryn, on communicating with and congratulating the players:
After the game I made sure I told them all 'congratulations for clinching, but you guys have heard me enough tonight, and I'm just going to shake your hands'. They had listened to me all night trying to plead and scream and try to get everything we could to get going, so at that point, they had heard enough from me, so I just kind of let them enjoy it. They've worked hard all year; we've pushed them hard here down the stretch, we didn't want to lay off. A lot of teams tend to lay off this time of year and try to make things light. For us, we wanted to keep that working mentality to continue to push every day, and maybe that helped us down the stretch, I don't know. I left it to them, the players, to enjoy their achievement; they've worked hard, and I'm happy to see them get rewarded. I think every coach likes seeing their players get rewarded; they've worked hard and they've earned it, but not we've got a little more work to do.
Van Ryn, on the team's remaining regular season schedule:
It's about the process, not necessarily about who you're playing; it's about trying to figure out ways to play your best. I don't think we played very good in either game this weekend, but we did find a way to win, and we found a way to close. A lot of people talk about the starts [to games], and I think our starts are an area where we need to get better, but our guys do find ways to close games out. We just have to figure out how to get our guys going a full 60 minutes on a consistent basis, and that's the biggest thing for us going into the playoffs.
---
Andrew Campbell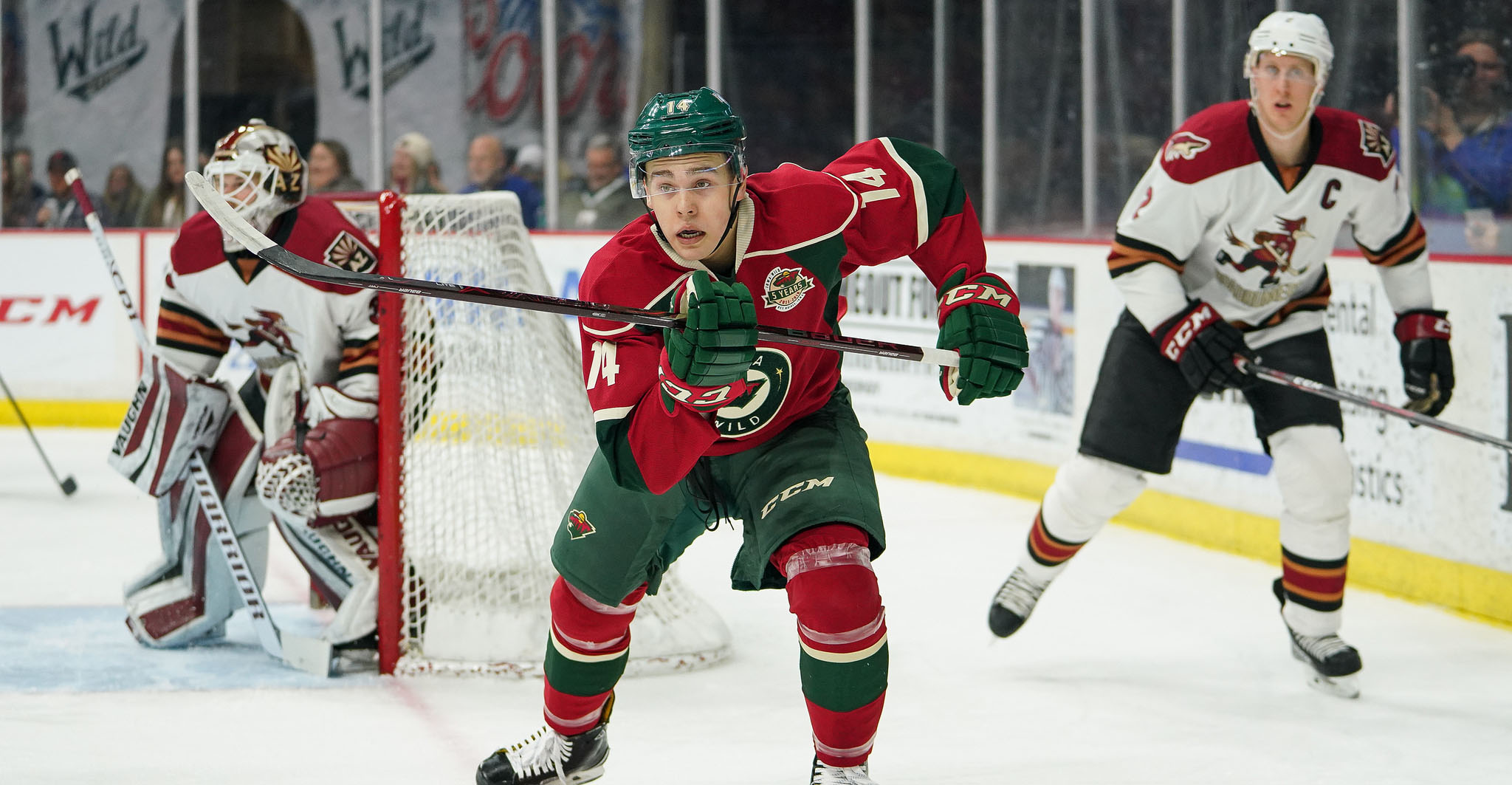 Campbell, on the team securing a playoff spot:
I think we're happy with what we've been able to accomplish to this point, if you look at it in the big picture. We obviously have a lot of young guys in this group who are learning on the fly here, so I'm not sure what the expectations were coming into this season, but I think we've done a great job as a group up to this point. With that being said, there's a lot more to achieve here, a lot more to strive for. We're not satisfied with just clinching, we still have our sights on the division and the conference, and obviously the end goal is the Calder Cup, so this is just the beginning for us.
Campbell, on the season to-date, the team's youth:
If you just look at the game we played tonight, you'll know it wasn't our best effort – but that's being shortsighted. If you look at the big picture, it's been a good year up to this point. As far as the young guys here, they've all been on good teams in junior up to this point, so it's just about keeping everyone focused on what's next, because there's still a lot of steps for this group to take.
Campbell, on postseason hockey coming to Tucson:
Playoff hockey is a different brand of hockey. Every play truly matters, games are tight, there's a lot of overtime, it's tight-checking, it's physical, it's emotional, and that's the exciting hockey that I think fans really love to see. Fans of Tucson should be excited, we've got some pretty meaningful games ahead here, and hopefully they're excited to come out and support us.
Campbell, on the team's remaining regular season schedule:
It's good, because that's the quality of teams that we're going to be facing once the playoffs start, so it's good for our group. We still have first-place in our division to strive for, we still have first in the conference to strive for. These remaining games are still very meaningful, and there's a lot to play for, so we've got to keep the pedal down and continue to improve and continue to get better, and just know that there's still a lot in front of us to achieve.
---
Hunter Miska (Courtesy Ezra Amacher - Arizona Daily Star)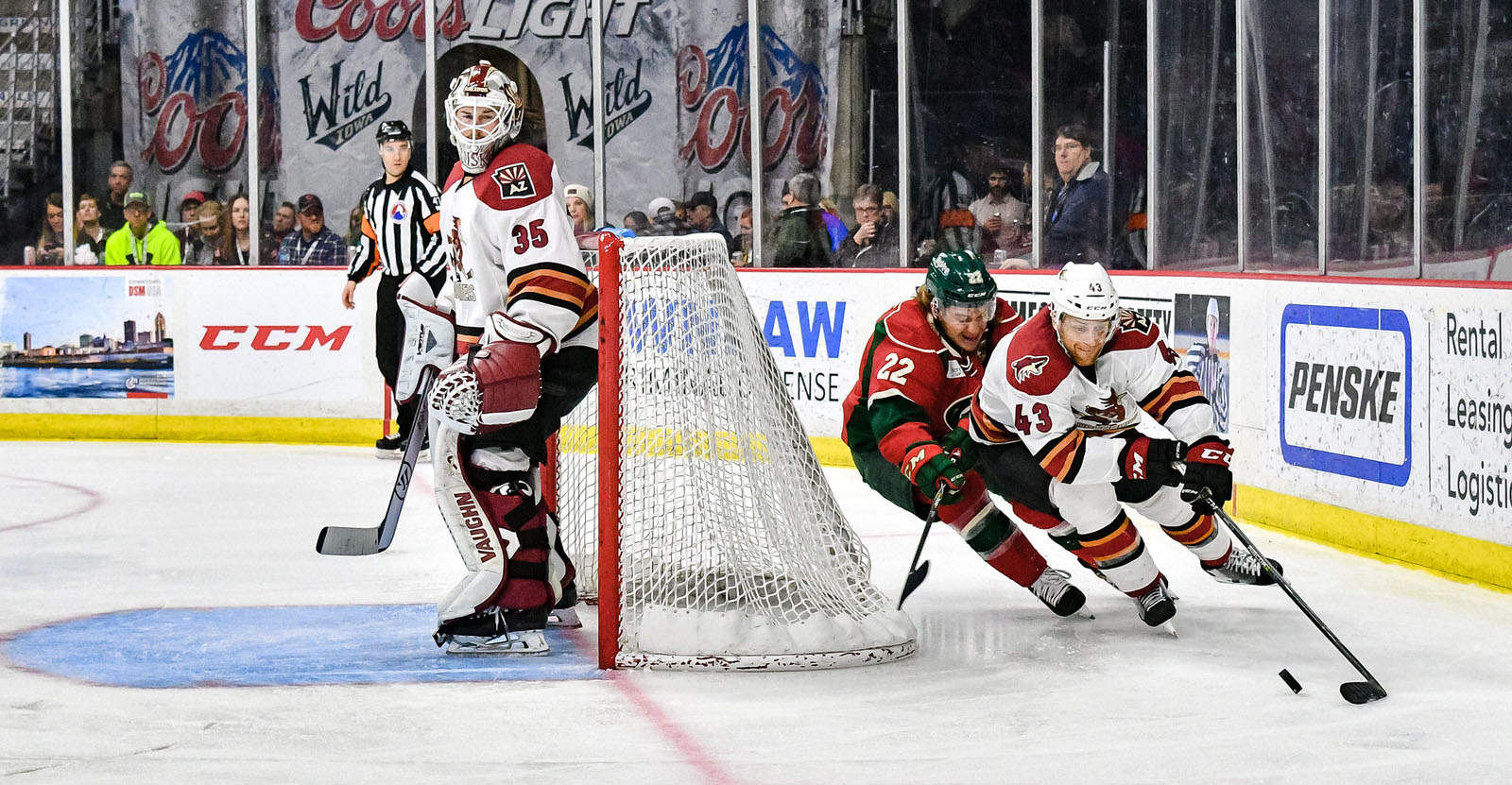 Miska, on if clinching provided relief:
Yeah. We've got to keep that top seed and do our best to stay number one the rest of the year in the last few games here and keep playing good hockey.
Miska, on if he was thrilled by the team's late-game goals over the weekend:
Yeah, it was great. Guys were playing really good in front of me, allowing me to see the puck, making first saves, and obviously our forwards were putting the puck in the net which is huge. Obviously you need that this time of the year. They're going to be tighter games and I thought we were really strong by bearing down in certain situations and that we played a good game tonight.
Miska, on utilizing his prior playoff experiences moving forward:
I've been on big playoff teams. I've made it to the championship my last three years of hockey so I know what it takes to make it to the championship and it's a good feeling to do the first step here and clinch the playoffs. Now we've got to keep playing strong hockey here going in and have a good first round and see what happens from there.
---
Conor Garland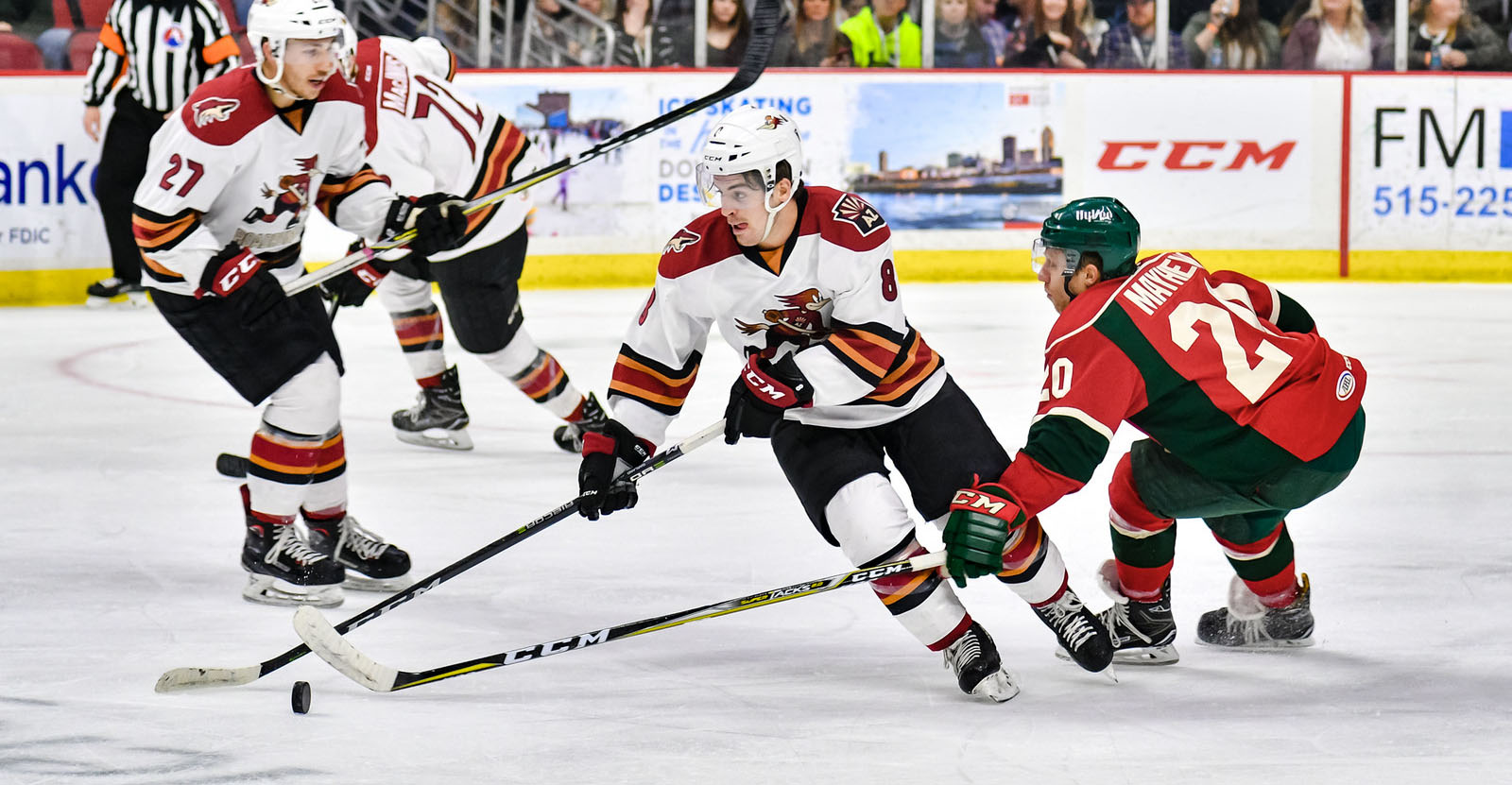 Garland, on the team assuring a playoff spot:
Obviously it's a big deal for us as a team, and to do it early so we can get a tune-up for the playoffs. It's big for the city. We want the game to grow, we want the fans to really get involved and help us through this run, so hopefully this gets them excited as well.
Garland, on playoff hockey strengthening Tucson's fan base:
The playoffs are a lot different than regular season games; they're more intense, they're faster, it's better hockey, and it's not something that fans will want to miss out on. If more people get to see it, if the kids get to see it and fall in love with the game, that's how it grows – so it would be pretty special to be a part of that.
Garland, on the team's successful run thus far:
We never really fell off the map all year, I think we've been pretty much number one from start to finish, and that's a credit to everybody here. We're consistent, we play hard, we play fast, and we're a hungry team that wants to win every night, so we want to continue that into the playoffs.