NEWS & STATS
Strome Named to 2017-18 AHL All-Rookie Team
By: Tucson Roadrunners
April 04, 2018 1:51 PM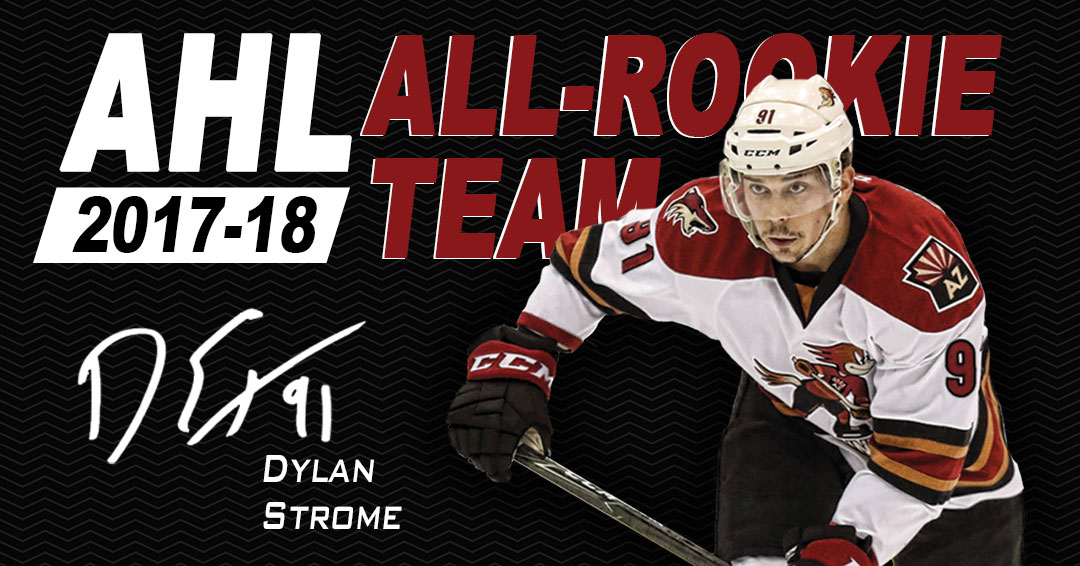 TUCSON, AZ – The American Hockey League announced its 2017-18 AHL All-Rookie Team today, naming Roadrunners forward Dylan Strome as one of the six members.
The third overall pick in the 2015 NHL Draft, Strome has collected 22 goals and 28 assists for 50 points in 47 contests with Pacific Division-leading Tucson this season, leading all AHL rookies in points per game (1.06). The 21-year-old native of Mississauga, Ont., was twice named CCM/AHL Player of the Week, and he earned Rookie of the Month honors for November after tallying 16 points during a seven-game scoring streak. Strome, whose brother Ryan was an AHL All-Rookie Team forward in 2013-14, has added three goals and five assists in 19 NHL games with the Arizona Coyotes this season.
Strome, who is currently on recall with the Arizona Coyotes, has registered two goals and five assists for a total of seven points in eight games during his most recent stint.
The complete rookie team is as follows:
2017-18 AHL All-Rookie Team (stats through Apr. 3)
Goaltender - Ville Husso, San Antonio Rampage (37gp, 15-13-5, 2.32gaa, .926sv%, 4so)
Defense - Filip Hronek, Grand Rapids Griffins (62gp, 9+24=33pts., +21, 4 GWG)
Defense - Sami Niku, Manitoba Moose (71gp, 15+37=52pts., +18, 9 PPG)
Forward - Mason Appleton, Manitoba Moose (71gp, 21+40=61pts., +13, 7 PPG, 6 GWG)
Forward - Daniel Sprong, Wilkes-Barre/Scranton Penguins (59gp, 28+29=57pts., +2, 10 PPG, 6 GWG)
Forward - Dylan Strome, Tucson Roadrunners (47gp, 22+28=50pts., +8, 9 PPG, 3 GWG)
For more information on the Roadrunners, visit the team's offices at 175 W. Broadway Blvd. in Tucson or call 866-774-6253.