NEWS & STATS
Good Morning, Tucson: Home Goods
By: Alexander Kinkopf
April 07, 2018 10:38 AM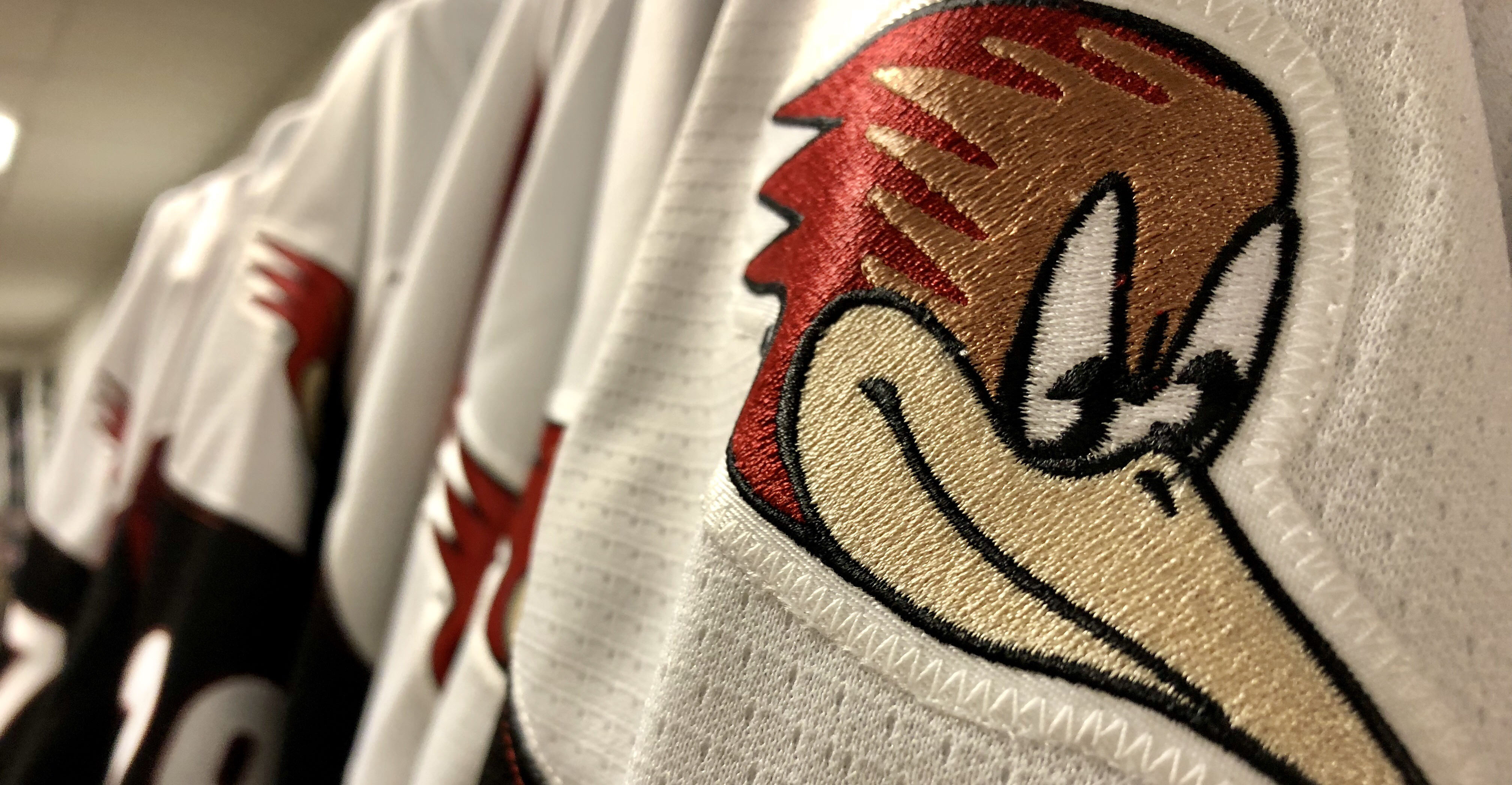 Good morning from Tucson Arena.
The team held an optional skate ahead of this evening's rematch with the Grand Rapids Griffins.
When one box is checked, another awaits attention. The Roadrunners secured home ice for the first round of the Calder Cup playoffs with last night's victory. Now, a push for the Pacific Division title is in the team's sights – the magic number to reach that goal stands at 4.
Tonight marks the team's 16th and final regular season game versus an opponent from the Central Division – a grouping they've had remarkable success against this year, having posted a stalwart 10-2-3-0 mark.
The Roadrunners are now 21-1-0-1 this season in contests when they lead after two periods of play.
A new get-up! The Roadrunners will wear specialty jerseys for the fifth time this season, set to don superhero-themed uniforms tonight, all of which will be available in a live postgame auction with proceeds benefiting
Craig Cunningham
's
'All Heart Foundation'
.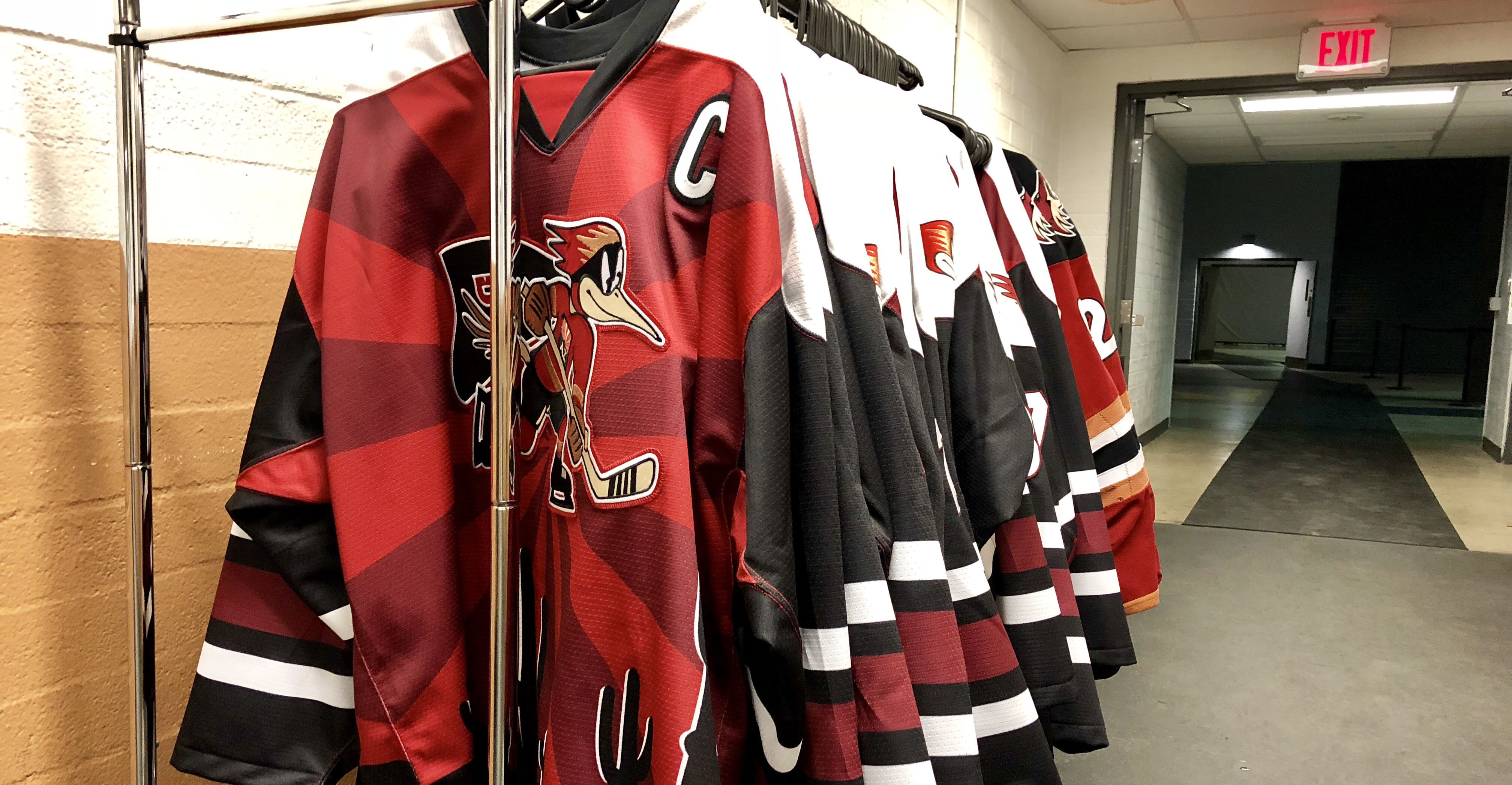 Through 64 games, the Roadrunners' record in each jersey is as follows:
White: 20-10-2-0 (.656 pts %)
Red: 17-7-3-1 (.678 pts %)
Specialty: 2-2-0-0 (.500 pts %)
Look out for Lawson! Crouse, in registering his third game-winning goal of the season Friday night, now has points in four-straight games, matching his longest stretch of the season.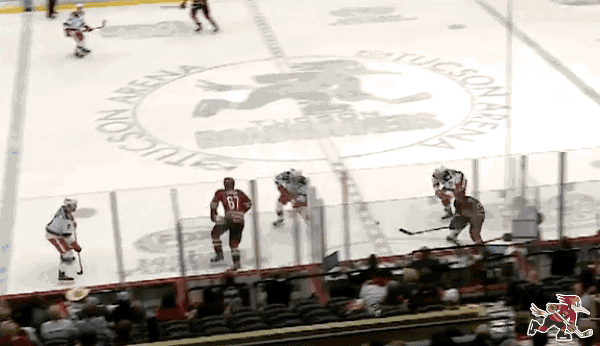 Tye McGinn played against the Griffins in the 2017 Calder Cup Final as a member of the Syracuse Crunch. He shared a few thoughts leading into tonight's affair:
Tye McGinn, on Friday night's victory:
Grand Rapids is a good team. I thought right from the start that we played a good first 20 minutes, and then going into the second, Camper had a nice pass to Crouse, and Crouse had a great finish. That really kick-started an overall great game for us, and after that we continued to play the right way and were able to finish it off.
McGinn, on if last night's win had a playoff-type feel, was a good test for the team:
For me personally, I played [Grand Rapids] in the finals last year in the Calder Cup, and they were a good team, and they definitely have a lot of returning players this year, so they got the better of us last year when I was in Syracuse. [Grand Rapids] came out hard last night, and it definitely felt like a playoff game. It was nice to get that feeling again, and it was great to see our team respond like that and get a good win.
McGinn, on what he expects out of Grand Rapids' response tonight:
Any good team knows that you don't want to lose two games in a row and that you need to bounce back after a loss like that. They have a lot of veteran players over there and they're going to come out hard, especially in the first period, so we've got to be ready right from the start.
McGinn, on the importance of developing confidence on home ice:
I think we all know that our home record isn't where it needs to be, for whatever reason that is I'm not too sure, but we've got to take these last three home games, come out hard, and treat it like the playoffs so that we can be comfortable with home ice come playoff time.
More to come from Tucson Arena.