NEWS & STATS
Series Outlook: Pacific Division Finals
By: Alexander Kinkopf
May 01, 2018 12:05 PM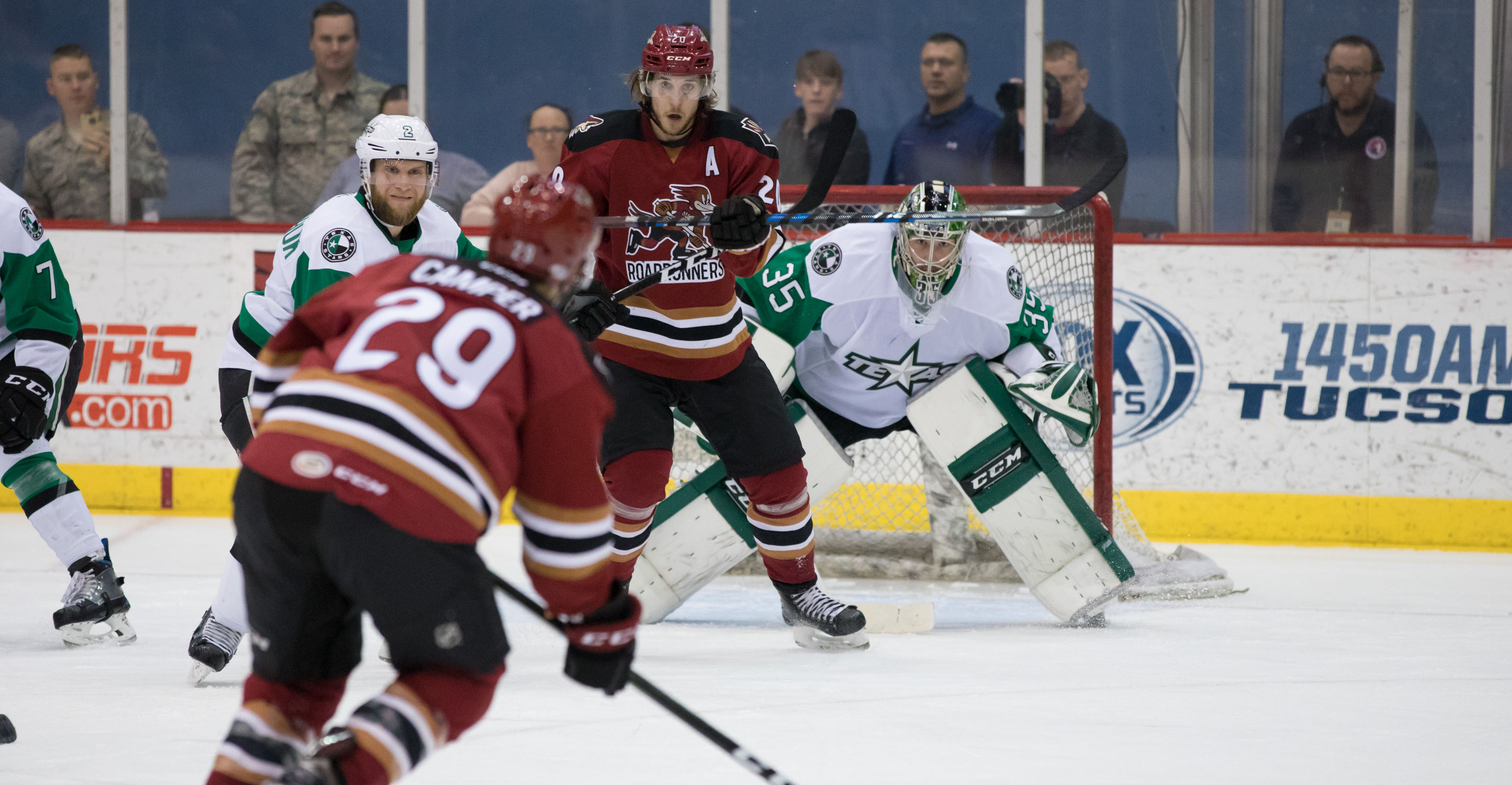 Following a first round that saw each team eliminate their opponent in four games respectively, the Roadrunners will match-up with the Texas Stars in the second round of the Calder Cup Playoffs, a best-of-seven Pacific Division Finals series between the grouping's top two regular season clubs.
The Roadrunners, guaranteed home ice through the first three rounds of the postseason, will host the series' first two games at Tucson Arena before traveling to Texas' H-E-B Center for Games 3, 4, and 5, and if need be, will return to Southern Arizona for Games 6 and 7.
This is the first time the Stars have been to the second round since 2014, when they went on to win the Calder Cup. An Arizona Coyotes AHL affiliate has not been in the final eight grouping of a league playoff format since 1997. The series schedule is as follows:
| | | | |
| --- | --- | --- | --- |
| Game One | Wednesday, May 2 | 7:05 PM | Tucson Arena |
| Game Two | Friday, May 4 | 7:05 PM | Tucson Arena |
| Game Three | Monday, May 7 | 7:00 PM | H-E-B Center |
| Game Four | Wednesday, May 9 | 7:00 PM | H-E-B Center |
| *Game Five | Friday, May 11 | 7:00 PM | H-E-B Center |
| *Game Six | Sunday, May 13 | 7:05 PM | Tucson Arena |
| *Game Seven | Monday, May 14 | 7:05 PM | Tucson Arena |
*if necessary
---
- THE NUMBERS -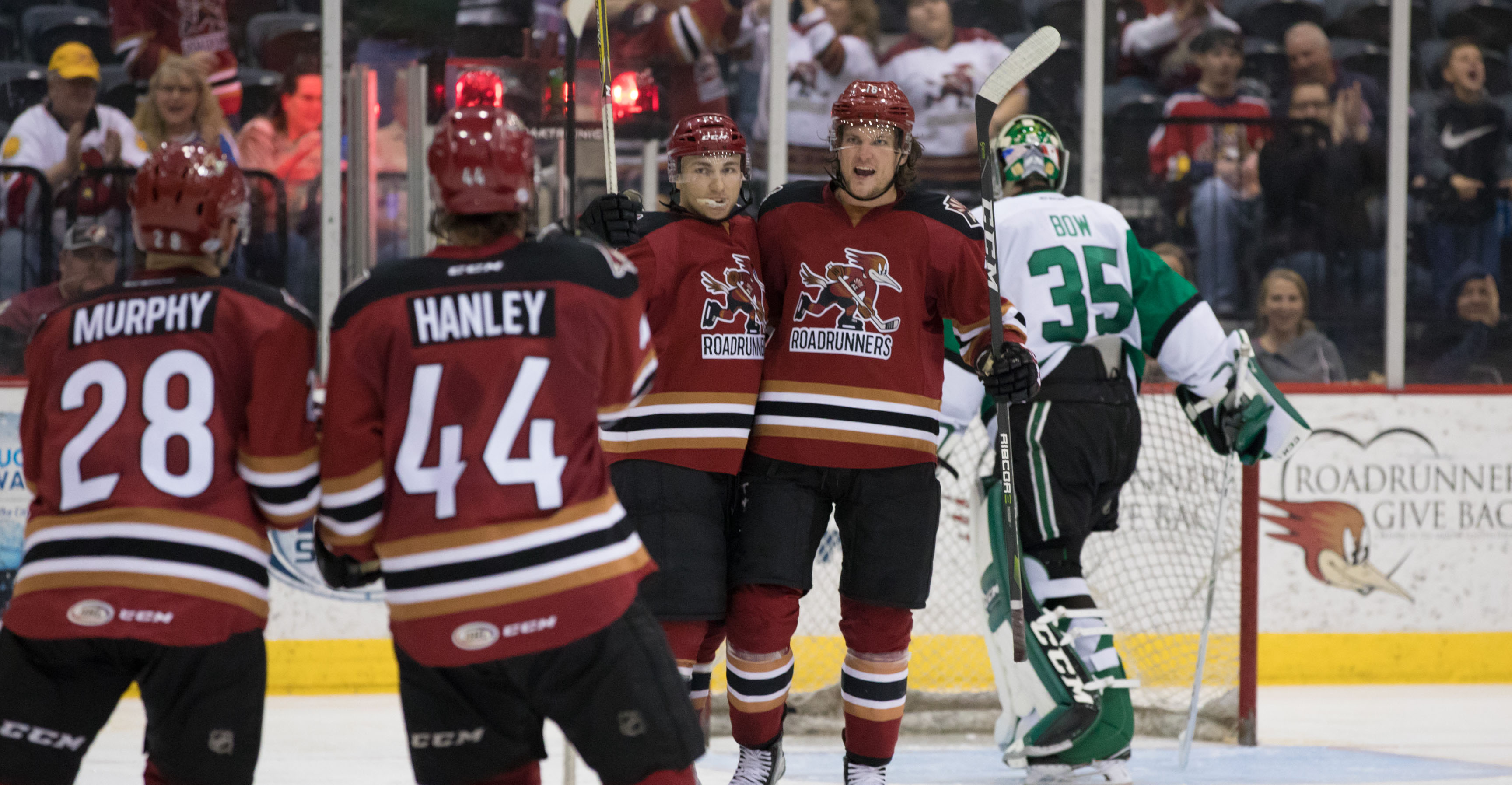 Record
Tucson: 42-20-5-1 (3rd, AHL)
Texas: 38-24-8-6 (12th, AHL)
Goals For/Game
Tucson: 3.15 (7th, AHL)
Texas: 2.93 (17th AHL)
Goals Against/Game
Tucson: 2.54 (4th, AHL)
Texas: 3.04 (20th, AHL)
Power Play %
Tucson: 18.6% (10th, AHL)
Texas: 17.5% (16th, AHL)
Penalty Kill %
Tucson: 81.8% (22nd, AHL)
Texas: 78.9% (27th, AHL)
---
- LEADING SCORERS -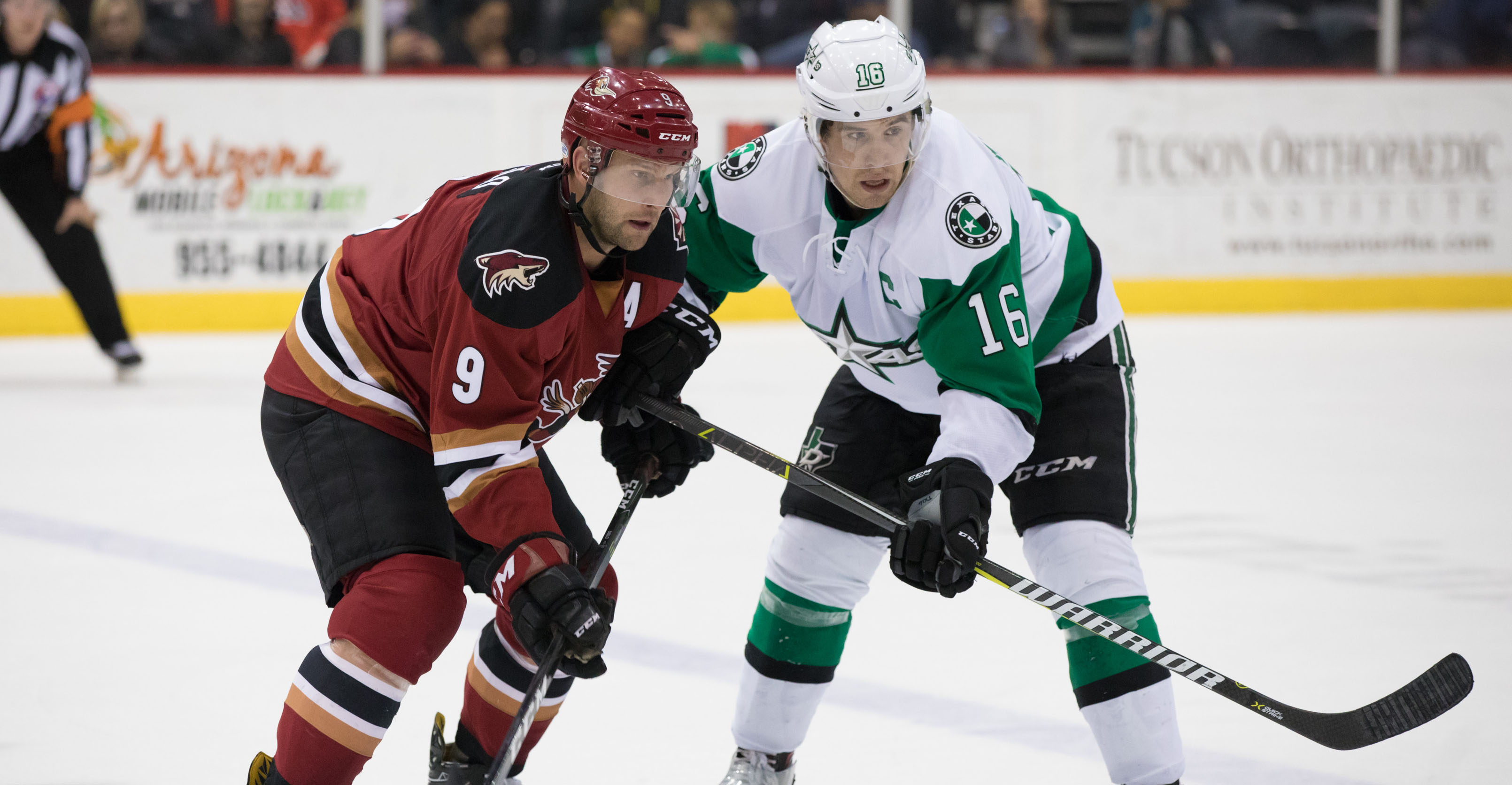 Tucson:
Carter Camper: 61 points (16G, 45A)
Dylan Strome: 53 points (22G, 31A)
Mike Sislo: 47 points (23G, 24A)
Michael Bunting: 43 points (23G, 20A)
Nick Merkley: 39 points (18G, 21A)
Texas
Travis Morin: 61 points (10G, 51A)
Curtis McKenzie: 48 points (25G, 23A)
Brian Flynn: 47 points (18G, 29A)
Justin Dowling: 41 points (13G, 28A)
Roope Hintz: 35 points (20G, 15A)
---
- SEASON SERIES -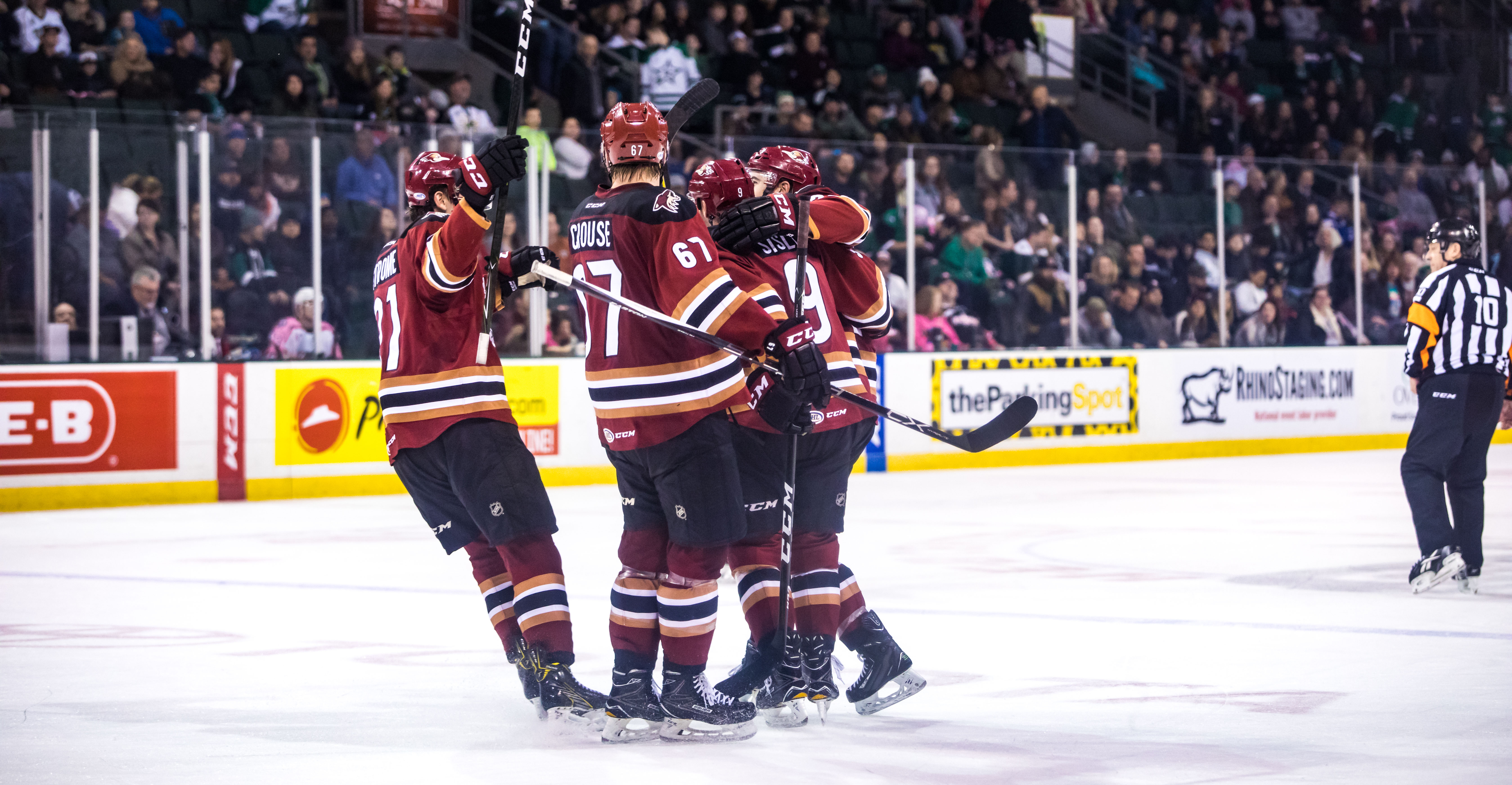 The Roadrunners posted a 3-1-0-0 record against the Texas Stars in the teams' four regular season meetings, winning both games played at the H-E-B Center in early February, and splitting their two played at Tucson Arena in early March.
Mike Sislo, who netted a pair of overtime game-winning goals against the Stars, one on February 10 and one on March 9, led the Roadrunners in scoring against Texas this year with a total of six points (3G, 3A). Joel Hanley finished second on the team in scoring against the Stars during the regular season, posting five assists.
Hunter Miska started three of the four games played against Texas, finishing with a 2-1-0 record.
In his lone appearance against the Stars, Adin Hill turned away 27 of the 28 shots he faced en route to helping the Roadrunners to a 2-1 overtime victory on February 10 at the H-E-B Center.
---
- STARS IN NET -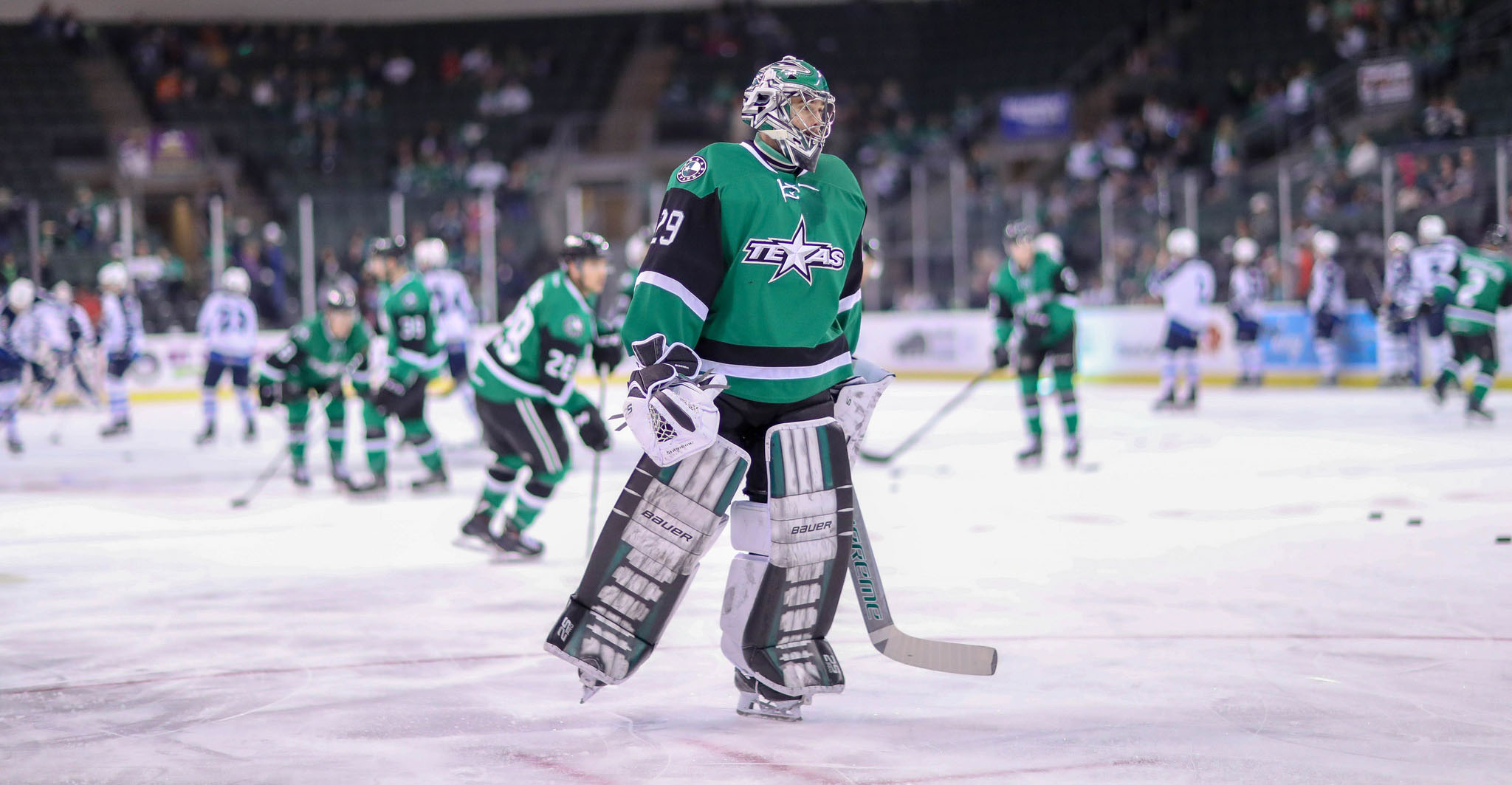 Mike McKenna, since coming in for relief of Landon Bow midway through the second period of the Stars' 5-4 double overtime victory over the Ontario Reign in Game 3 of their first round series, has stopped 91 consecutive shots. He posted a 47-save shutout in Game 4 of the series, supporting the Stars to a 1-0 series-clinching win.
McKenna helped lead the Syracuse Crunch all the way to the Calder Cup Finals last season.
Landon Bow, who started the first three games of the Stars' first round series, finished the regular season tied with Syracuse's Connor Ingram for the third-most wins by a rookie goaltender with 20.
In three starts made against the Roadrunners during the regular season, Bow finished with a 1-1-1 record, while McKenna, who made two appearances and one start against Tucson, posted a 0-0-1 record.
Adin Hill is coming off of two consecutive shutout performances, where he has turned away a total of 46 shots. Since returning to the Roadrunners from his most recent NHL recall with the Arizona Coyotes on March 16, Hill is 8-2-1 with a .930 SV% and a 1.62 GAA with five shutouts.
---
- OVERTIME AND OUT -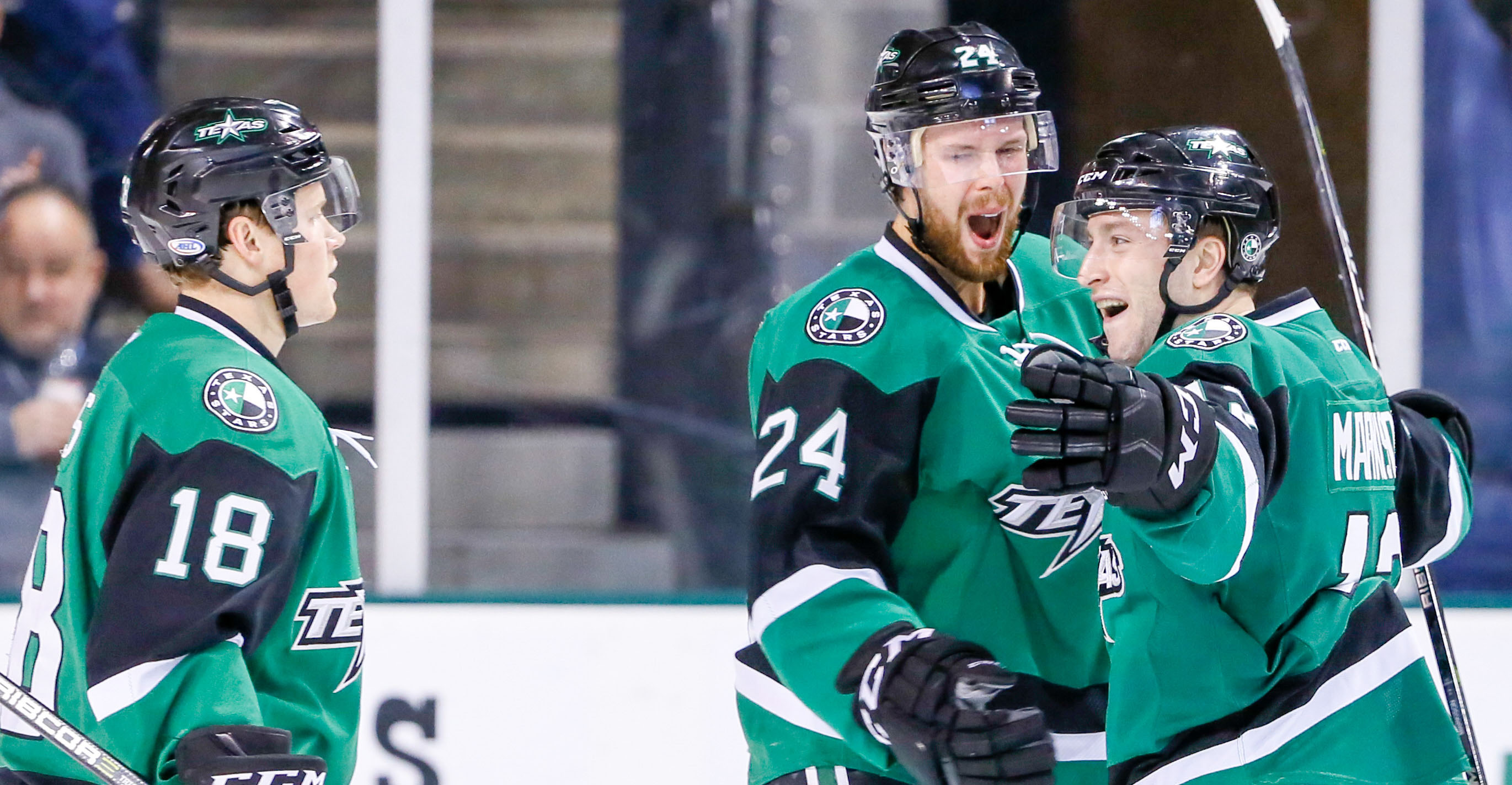 The Stars finished the season with more overtime victories than any other team in the AHL, winning 11 games in the extra frame – one more than Tucson's second-highest total of 10.
In the two games that extended into overtime between the Roadrunners and Stars this season, Tucson came away on the winning end each time, Mike Sislo burying the game-winning goals on both occasions.
In the Stars' first round series against the Ontario Reign, two of their three wins came past regulation time. Brian Flynn secured a 4-3 win for Texas less than two minutes into overtime in Game 1, and Denis Gurianov potted the winner at the 17:38 mark of the second overtime in Game 3.
---
- THE SPREAD -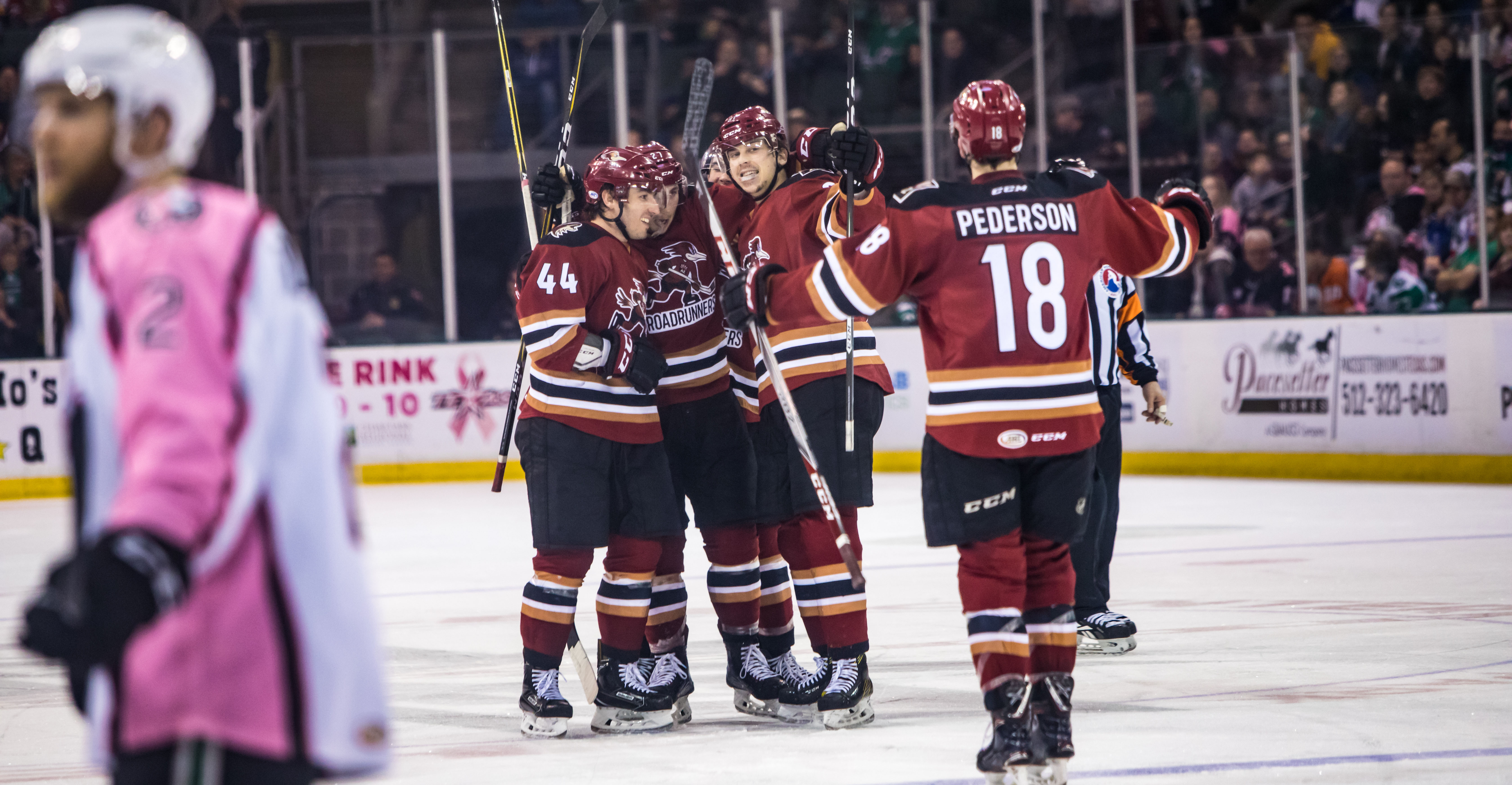 Each team received points from 14 different players in their first round series. 10 different names accounted for the Roadrunners' 16 goals scored, while eight chipped in for Texas' 11 scored.
Five players registered four or more points for the Roadrunners in their opening round series, while the Stars had only one player, Travis Morin, reach that total.
Tucson went 1-for-9 (11.1%) on the power play against San Jose, while Texas went 2-for-13 (15.4%) against Ontario. Both teams surrendered two goals while shorthanded in the first round.
---
- FINAL NOTES -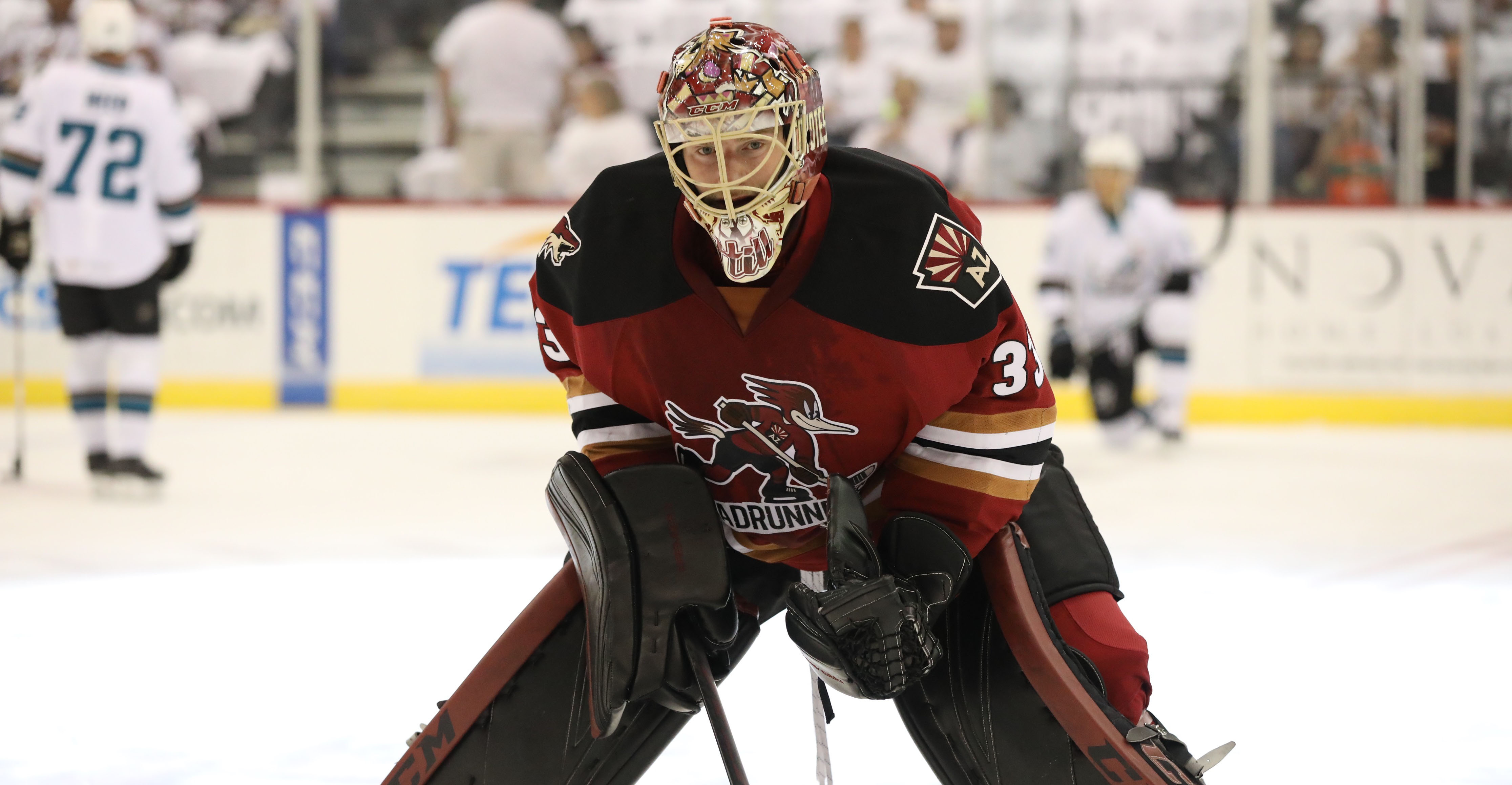 Dylan Strome enters the series tied with Grand Rapids' Ben Street and Syracuse's Matthew Peca in playoff scoring with eight points (3G, 5A).
Mario Kempe is atop the league in playoff goals scored with four, tied with Syracuse's Matthew Peca.
Texas' Mike McKenna played 52 games during the 2014-15 campaign in the Coyotes' American Hockey League system with the Portland Pirates; he started and played in one NHL game with Arizona that season.
Adin Hill, who is riding back-to-back shutouts, is the first AHL goaltender since Petr Mrazek with the Grand Rapids Griffins in 2013 to post consecutive playoff shutouts.
The Roadrunners have yet to allow a goal on home ice so far in the playoffs.
This is the first time since 1997 that an Arizona Coyotes AHL affiliate is among the final eight teams in the Calder Cup Playoffs.
The Roadrunners are 26-1-0-1 when leading after two periods of play this season.