Hockey News
Capobianco, Bunting help AHL's West win Skills Competition
By: Alexander Kinkopf
January 27, 2019 6:53 PM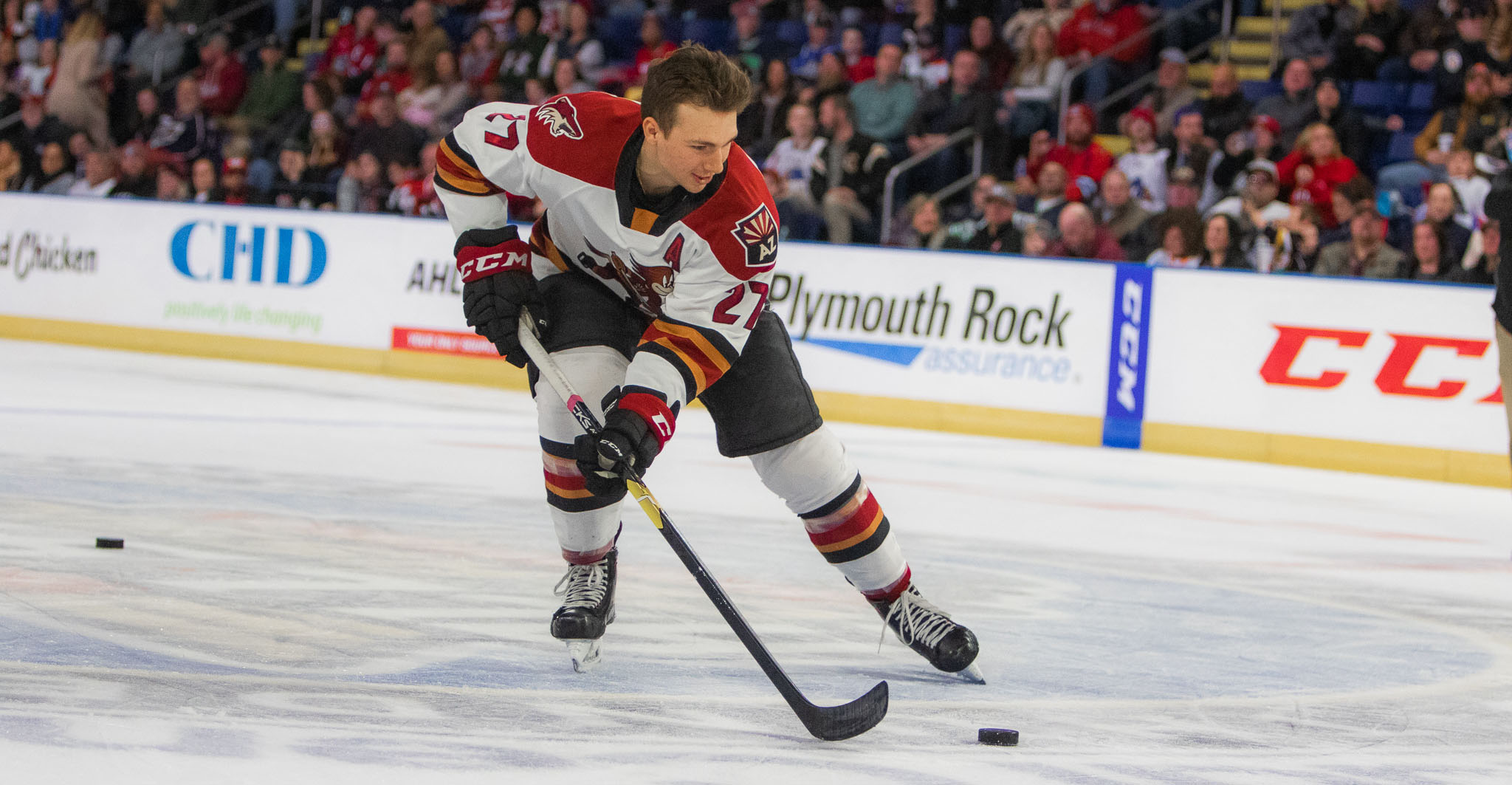 Photo: AHL
The Roadrunners' two All-Star representatives, defenseman Kyle Capobianco and forward Michael Bunting, helped the Western Conference to a17-14 come-from-behind win in the 2019 AHL All-Star Classic Skills Competition on Sunday night.
Both players participated in three events each; Capobianco the Puck Control Relay, Pass and Score, and Breakaway Relay, while Bunting took part in Rapid Fire, Pass and Score, and the Breakaway Relay.
Tucson's pair finished the evening having had a direct hand in four of the West's 17 goals earned.
Capobianco, engaged in his second-straight All-Star appearance, was familiar with all three of his events, each of which he took part in last year in Utica, New York.
Bunting, new to the competition but certainly not new to the scene, was happy to be back at MassMutual Center, where he played his rookie season in 2015-16 as a member of the Springfield Falcons prior to the team's sale and relocation to Tucson the following year.
"I liked Springfield, it was where I played my first year pro, so I'll always remember it," he said in recollect. "That was my stepping stone into pro hockey, so it'll always have a little spot in my heart."
Capobianco helped the Western Conference capture the competition's first point when he completed his run through the Puck Control Relay with relative ease to complement similar performances by the other two members of his group for the event, Jordan Kyrou (San Antonio) and Sheldon Rempal (Ontario).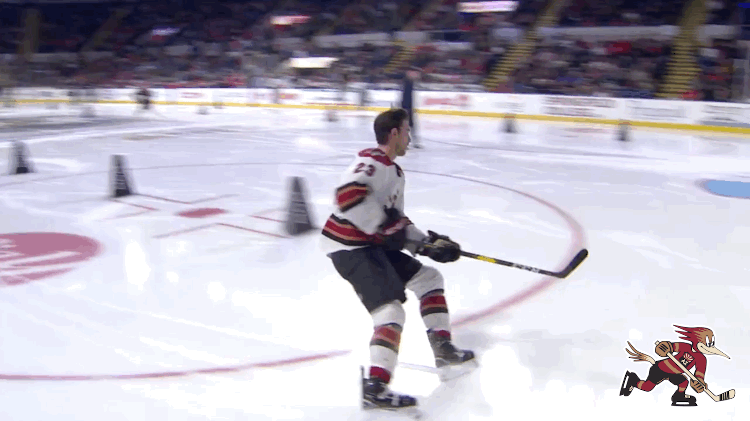 Bunting, in his first-ever All-Star event, buried two of his five pucks as he shot alongside Logan Shaw (Manitoba), going top-shelf on both of his goals. The two combined for six goals on Connor Ingram (Syracuse).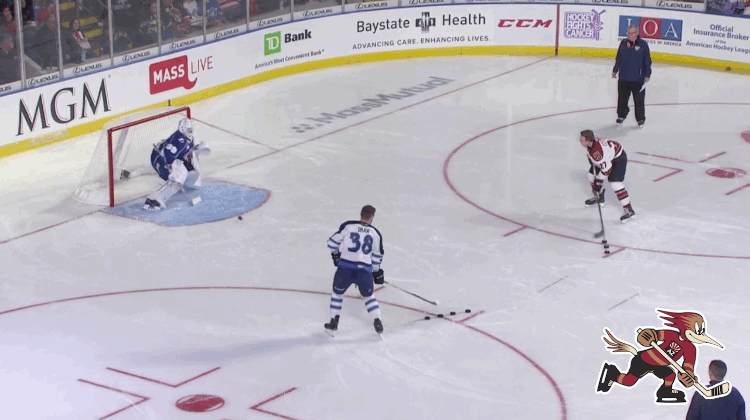 Neither player would score in their second event, Pass and Score. Capobianco's threesome of Cal O'Reilly (Iowa) and Andrew Agozzino (Colorado) couldn't beat Mackenzie Blackwood (Binghamton), while Bunting's trio of Denis Gurianov (Texas) and Joe Gambardella (Bakersfield) were held scoreless by Connor Ingram (Syracuse).
The Western Conference outscored the East by a 10-4 count in the night's final event, the breakaway relay, to earn a late comeback win.
Capobianco beat Vitek Vanecek (Hershey) through the five-hole, scoring the West's third goal of the final round.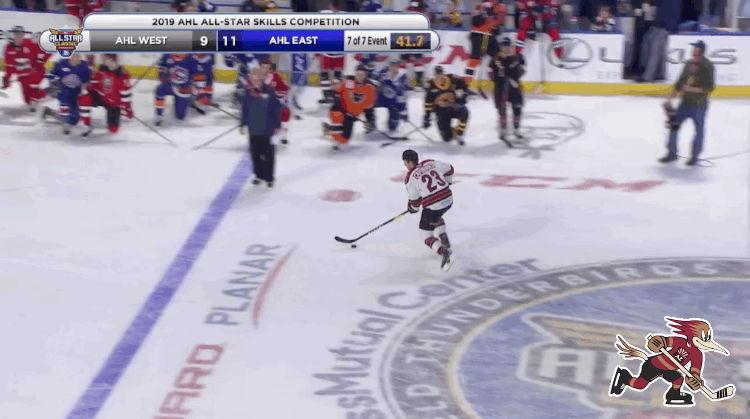 Shortly thereafter, Bunting got the best of Connor Ingram (Syracuse) by going upstairs once again, scoring the West's seventh goal of the evening's final competition.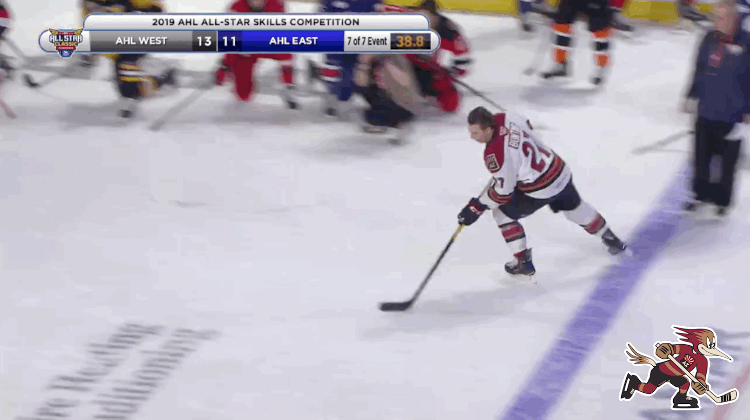 The Western Conference has won the Skills Competition two out of the three years since the Roadrunners' inaugural season, the last time coming in 2017.
Capobianco and Bunting will join their Pacific Division teammates for the 2019 AHL All-Star Classic Challenge on Monday night, a three-on-three tournament-style showcase which begins just after 5:00 p.m. MST.