What's Up
Roadrunners Announce Adrian Denny as the New Voice of the Roadrunners
By: Tucson Roadrunners
August 16, 2018 8:19 AM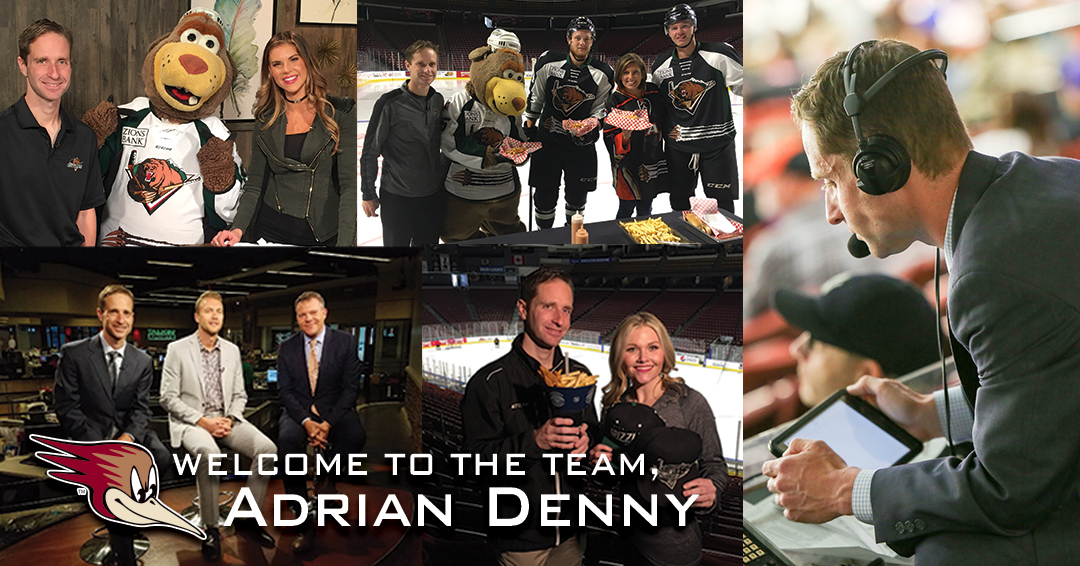 Denny, 36, joins the staff with 16 seasons of professional hockey experience and 13 calling play-by-play. As a member of the Tucson staff, Denny will be responsible for broadcasting all regular season and postseason games on Fox Sports 1450 AM, increasing the Roadrunners presence within the community and overseeing the operation of the entire communications department.
"We are extremely pleased to hire Adrian as our new Director of Communications and Broadcasting," said Coyotes' EVP of Communications and Broadcasting Rich Nairn. "With many years of experience leading media relations, broadcasting and community relations departments, Adrian will be a great addition to the Roadrunners organization. We also look forward to listening to his play-by-play call on our radio broadcasts this season."
Denny comes to the Roadrunners after previously serving as the Vice President of Communications and Broadcasting with the Utah Grizzlies of the ECHL. Entering the 2018-19 season, Denny has called 1,013 consecutive games.
"We are very excited to add Adrian Denny to our staff," Roadrunners President Bob Hoffman remarked. "His experience and leadership will only strengthen the depth within our organization and I know fans in Tucson will love his on-air delivery. He will be a perfect fit for our club and for the Tucson community to grow the sport and awareness of hockey."
The graduate of the University of Utah also brings expertise in advertising, marketing, media relations, social media and web operations to the Roadrunners staff.
"During my visits to the Coyotes and Roadrunners offices, the passion and energy that I felt was contagious," said Denny. "The Roadrunners immediately became a treasured asset and partner to the community of Tucson during the first two seasons and I'm ecstatic to jump aboard for year three as we continue to grow the game of hockey in Arizona."
The third campaign of Roadrunners hockey begins on Saturday, October 6 at 7 p.m. when Tucson hosts the San Diego Gulls for an I-8 Border Rivalry game. Purchase your ticket package today but visiting TucsonRoadrunners.com or call 866-774-6253.