What's Up
Rookie Camp Welcomes Varady, Marks Season's Unofficial Start
By: Alexander Kinkopf
September 08, 2018 8:08 AM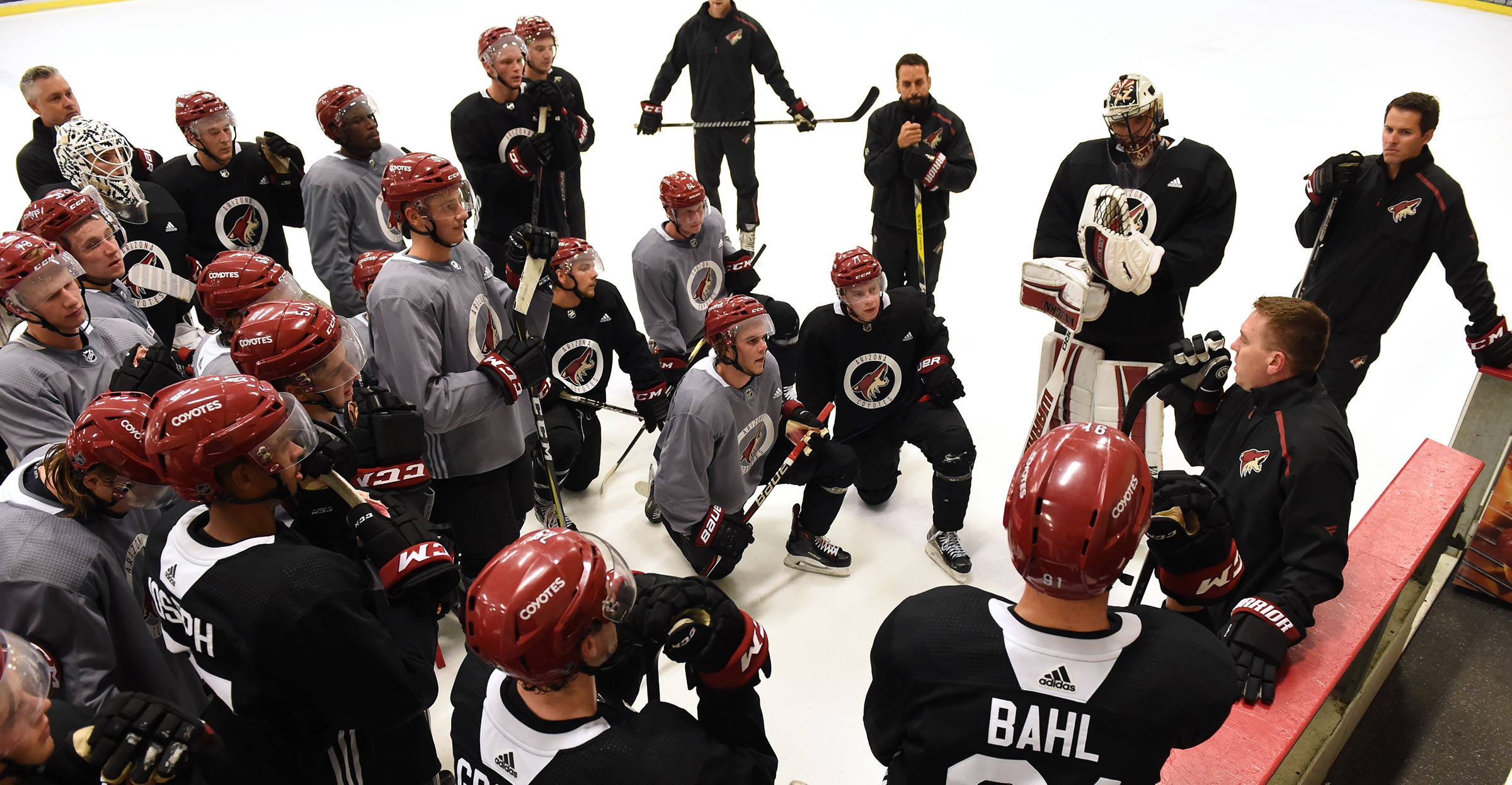 The Coyotes organization returned to the ice for the first time since June's development camp transitioned players and hockey operations personnel into the thick of summer, of which a page was turned Friday morning at the Ice Den Scottsdale when 27 skaters and three goaltenders took the ice for the opening session of rookie camp.
Jay Varady, hired to be the Roadrunners' new head coach on July 2, led the camp's opening session, icing a group that included six players who dressed for Tucson last season.
"He's a real communicator, he really gets his message across and lets us know what he wants from every one of us and what he expects," Lane Pederson said after Friday's session. "You can tell he's a teacher, he really understands the game, and I think it's going to be great for us here at rookie camp to learn from him. He's a great fit here in Arizona."
"I really liked his style of practice," Kyle Capobianco added. "It's up-tempo, fast-paced, and he really wants guys to move their feet, and I like that."
With Roadrunners' assistant coaches
Steve Potvin
and
John Slaney
at his side, Varady will be behind the bench for each of the Coyotes' three games played at this weekend's
Vegas Rookie Faceoff
, along with the organization's development staff.
"Our Tucson staff will be on the bench throughout the tournament, and we'll also have the development guys in as well," Varady confirmed Friday. "The development coaches are coaches who have traveled our picks around, who have built great relationships with those individuals, and for us, we're helping those guys along in this process as well."
As a head coach at the American Hockey League level, Varady will see many, if not most, of the Coyotes' young prospects as they make their way up the pipeline and eventually to the NHL level, helping them along to take that final and undoubtedly difficult step.
"[It's been about] getting to know the players," he said when asked about the outlook for his rookie camp experience. "For me, it's about building relationships right now, establishing our identity, and we're headed out for a tournament, which will be an evaluation phase as we progress in camp."
The continuation of that evaluation process carries on this afternoon when the Coyotes' rookies take on the San Jose Sharks' at City National Arena at 3:00 PM PST. A full schedule and roster can be found below.
"When we step on the ice and we're playing another organization, we're trying to win," Varady added firmly before the team left for Vegas. "That's competition, that's sport, so that's our attitude. But I think at the same time, we're evaluating players and helping them understand how we want [them] to play."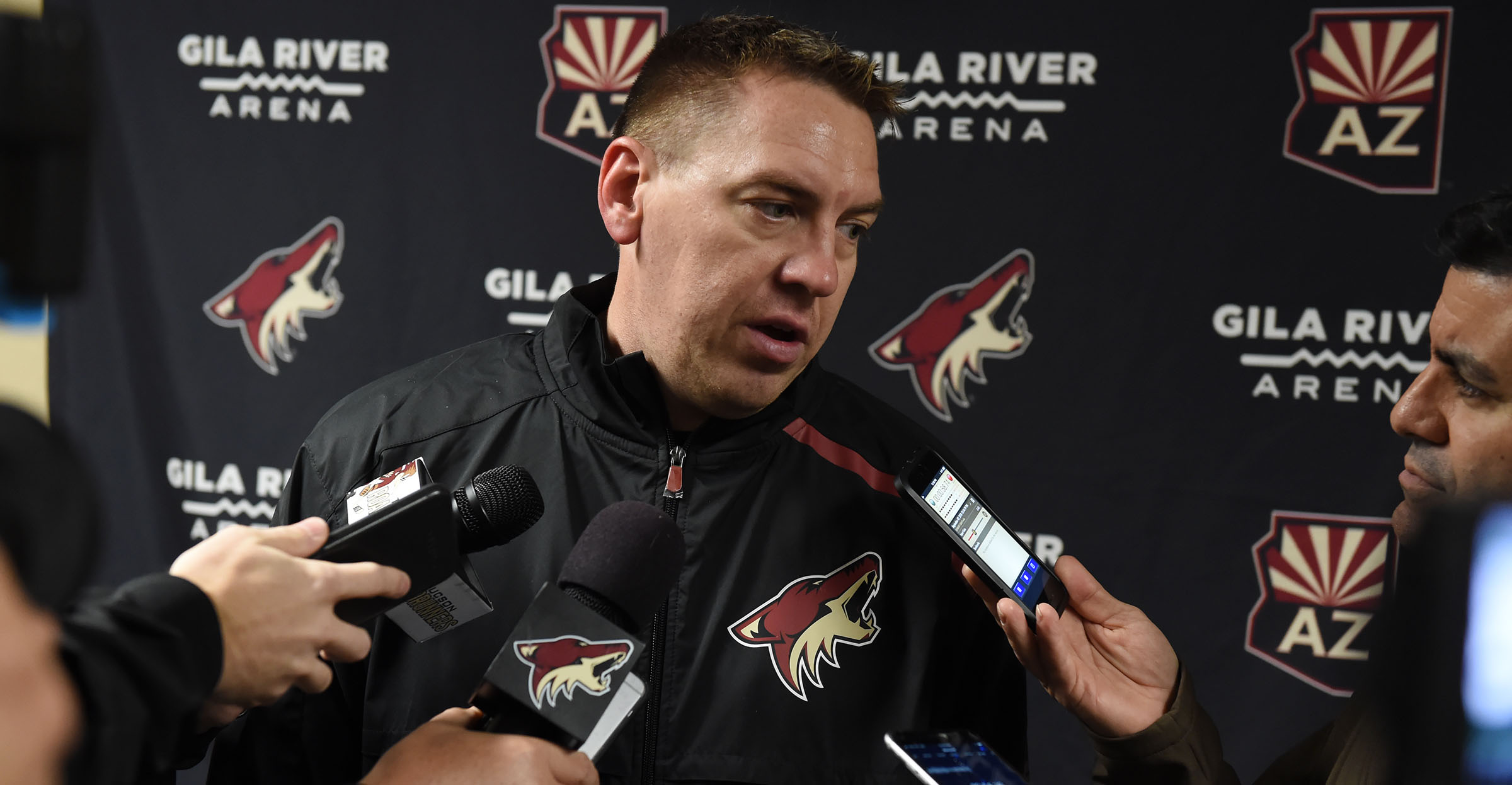 Rookie Camp Schedule
The Coyotes' rookies, along with those from five other clubs (
Anaheim Ducks
,
Colorado Avalanche
,
Los Angeles Kings
,
San Jose Sharks
,
Vegas Golden Knights
), will play in a four-day showcase tabbed as the
'2018 Vegas Rookie Faceoff' at City National Arena in Las Vegas, NV
. Three of the four days will include games, while one day, Monday, will serve as a practice and off-ice activity day for the Coyotes.
Saturday, September 8
vs. San Jose Sharks – 3:00 PM PST
Sunday, September 9
vs. Los Angeles Kings – 3:00 PM PST
Tuesday, September 11
vs. Anaheim Ducks – 11:00 AM PST
All games from the '2018 Vegas Rookie Faceoff' will be streamed live with an online video feed. Information and links to access the aforementioned games will be shared when available on all Arizona Coyotes and Tucson Roadrunners team social media accounts.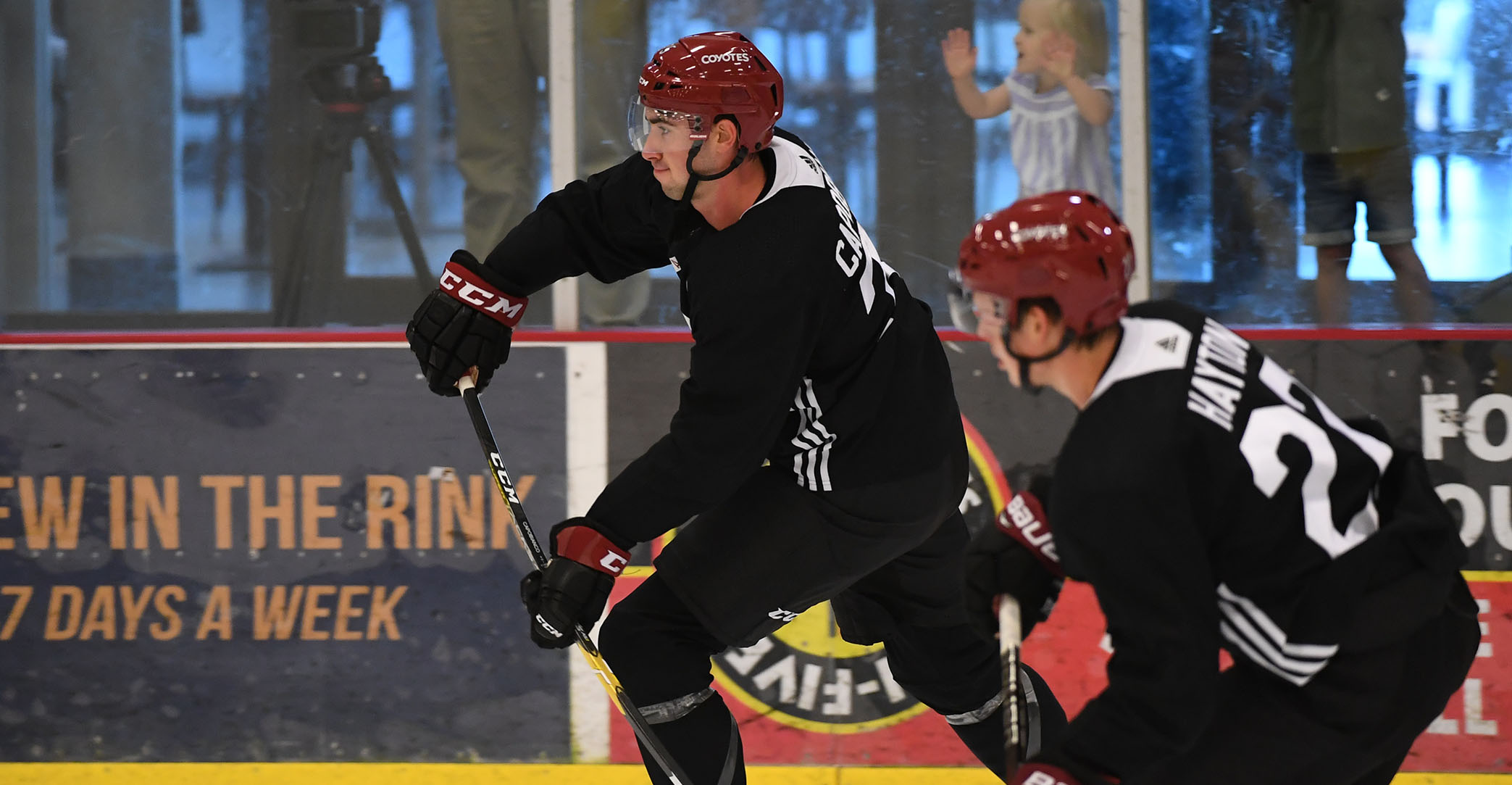 Rookie Camp Quotes
Lane Pederson, on looking back at his first professional season in 2017-18:
The first year pro is a bit of a learning curve; you've got to elevate your game, you've got to adapt to playing against bigger, stronger guys. It's faster, the talent level is higher, but to have that year under my belt and come back here and kind of know what to expect and know what level I need to be at to give myself the best opportunity is good for me, and it's good for all of the guys. It's going to be a good rookie camp, I think all of the guys are excited to get going here. It's going to be a good weekend in Vegas with some good competition.
Pederson, on his summer:
I felt like I had a good summer, I worked hard. I felt that to the best of my ability I addressed the areas that were of concern where I wanted to improve and grow. There's a lot of room to improve and grow yet, but I'm hoping to take that next step this year whether that's in Glendale or in Tucson, I just want to keep getting better every day.
Pederson, on his offseason training regiment:
About five days a week in the gym, and slowly skating more and more with each passing week, just trying to get my reps in and let my body recover a little bit, but also ramping things up a bit here as we get going for camp to be in the best possible shape to give myself the best opportunity.
Kyle Capobianco, on what he learned from last season:
How to be a pro and how to come in every day, you learn from the older guys and you see how they go in every day and get the job done, they go in every day and practice hard and treat it like it's their job. I think the year playing against older, stronger guys, guys that have played in the NHL allowed me to get used to the speed and the strength of guys, and allowed me to see what I needed to work on during the summer.
Capobianco, on what stuck with him from his first pro year:
I think it's the stuff away from the ice. Obviously on the ice, you're supposed to be going full speed all of the time, but away from the ice you've got to cold tub, you've got to stretch after, you've really got to learn how to take care of yourself to a very detailed degree, and the older guys really help with that.
Capobianco, on balancing training with downtime in the summer:
You're working out five days a week, skating near the end of the summer three times a week and working with skating coaches, but it was nice to get away for a little bit at the cottage and go on the paddleboard.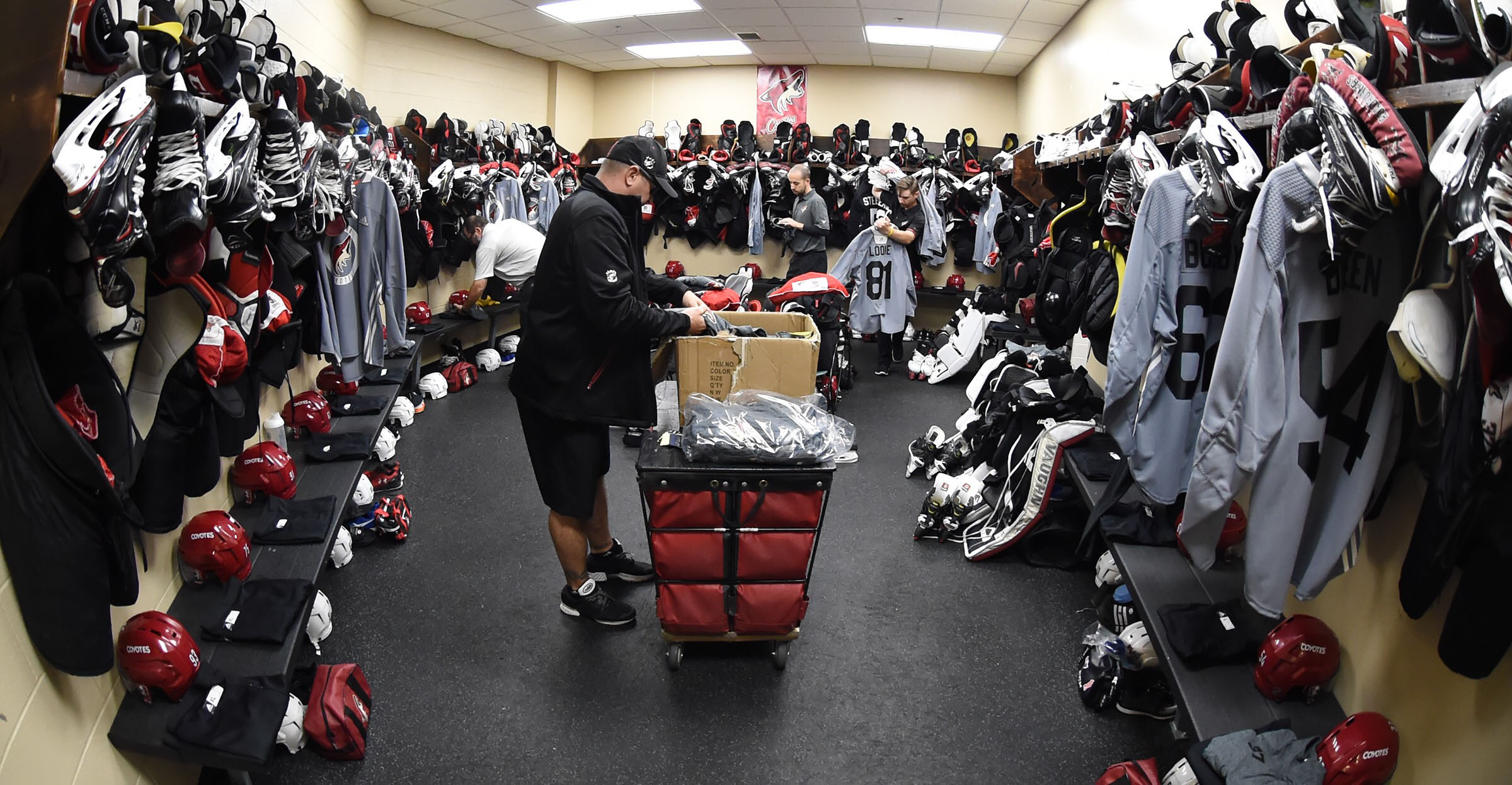 *All Photos Courtesy Norm Hall / Arizona Coyotes