What's Up
Last Week Today: Ups & Downs
By: Alexander Kinkopf
November 26, 2018 12:02 PM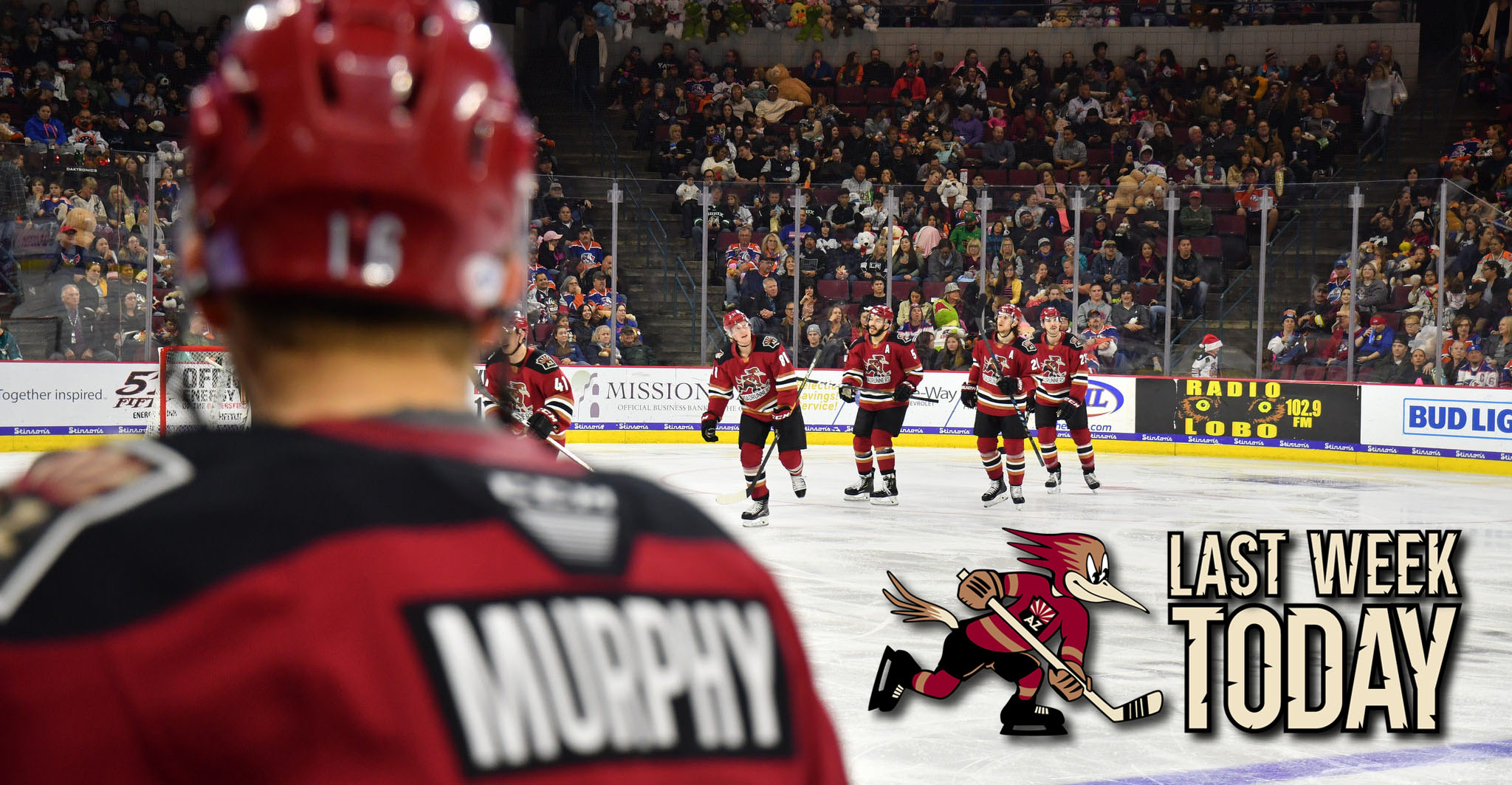 The Rundown:
The busiest week of the season to-date provided some ups and downs, called for a few records to be re-written, and showcased some breakout performances.
To simply summarize, the Roadrunners posted a 2-1-1-0 mark in four games played, earning five of a possible eight standings points.
Things began, and thankfully were soon in the rear-view, with an 8-2 loss Tuesday to the Stockton Heat at Tucson Arena. It was the team's worst margin of loss of the year and their eight goals allowed tied a franchise worst.
Moving on!
Conor Garland netted two power play goals 38 seconds apart the following night to jolt the Roadrunners to a 3-2 bounce-back win over the Heat on Wednesday. This gave him a stretch where eight of his previous 10 goals scored were accounted for as game-winners.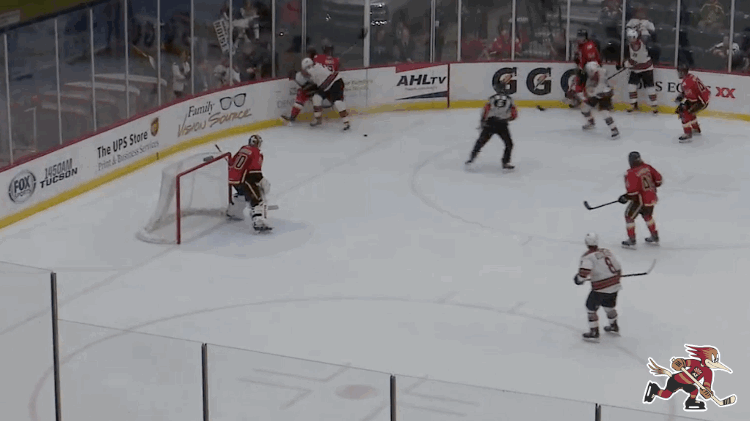 Back on the road Saturday, the Roadrunners scored three goals in 2:08, the fastest three scored in club history en route to a commanding 6-1 victory over the Bakersfield Condors.
Adin Hill got his first taste of NHL action this season on Sunday afternoon when he was called in to relieve Antti Raanta with 15:57 left in the third period in the Arizona Coyotes' game against the Calgary Flames at Gila River Arena. He stopped the one shot he faced.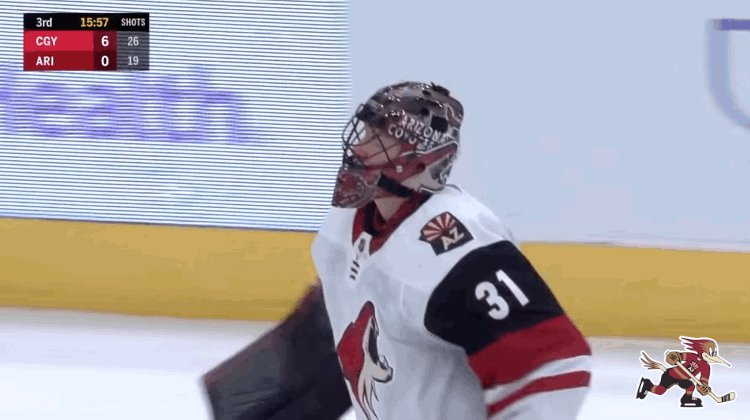 Another powerful offensive performance featuring Tyler Steenbergen's first professional goal followed Sunday in Ontario, but one the Roadrunners couldn't protect defensively, falling 7-6 in overtime to the Reign after leading by four goals with 15 minutes left in regulation.
---
---
Where They Stand:
Record: 11-5-1-1 (.667 pts %)
Pacific Division: 2nd Place
Western Conference: 3rd Place
League: 6th Place
---
---
The Week That Was:
Tuesday, November 20
Roadrunners (2) vs. Heat (8)
Tucson Arena
Wednesday, November 21
Roadrunners (3) at Heat (2)
Tucson Arena
Saturday, November 24
Roadrunners (6) at Condors (1)
Rabobank Arena
Sunday, November 25
Roadrunners (6) at Heat (7) F/OT
Citizens Business Bank Arena
---
---
Up & Down
Recalls (TUC --> ARI)
Tuesday, November 20: Dakota Mermis
Tuesday, November 20: Mario Kempe
Saturday, November 24: Adin Hill
Assignments (ARI --> TUC)
Monday, November 19: Robbie Russo
Monday, November 19: Dakota Mermis
Monday, November 19: Mario Kempe
Wednesday, November 21: Dakota Mermis
Thursday, November 22: Mario Kempe
Friday, November 23: Hunter Miska
Transactions
Monday, November 19: Daniel Maggio - Recalled from Norfolk-ECHL
Thursday, November 22: Daniel Maggio – Loaned to Norfolk-ECHL
---
---
Alumni in Action:
In what would prove to be his second-to-last game with the Arizona Coyotes organization, Dylan Strome scored his final goal with the club, tucking home a rebound from a Brendan Perlini shot past Philipp Grubauer in the third period of the team's 5-1 loss to the Colorado Avalanche Friday night at Gila River Arena.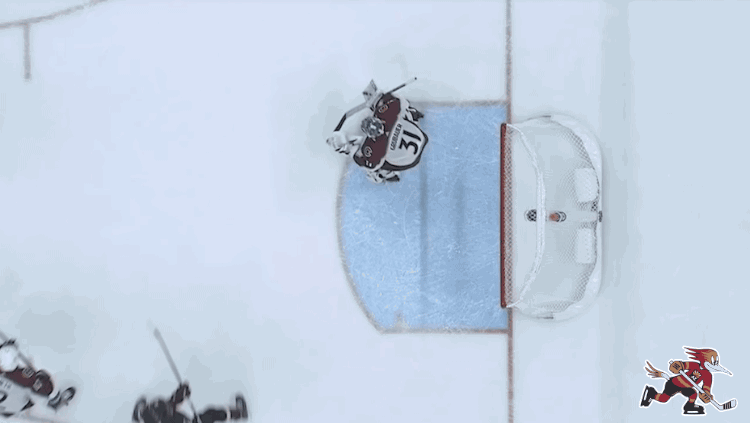 ---
---
Highlight of the Week:
Brayden Burke. Three magnificent goals. You be the judge.
Speed.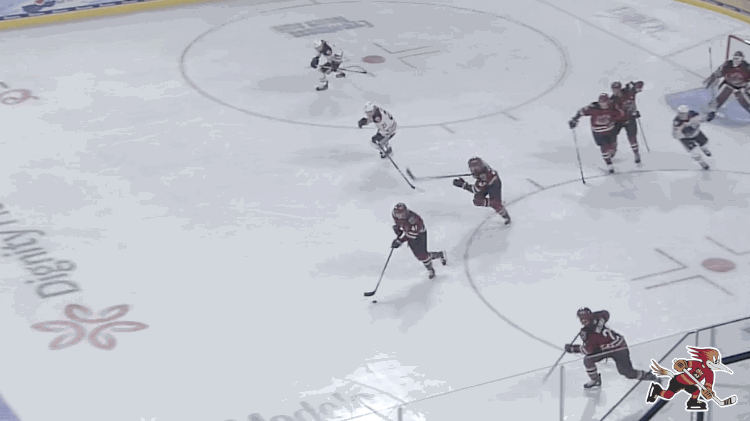 Shot.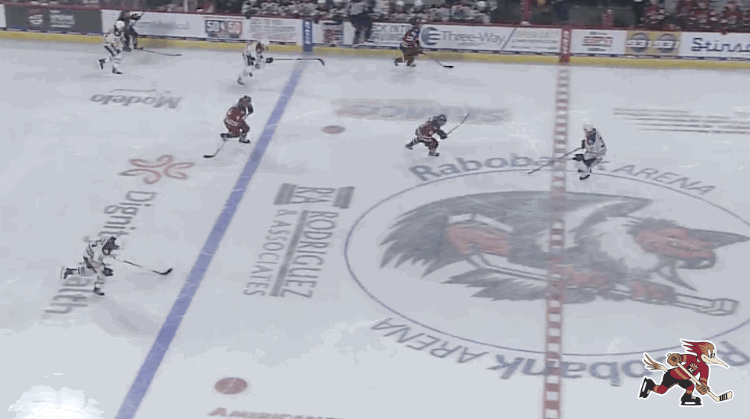 Skill.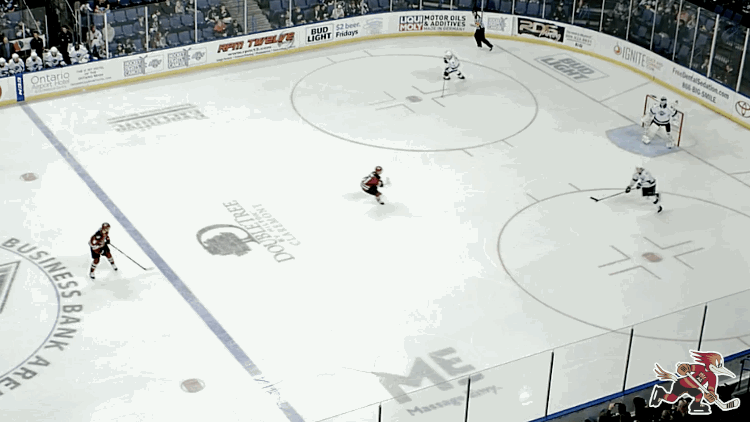 ---
---
Photo of the Week:
Tyler Steenbergen glides behind the net and a distraught Michael Leighton mid-celebration after scoring his first professional goal in the second period Sunday afternoon at Citizens Business Bank Arena, momentarily giving the Roadrunners a 3-2 lead in their eventual 7-6 overtime loss to the Ontario Reign. (Credit: Ontario Reign)