What's Up
Miska Not Baffled By Pro Passage: 'I Came Here To Win Hockey Games'
By: Alexander Kinkopf
November 08, 2017 11:29 AM
A fluid transition it's been.
"I came here to win hockey games, and I want to keep doing that," the 22-year-old said confidently. "We've got a great team here, and I think we're going to have a good year ahead of us."
Less than a year removed from his season of collegiate hockey where he led the
University of Minnesota-Duluth
to the
NCAA
championship game while being named a finalist for the
Mike Richter award
, and a swift seven months since
signing an entry-level contract with the Arizona Coyotes
,
Hunter Miska
's name has become a household one within the organization, and notably so in Tucson.
Working with a hearty tandem of goaltending, Miska is one of the three sturdy options the Roadrunners are able to call upon to start at any given time. He has, too, arguably been the most consistent.
"I feel good, I feel like I'm on my game," he said following Tuesday's practice. "I feel like I'm sharp coming to practice every day, and I'm practicing how I'm playing, and it's translating into my game."
He's a perfect 4-0-0 on the season in five starts. The team as a whole, since allowing seven goals on opening night, has surrendered a combined 15 in its last eight games, four of which Miska has started – a span where they have not lost a single contest in regulation time (6-0-2-0).
In his previous four starts, all of which have been wins, he's posted a .920 SV% and a 2.50 GAA.
The Roadrunners have allowed the least amount of goals (22) of any team in the American Hockey League this season, and hold the fourth-best GAA, their opponents averaging a rather slim 2.44 goals per game.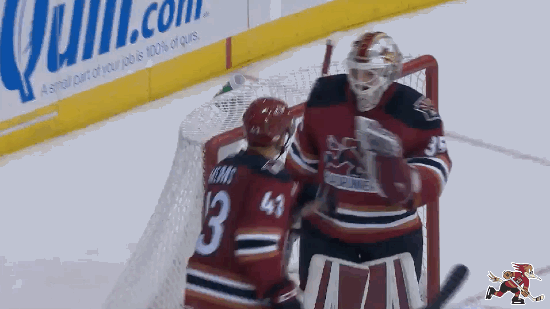 "The guys are playing really well in front of me; I think our defense has been playing great, they're letting me see the first shot, and if there's a second rebound they're getting it out of there for me," he said. "I think our forwards are doing great too back-checking, and we're scoring goals, and that's all that matters."
Miska is 2-0 in overtime contests this season; and is the only goaltender to shut the door in extra time in the team's four games that have extended past regulation.
When asked if he foresaw the success he's been having in such period of growth and evolution, he confidently noted that "It's going as I expected."
"I'm focused on being the best goalie that I can be, and to keep winning hockey games while having a key role with this team," he added firmly.
With the Roadrunners holding the best record in the league entering their weekend series with the Bakersfield Condors, the importance of Miska's role has been made quite clear.
Chances are, he'll get to further define it when he makes his sixth pro start in the coming days.