What's Up
Good Morning, Tucson: First Things First
By: Alexander Kinkopf
November 10, 2017 10:10 AM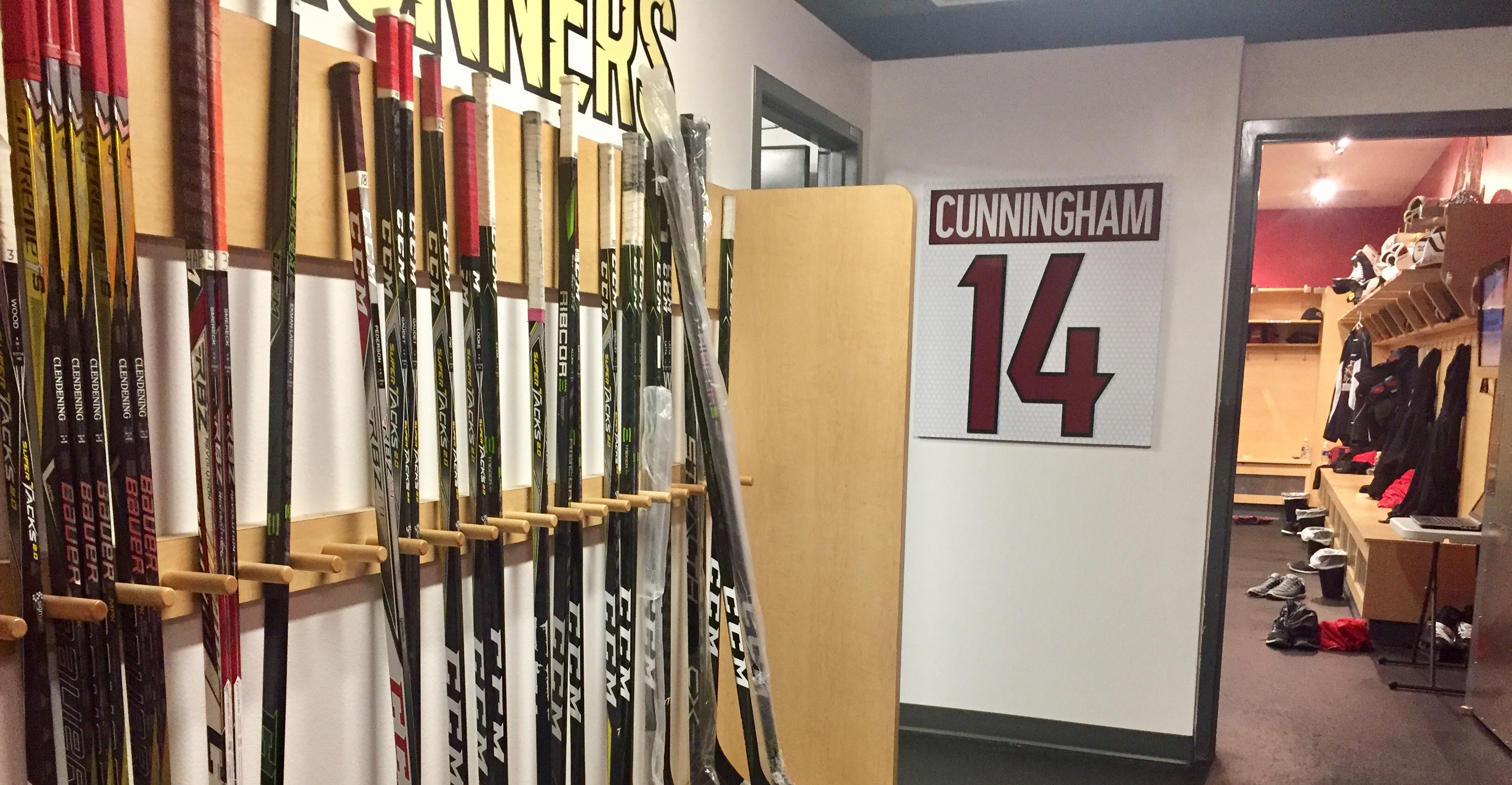 Good morning from Tucson Arena, where the AM hours outside the team's facility get a little colder and carry a little more bite as the winter months hockey season thrives on get deeper into their natural state. Tonight is, after all, the Roadrunners' tenth game of the 2017-18 campaign.
We've hit double-digits.
A capacity pregame skate it was for the first-place Roadrunners, who enter the night atop the Pacific Division, the Western Conference, and the entire American Hockey League with a 6-1-2-0 record and a .778 win percentage.
Welcome the Bakersfield Condors, who are making their first visit to Tucson Arena this season, arriving in Southern Arizona with a 5-4-1-0 record. The Roadrunners posted a 2-2-0-0 mark against the Edmonton Oilers' affiliate on home ice last season.
The Roadrunners defeated the Condors by a 4-0 score on October 14 at Rabobank Arena, led by Adin Hill's 22-save shutout performance. In five career starts against Bakersfield, Hill is 3-1-1 with two shutouts.
With an average of 2.44 goals allowed per game, the Roadrunners' defense ranks third among all 30 AHL teams. The club's 22 goals allowed through their first nine games is the least amount surrendered by any team in the league.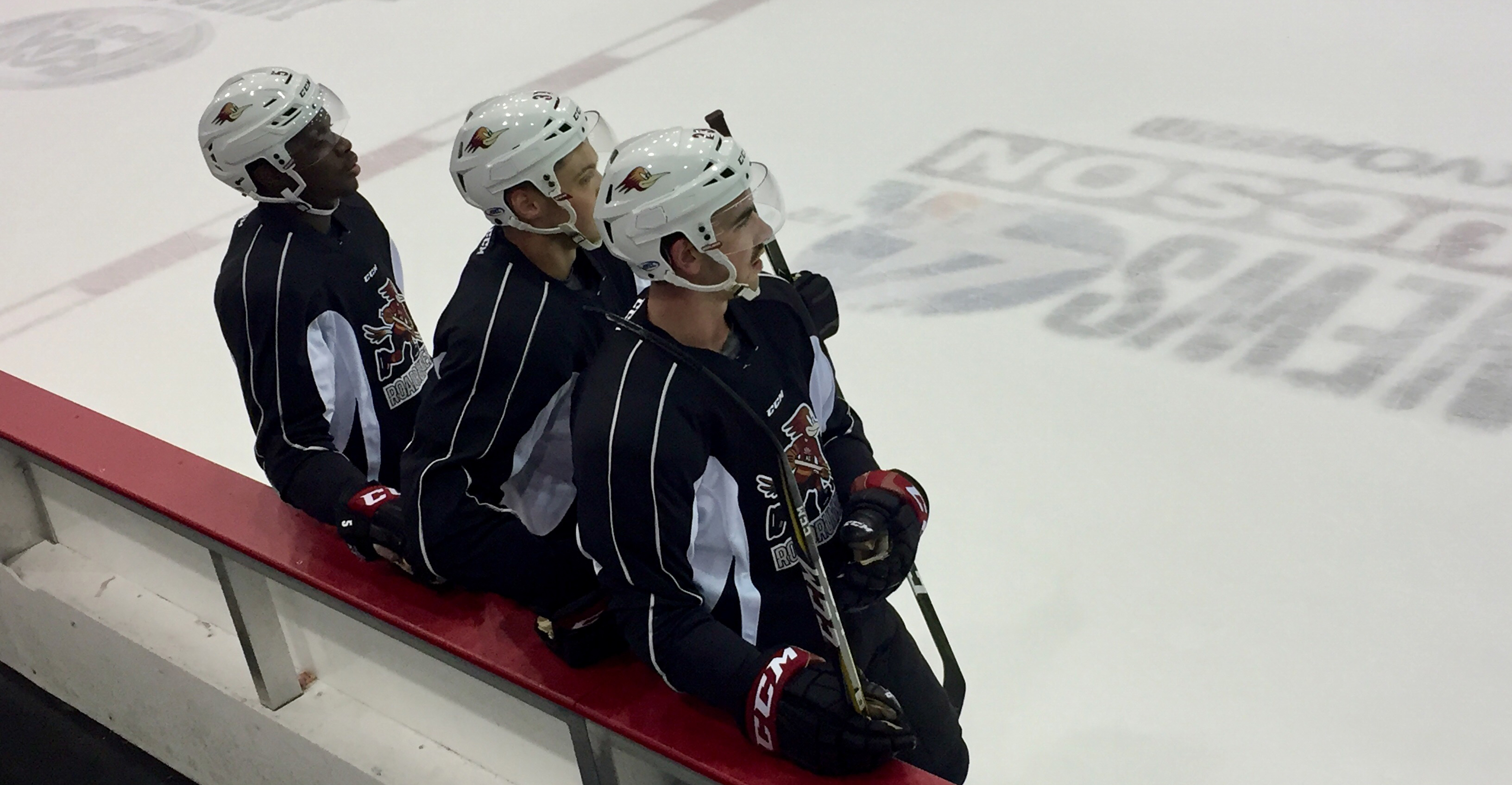 Defenseman Kyle Wood, along with forward Nick Merkley, who scored his first pro goal against the Condors on October 14, shared a few thoughts following the team's morning skate:
---
Kyle Wood, on the team's strong defense this season:
I think it's just been a group effort; all six of us back there have been working hard and our goalies have bee playing really well for us so far. It's not just the defense, it's the forwards coming back hard backchecking the way we need to in order to be successful, and I think that all contributes to how good we've been defensively so far.
Wood, on John Slaney's message, direction with the defensive group:
Just to keep it simple. If there's a play to be made, you obviously need to make it, but if there's nothing there you've got to just make the simple plays, move it up to the forwards, get it in deep, and hopefully they can create something from there.
Wood, on the team's shutout of Bakersfield on October 14:
I think they're a very skilled offensive team. They've got a lot of quick forwards up there. When we played them before, [Adin Hill] played great for us and hopefully he can do the same tonight.
Nick Merkley, on what the team's been doing well this season:
We're playing fast. I think we're moving the puck quick, doing all of the little things well, and playing with a lot of detail, so we'll try to continue that tonight and hopefully get a couple of points.
Merkley, on his game, his outlook this weekend:
I think I'm just going to try and do all of the little things right again, obviously I got a couple of good bounces last weekend, and hopefully they keep coming. I think with hard work those bounces will come, so it's just about working hard and then the rest will come.
---
More to come from Tucson Arena.