What's Up
Game #13 - Tucson at San Diego
By: Alexander Kinkopf
November 18, 2017 5:13 PM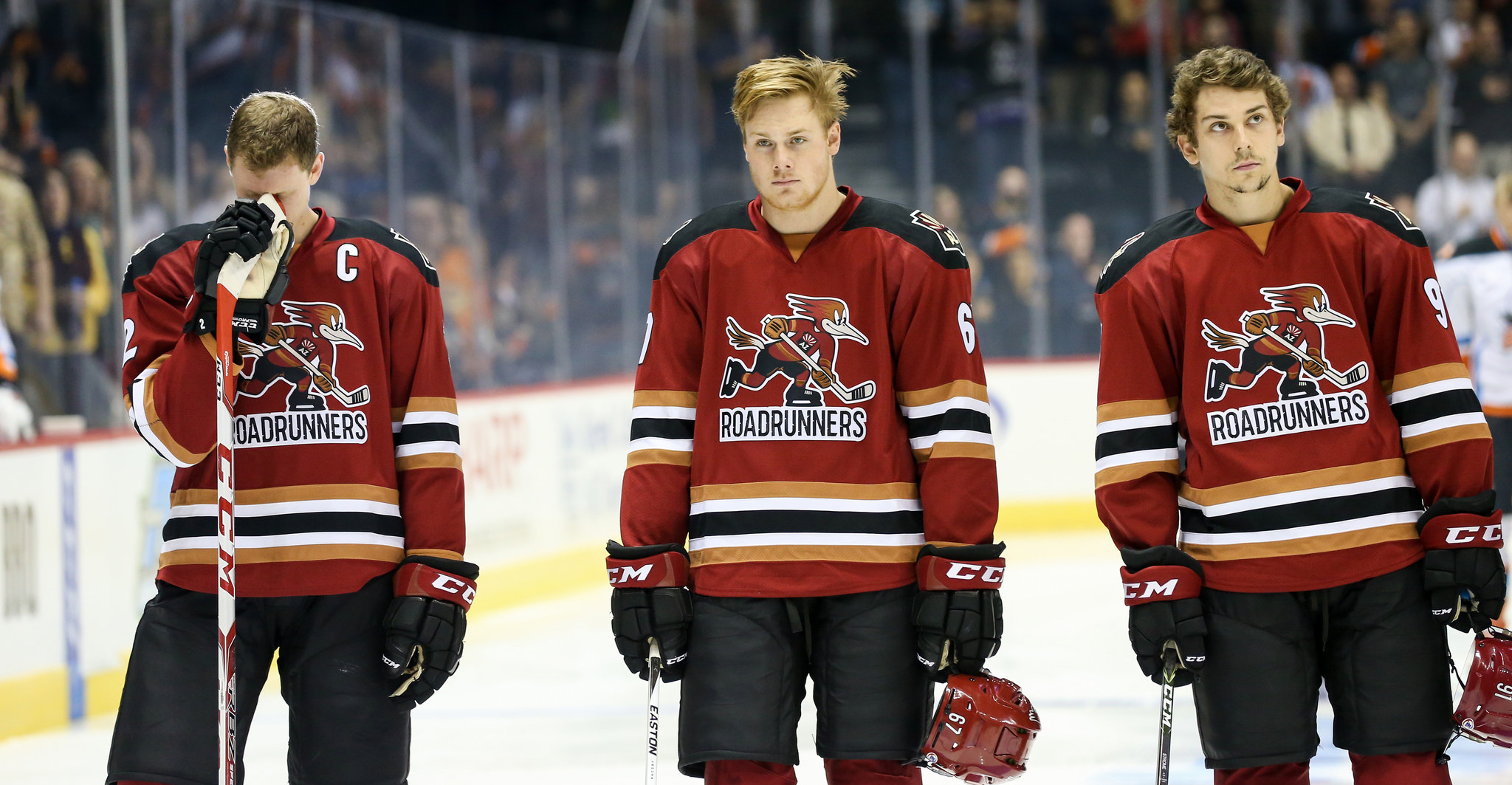 TUCSON ROADRUNNERS 2, SAN DIEGO GULLS 3
Final - SO | 0:00 Remaining
Tucson (8-2-2-0) at San Diego (6-7-1-0)
Saturday, November 18, 2017, 8:00 p.m. MST
Valley View Casino Center | San Diego, California
LISTEN LIVE:
Stats/Scoring
SOG - TUC 38; SD 36
PP – TUC 2/4; SD 0/3
FIRST PERIOD:
1) TUC PPG - Lawson Crouse (Kyle Capobianco, Jens Looke) 6:19
SECOND PERIOD:
None
THIRD PERIOD:
2) SD - Andy Welinski (Kyle Thomas, Alex Dostie) 6:59
3) SD - Spencer Abbott (Sam Carrick) 10:43
4) TUC PPG - Lane Pederson (Kyle Capobianco, Dylan Strome) 18:26
OVERTIME:
None
SHOOTOUT:
Round 1 -- Tucson (Pederson: X), San Diego (Fiore: X)
Round 2 -- Tucson (Strome: X), San Diego (Abbott: GOAL)
Round 3 -- Tucson (Sislo: GOAL), San Diego (Kassila: GOAL)
---
Roadrunners Lineup
FORWARDS
LAWSON CROUSE (67) - DYLAN STROME (91) - NICK MERKLEY (38)
MIKE SISLO (9) - RYAN MACINNIS (72) - LANE PEDERSON (18)
MICHAEL BUNTING (27) - TYLER GAUDET (10) - JENS LOOKE (24)
TYE MCGINN (16) - TREVOR CHEEK (39) - MICHAEL LATTA (46)
DEFENSEMEN
ANDREW CAMPBELL (2) - DYSIN MAYO (37)
KYLE CAPOBIANCO (23) - KYLE WOOD (3)
KEVIN EKMAN-LARSSON (7) - ADAM CLENDENING (4)
GOALTENDERS
MAREK LANGHAMER (30)
ADIN HILL (33)
---
Notes
Pregame:
A few minor changes made to the forward lines from Friday night's game; everything defensively stays the same.
Conor Garland (undisclosed) will not be in the lineup for the first time this season.
Marek Langhamer leads the team onto the ice to make his third start of the season. Langhamer is 1-0-1 with a 1.45 GAA and a .949 SV%. Adin Hill will serve as the back-up.
First Period:
After registering the first six shots of the game, the Roadrunners connect just 17 seconds into their first power play of the evening when Lawson Crouse tips home his third goal of the season.
Crouse now has points in four straight games.
The Roadrunners go the entire period without a penalty, keeping the league's top power play unit off of the ice.
The Roadrunners outshoot the Gulls 13-6.
Second Period:
Marek Langhamer plays a spectacular middle frame, turning away all 17 shots faced, including a clear-cut breakaway opportunity.
The Roadrunners take their first penalty of the evening with 1:52 left to play in the period.
Third Period:
On a shot through traffic with just over 13 minutes left to play, Andy Welinski beats Marek Langhamer from the point to bury the Gulls' first goal of the evening.
Spencer Abbot gives the Gulls their first lead of the night, scoring with less than 10 minutes left to play.
On a power play with Marek Langhamer pulled for an extra attacker, Lane Pederson one-times a Kyle Capobianco feed past San Diego's Kevin Boyle to tie the game 2-2 with 1:34 left to play.
Overtime:
Dylan Strome denied of the extra frame's best scoring opportunity in the opening seconds.
Marek Langhamer stops all three shots faced in overtime.
---
Highlights
On their first power play of the game, Lawson Crouse deflects a Kyle Capobianco shot home to give the Roadrunners a 1-0 lead.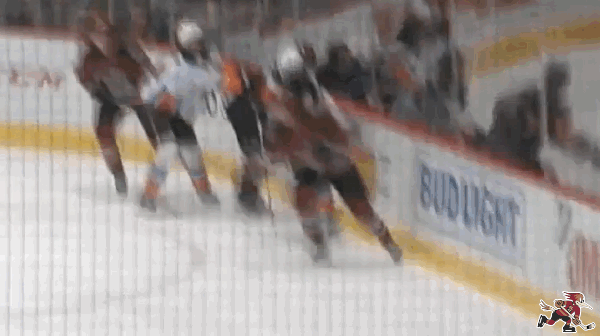 Marek Langhamer denies a Jordan Samuels-Thomas breakaway opportunity late in the second period.
Lane Pederson powers home his fifth goal of the season with less than two minutes to play in regulation to tie the game 2-2.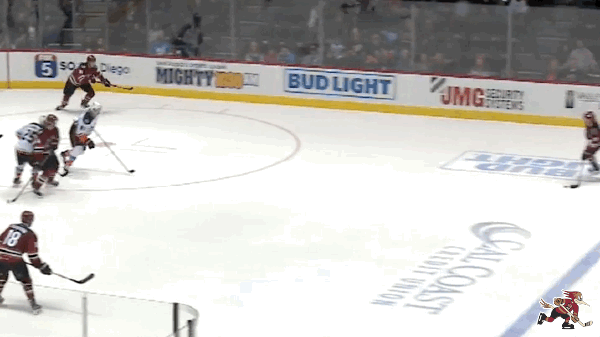 ---
Photos