What's Up
Strome soars to top of scoring ranks; Roadrunners fall short to Stockton
By: Alexander Kinkopf
November 25, 2017 9:47 PM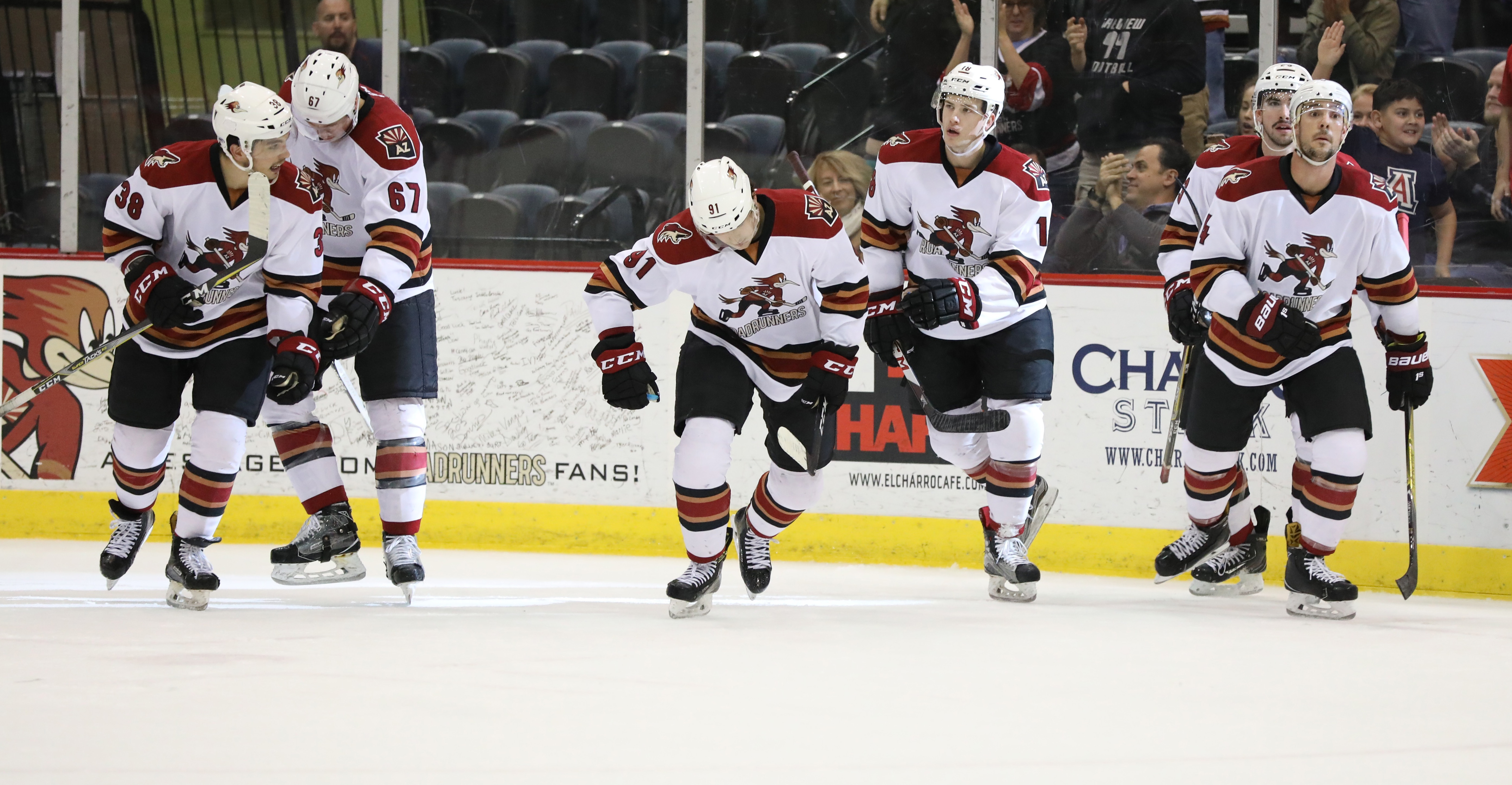 Despite Dylan Strome climbing to the top of the American Hockey League's scoring ranks Saturday night, the Roadrunners fell to the Stockton Heat by a 4-2 score at Tucson Arena.
It was only the team's second regulation loss on home ice this season.
With a goal and an assist, Strome upped his point total to 26 –- a combination of eight goals and 18 assists, surpassing Hershey's Chris Bourque on the league's leader board.
Just prior to the midway mark of the first period, Nick Merkley, situated high atop the slot in Stockton's zone during a power play, fired a shot through traffic, beating Eddie Lack to give the Roadrunners a 1-0 lead.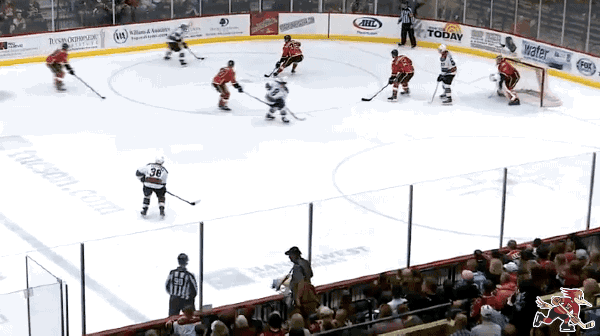 Merkley's goal, his 11th of the season, is tops among AHL rookies.
Dylan Strome, with the primary assist on Merkley's goal, extended his points streak to seven games, tying a franchise record set by Brendan Perlini, Kyle Wood, and Christian Fischer during the club's inaugural season.
Stockton's Marek Hrivik tied the game 1-1 with just over two minutes left in the first.
Following a scoreless second period, Stockton's Emile Poirier gave the Heat a 2-1 lead in the opening moments of the third. Rasmus Andersson gave the Heat a 3-1 lead with 13:37 left to play in regulation.
In the late stages of the third, and with Adin Hill pulled from the net for an extra attacker, Dylan Strome cut the Roadrunners' deficit to one with two minutes left after sneaking behind Stockton's defense and receiving a pass from Nick Merkley.
Strome's goal, his eighth of the season, moved him past Chris Bourque to become the league's top scorer with his 26th point of the campaign.
The Heat scored an empty net goal with 44 seconds left to play to secure a 4-2 victory.
Adin Hill stopped 24 of the 27 shots he faced.
With the loss, the team is now 10-3-2-1 on the season with a .719 win percentage, good for first place in the Pacific Division and Western Conference.
The Roadrunners will continue their five-game home stand next Sunday night when they host the Ontario Reign at Tucson Arena, where the puck is scheduled to drop just after 4:05 PM.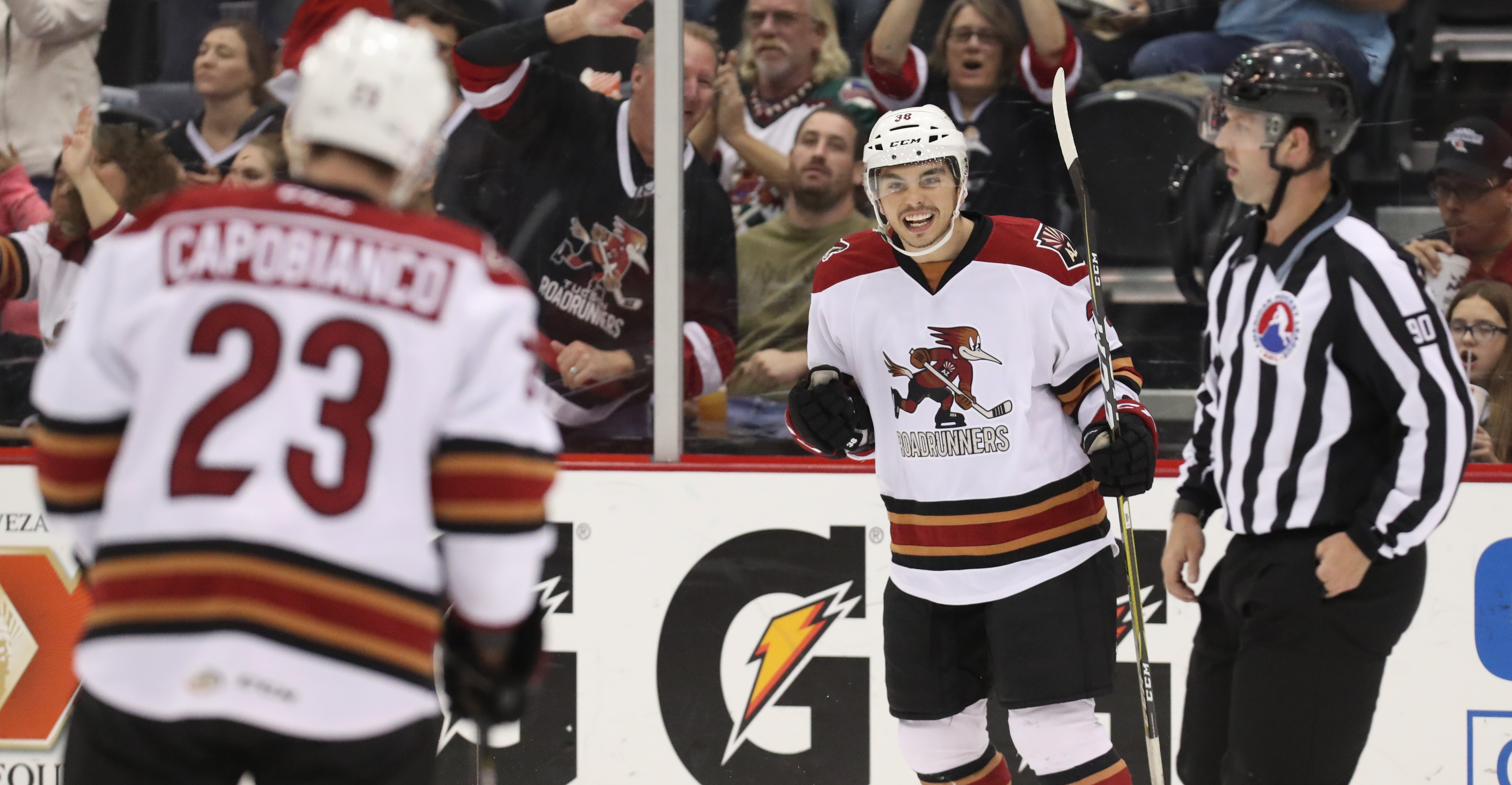 Photos courtesy: Chris Hook & Kate Dibildox