What's Up
Last Week Today: Time up North
By: Alexander Kinkopf
December 11, 2017 8:51 AM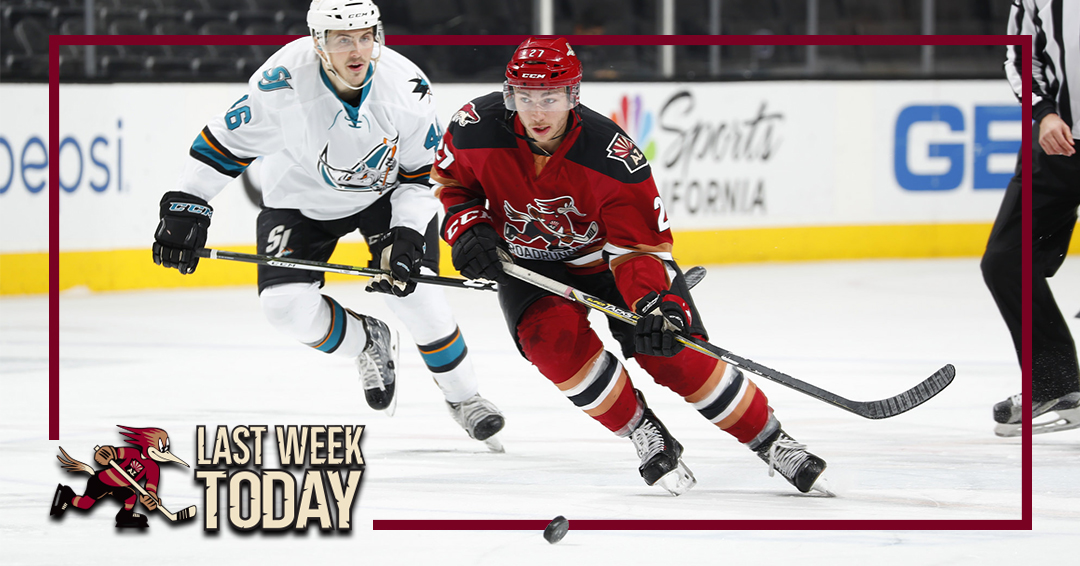 The Rundown:
A marvelous start to the week it was for the Roadrunners, who on Tuesday beat the Ontario Reign by a 5-2 score at Tucson Arena, getting points from 11 different players and scoring a season-high three power play goals.
Friday night, in playing the first of a two-game Northern California road trip, the club topped the San Jose Barracuda in a 3-1 victory, scoring a pair of goals in the final minutes of regulation to capitalize on a fantastic 33-save performance by Hunter Miska.
Miska improved his record to 7-1-0 on the season.
The team's lone loss during the week came Saturday night at Stockton Arena, where they suffered a 5-2 defeat at the hands of the Heat. Trevor Cheek registered his 100th-career professional point in the loss, netting his first goal of the season late in the third period.
Following Saturday's loss, the Roadrunners were bumped from first place in the Pacific Division for the first time since October.
Michael Bunting registered points in all three of the club's games during the week, totaling four (2G, 2A), and now has points in four straight games. Tyler Gaudet registered points in all three games as well, totaling three (1G, 2A), and also has points in four straight games.
---
Where They Stand:
Record: 12-5-2-1 (.675 win %)
Pacific Division: 2nd Place
Western Conference: 3rd Place
League: 6th Place
---
The Week That Was:
Tuesday, December 5
Roadrunners (5) vs. Reign (2)
Tucson Arena
Friday, December 8
Roadrunners (3) at Barracuda (1)
SAP Center
Saturday, December 9
Roadrunners (2) at Heat (5)
Stockton Arena
---
Up & Down
Recalls (TUC --> ARI)
Monday, December 4: Kyle Capobianco
Assignments (ARI --> TUC)
Monday, December 4: Marek Langhamer
Tuesday, December 5: Joel Hanley
Transactions
Friday, December 8: Mark Langhamer (Assigned to Komata Brno – Czech Extraliga)
---
Alumni in Action:
Kyle Capobianco made his NHL debut with the Coyotes on Thursday night against the Boston Bruins at TD Garden. He played 13:33 minutes, finished with a -1 rating, and registered three hits and one blocked shot.
---
Highlight of the Week:
Michael Bunting receives a pass from Michael Latta in the late stages of Friday night's game in San Jose, and with time and space, utilizes patience to expose a vulnerable Antoine Bibeau, easily beating the Barracuda's goaltender to score his sixth goal of the season.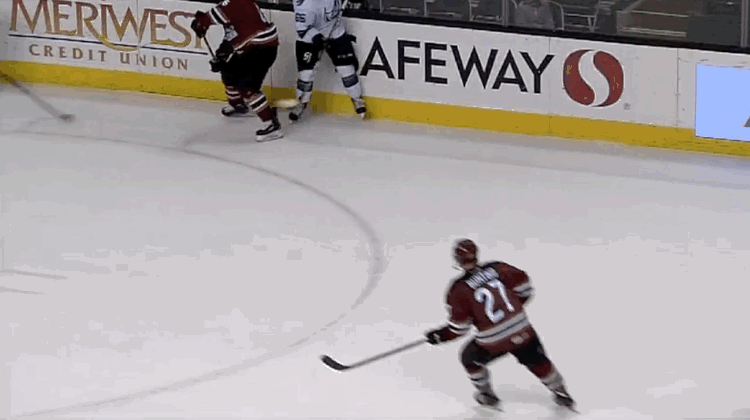 ---
Quote of the Week:
"I was in my kindergarten class teaching. Dylan Strome texted me and said 'Kyle's in'. We just scrambled as quick as we could, got on the first flight out, and we're glad to be here." – Julie Capobianco, on finding out about her son, Kyle, making his NHL debut.
---
Photo of the Week:
Hunter Miska, down amidst a scrum in front of his net Friday night, makes one of his 33 saves as he is protected by a conglomerate of Roadrunners players. (Credit: San Jose Barracuda).