What's Up
Capobianco Added to All-Star Classic Roster
By: Tucson Roadrunners
January 24, 2018 7:29 AM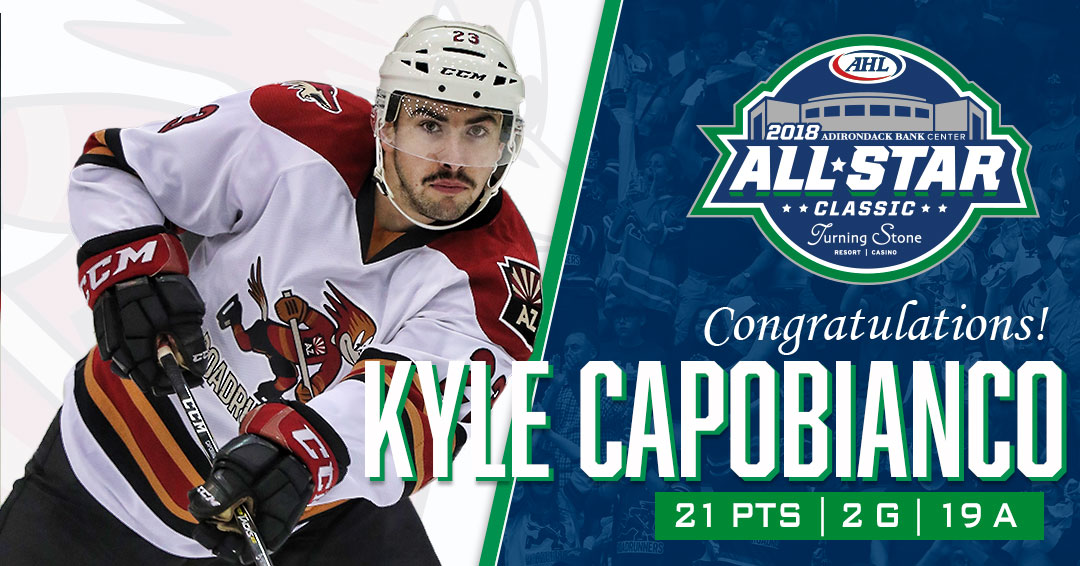 TUCSON, AZ – The American Hockey League announced on Wednesday that Tucson Roadrunners defenseman Kyle Capobianco has been added to the 2018 AHL All-Star Classic roster.
The 6-foot-2, 196-pound Capobianco (20) has recorded two goals and 19 assists for a total of 21 points in 33 games with Tucson this season. A native of Mississauga, Ontario, the third-round selection (#63 overall) of the Coyotes in 2015 earned his first National Hockey League recall on December 4 and made his debut with the team on December 7 against the Boston Bruins.
The rookie defenseman was declared as an addition to the Pacific Division roster today after the AHL announced that San Antonio's Jordan Schmaltz will be unavailable for the event.
Capobianco will join Nick Merkley, Dylan Strome, head coach Mike Van Ryn and Craig Cunningham, who was selected an honorary captain for this year's event. Van Ryn is the first Roadrunners coach to represent the organization at the event, while Capobianco, Merkley and Strome become the fourth, fifth and sixth player representatives. Brendan Perlini, Christian Fischer and Kyle Wood were selected as representatives for the 2017 AHL All-Star Classic.
The 2018 AHL All-Star Classic presented by Turning Stone Resort Casino will take place January 28-29 at the newly renovated Adirondack Bank Center at the Utica Memorial Auditorium in downtown Utica, NY.
Tickets for this weekend's games against Chicago at
Tucson Arena
are on sale now and can be purchased by clicking
HERE
or visiting the
Tucson Convention Center
box office. For more information on the club, call
866-774-6253
.